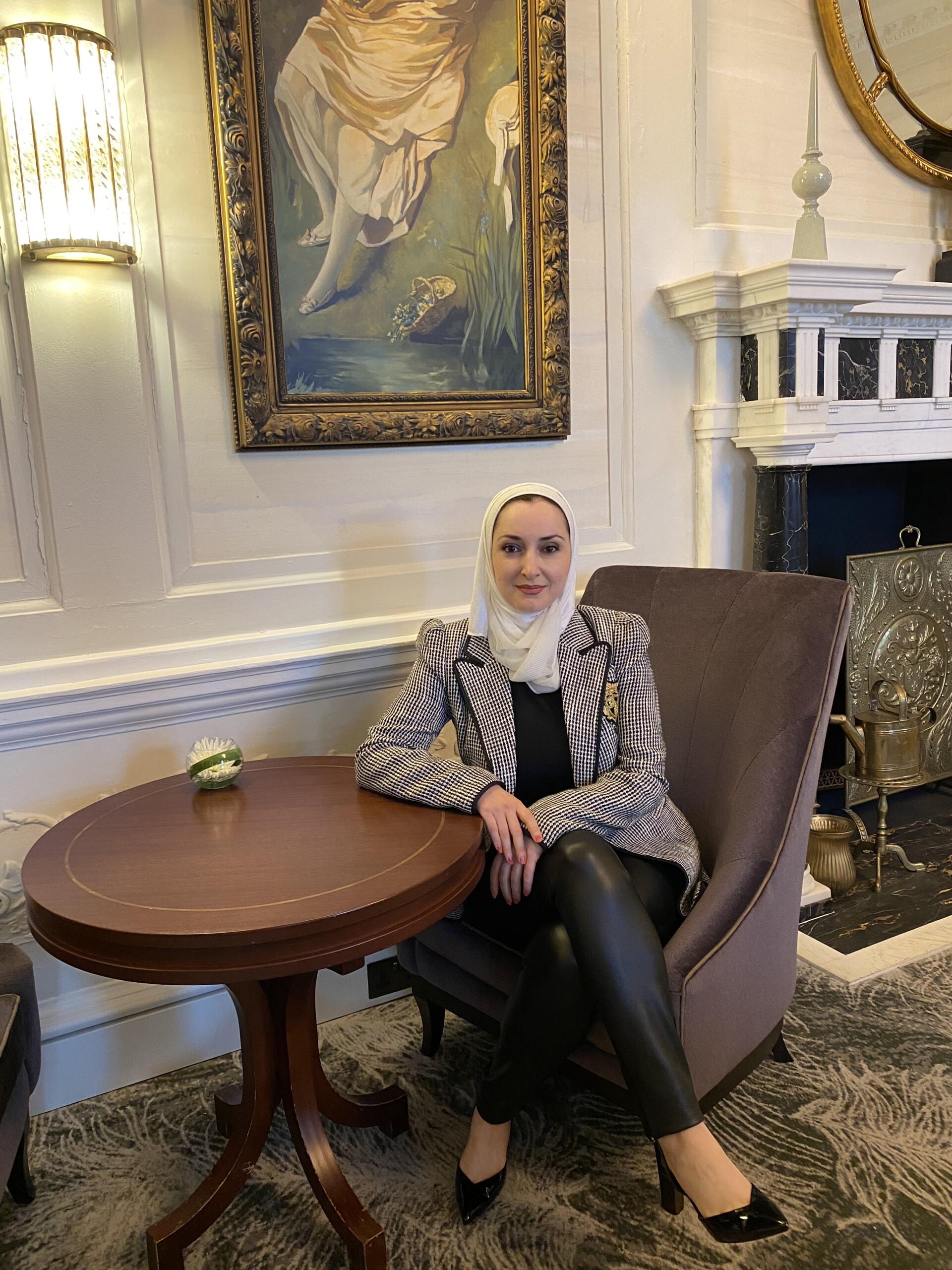 Hana Al-Banna An international trainer in institutional development and sustainable development and a certified trainer of the Certified Trainers Committee at the International Innovation Summit. 
Certified International Assessor at Corporate Social Responsibility Accreditation, UK (CSR Accreditation)

 

Senior Social Researcher at Faith Regen Foundation Ltd, London

 

International Initiatives Manager at Global One_NGO, London

 
A guest lecturer in a number of British universities, including the Northumbria University, London, University College London UCL, and the University of Bradford.

 
Interview with Dr. Hana Mansour Al-Banna
By Fatima Omrani 
Who is Dr. Hana Al-Banna

?
A professional at non-profit organizations in the fields of social responsibility and sustainable development.

 

A Specialist in marketing and public relations in non-profit organizations

 

Trainer and counselor for a number of international organizations

 

A human being who feels responsible for others and the vulnerable groups in the world  

 
A human being doing all it takes to make a difference in the world for the better through her job and academic research

 
You had your post-graduate studies in one of the most important international universities. Tell us about your academic journey? 
I did a bachelor's degree in agricultural engineering at the Jordan University in Jordan and immediately started my master's degree and graduated in 2006 as a valedictorian in marketing. 
I then joined the Chartered Institute of Public Relations in London to do my Diploma in Public Relations and Social Media Use. 
After that, I did my Ph.D. at Cardiff Metropolitan University and specialized in marketing, public relations and social Media Use in non-Profit Organizations. 
You have given lectures in the field of strategic management and international sustainable development. What do you think of the current administrative practice?
Management today requires a better understanding of the broader concepts of management and leadership in institutions, as well as a better understanding and application of modern leadership practices that call for a new concept, an integrated model of management and leadership and sustainable leadership. Today we face universal challenges and we need new practices that contribute to achieving transformational change. 
One of the challenges that stands in the way of organisations today is not associating management practices with leadership practices or applying strategic management principles. First, we need to distinguish between these two concepts. Management means organizing the internal parts of the organization in order to implement systems and connecting them to perform in the best way possible. It includes planning, organising, implementing, monitoring, and evaluating. However, leadership empowers others and boosts trust in others to face challenges and get better results. Enhancing both management and leadership skills and practices helps strengthen institutional capacities and achieve their strategic objectives. The application of leadership and management practices in a consensual manner, as well as the adoption of the integrated management and leadership methodology, which combines (survey, planning, inspiration, mobilization and stimulation, monitoring, organization, implementation, and assessment), strengthens institutional capacity. It ensures a higher quality of services and developments. Moreover, the institution would experience constant learning and grant the building of cultured, flexible organisations capable of facing challenges. 
We should also focus on the leadership that helps build moral systems and takes into consideration environmental, social and economic aspects. These business systems must meet the needs of stakeholders. Now we are facing a new concept of leadership, sustainability leadership.  
According to the Institute for Sustainability Leadership at the University of Cambridge, "Sustainability leaders are the leaders who inspire and support work for a better world." These individuals have chosen to make a difference by increasing awareness of themselves and their surroundings. They seek to adopt new methods to organize and create innovative and sustainable solutions." 
We need to combine the strategic management of businesses and sustainable development and have institutions develop strategies based on sustainability principles, values, and solid foundations. These values must be effectively adopted in the institutions in order to be sustainable and of a good impact.  
There is a huge movement towards linking strategic management with sustainable development, especially after the Covid-19 pandemic. Organizations have become more aware of their responsibility towards society and towards providing solutions to global challenges. 
The concept of institutional social responsibility of institutions has always been one of the most critical strategic pillars of the institution. Today, we are witnessing a substantial shift to take on social responsibility in all sections; government, private, or non-profit, at all levels too; large, medium or small-scale. There is a movement to further embrace such concepts due to the growing awareness of companies of the advantages they would get them and their communities. If they embrace these practices right, they will have a huge impact on the institution's reputation and great returns in the short and long term. 
It is expected from us today to reinforce our management and leadership skills and build moral business systems that take into account the basic pillars, the environment, the workplace, governance, society and charity to ensure the participation of our institutions in accelerating sustainable development, addressing global challenges and supporting economic, social and environmental growth to achieve societies' welfare.  
Your career has gone through various stops, from marketing and public relations to international development. What are the most important stops of your inspiring career path?
Right. I have loved marketing and public relations since my undergraduate studies. Even though I had started my specialization in agricultural engineering, my passion was all about marketing, public relations and non-profit organisations. So immediately after my bachelor's degree, I pursued a master's degree in marketing and graduated after a year as a valedictorian. Back then, I thought that this was where I wanted to be. I meant to embark on my Ph.D., but that didn't go as planned due to some circumstances at the time. Yet, the dream haunted me still. 
I worked in the Society for the Protection of Nature and travelled to several countries, including Britain. These tours helped me strengthen my desire to complete my studies abroad and specifically in Britain. I quit my job and joined PR Diploma Program at the top institute for Public Relations in Britain. The academic year was a golden opportunity to get to know the UK's universities and connect with professors and experts in this field. The diploma helped me prepare for my Ph.D. studies and was a crucial step in my life with all the experience it gave me in academic research. Immediately after completing the diploma, I applied for a Ph.D. program with the same specialization, Marketing, Public Relations and Social Media Use, specifically in non-profit/non-governmental organizations. 
I began studying Ph.D. and volunteering simultaneously in UK associations operating within Britain and abroad. I chose organizations working for international women and international development because I wanted to pursue this path and focus on women's issues globally. I believed that if we enhanced the surrounding circumstances of women, enabled them and armed them with knowledge and education, we could guarantee the establishment of sound, educated and safe communities. 
I still volunteered in two associations for two years. After that, it became hard to commit to my job; I was studying for my Ph.D., raising three kids, and performing household duties on my own. 
Voluntary work was one of the essential professional life stops. The practical expertise I got granted later my position at the non-profit sector in the UK. 
Volunteering and then working with these organisations made me aware of the importance of our job and the change we make in societies on the individual level in Asia, Africa, and even the Middle East. My team and I helped carry out hundreds of initiatives that are exclusive for women, including the construction of hospitals and medical dispensaries, training doctors and nurses to provide emotional and psychological support and medical services. We also trained women and helped them get specific skills to establish development projects that will pay them well and improve their living conditions. In addition, we helped with services and agriculture projects that benefit societies as a whole and distributed urgent humanitarian aid kits to refugees. 
I travelled to several countries and got involved in UN meetings, especially high-level meetings on sustainable development goals, met with the leaders of international organizations and established strategic partnerships that influenced thousands of people. 
I have given lectures at many universities in the UK. We established many partnerships, including an academic research partnership with the University of Birmingham, to study the conditions of Syrian refugees in camps. We brought out important recommendations to governments and organizations working with refugees and the bill was discussed in the British parliament. 
Another yet crucial stop in my career is the launch of the Alliance of NGOs and CSOs for South-South Cooperation. This experience was very rich in terms of working with many organizations in the South-South Cooperation and establishing partnerships and training programs to raise the efficiency and capacity of civil society organizations in these countries. 
During the Coronavirus period, it was a transforming period of getting involved in many conferences and workshops with many partners. I began a partnership with the one-of-kind Corporate Social Responsibility (CSR), which was also very important for me to reinforce social responsibility globally, especially in Arab countries. 
You have received manyhonours. Tell us about them?
I got the IAM Honorary Fellow from the Institute of Administrative Management IAM for my efforts in the training field and in linking Arab organizations with the British ones and strengthening cooperation in administrative and training areas. 
I also received an honouring from Corporate Social Responsibility (CSR) as one of the most influential Arab women in the Arab world in 2020 and 2021 in the professional category. I also had my name recorded in 100 Arab Personalities Most Influential in Social Responsibility for the Year 2020. 
Have you encountered any difficulty in your career? How did you overcome it?
Just like any other human being, there have been many difficulties and obstacles during the last fifteen years with my work and study. Yet, the hardest was the ability to align my Ph.D. studies with familial responsibilities and work. Thank God, with determination and will, I managed to overcome them, complete my studies while working and balance all duties. 
I could overcome them by knowledge, consistency, determination, self-confidence, and faith in myself and in God first and foremost. 
Dr. Hana, today, you are an example for the driven youth, especially ambitious ladies hoping for success and prosperity. What would you say to those aspiring to strengthen women's leadership further and support the social transformation towards broader equality?
First, I would like to tell all girls and women that you can turn your dreams into reality when armed with knowledge, determination and the faith that nothing is impossible and that the learning process is a lifetime project. Strive every day to strengthen your knowledge and gain new skills. Make the borders of your ambition the open horizon. Strive for the best every single day. Push further the boundaries of your ambition and believe in yourself and your abilities and that you can and you will. Be sure that if you don't, nobody will. Don't wait for anybody to give you a hand. Rely on yourself, for you are the only one capable of building yourself and your career. 
In our Arab societies, we need to promote these principles, especially for high school and university girls, boost their confidence and involve them in specialized programs to enable them and introduce them to leading ladies' success stories for inspiration. We need to encourage girls to complete their university studies and even post-graduate studies. We need to break the stereotypical mentality pattern in our societies which sometimes kills girls' ambitions. We need women to acquire leading skills and ensure claiming important positions and senior leadership. 
The phenomenon of gender discrimination and inequality and placing obstacles before women and girls is a global phenomenon. It exists in Arab and Western countries in various sectors, higher education, banks, corporates, and even government sectors. Since 2000, the UN has sought to launch the Millennium Development Goals. Gender equality and women empowerment were of great importance for the United Nations and international organizations in cooperation with many governments. Since then, these international efforts have made significant progress on this level. Today, we find greater numbers of girls in schools compared with what they were 15 years ago. The majority of countries worldwide have achieved gender equality in primary education. Yet, there is still a lot to be done for women and girls. 
After the Millennium Development Goals, the United Nations launched, in2015, Agenda 2030 or what is called Sustainable Development Goals, as a global invitation to put an end to poverty, protect the planet, and grant everyone peace and prosperity by 2030. In other words, they are working on the quest for growth, stability and economic, social and environmental welfare of the world as a whole. 
Sustainable Development Goal #5 was specifically formulated to focus on important issues concerning equality and women empowerment in the world. 
The official wording of SDG 5 is "Achieve gender equality and empower all women and girls." It aims at eliminating all forms of discrimination against women and girls. This tangible goal is a decisive factor in accelerating sustainable development and is linked to all other goals. 
The international community knows very well that communities can only progress and achieve when we enable women and girls. That will help push economic growth and development in all fields. Unfortunately, with the breakout of the Coronavirus pandemic by 2020, the world witnessed a significant decline in this specific goal and its progress over the past six years in the fifth goal in particular. 
We know well that women face serious obstacles in their lives. Many more are under the threat of unemployment compared to men. Violence in all its forms, inequality of domestic workload, and discrimination in public positions are all major barriers to gender equality. 
As countries and organisations, calling for women's rights, we cannot overcome these barriers and fulfill their equality without strengthening policies and legislation that guarantee women their fundamental rights. We need to provide these organizations with funding to ensure that violence is eliminated altogether, women are economically and socially empowered to start working, and necessary policies are legislated to ensure that women accomplish leadership.