The First Arabic Fitness Entrepreneur: Maya Nassar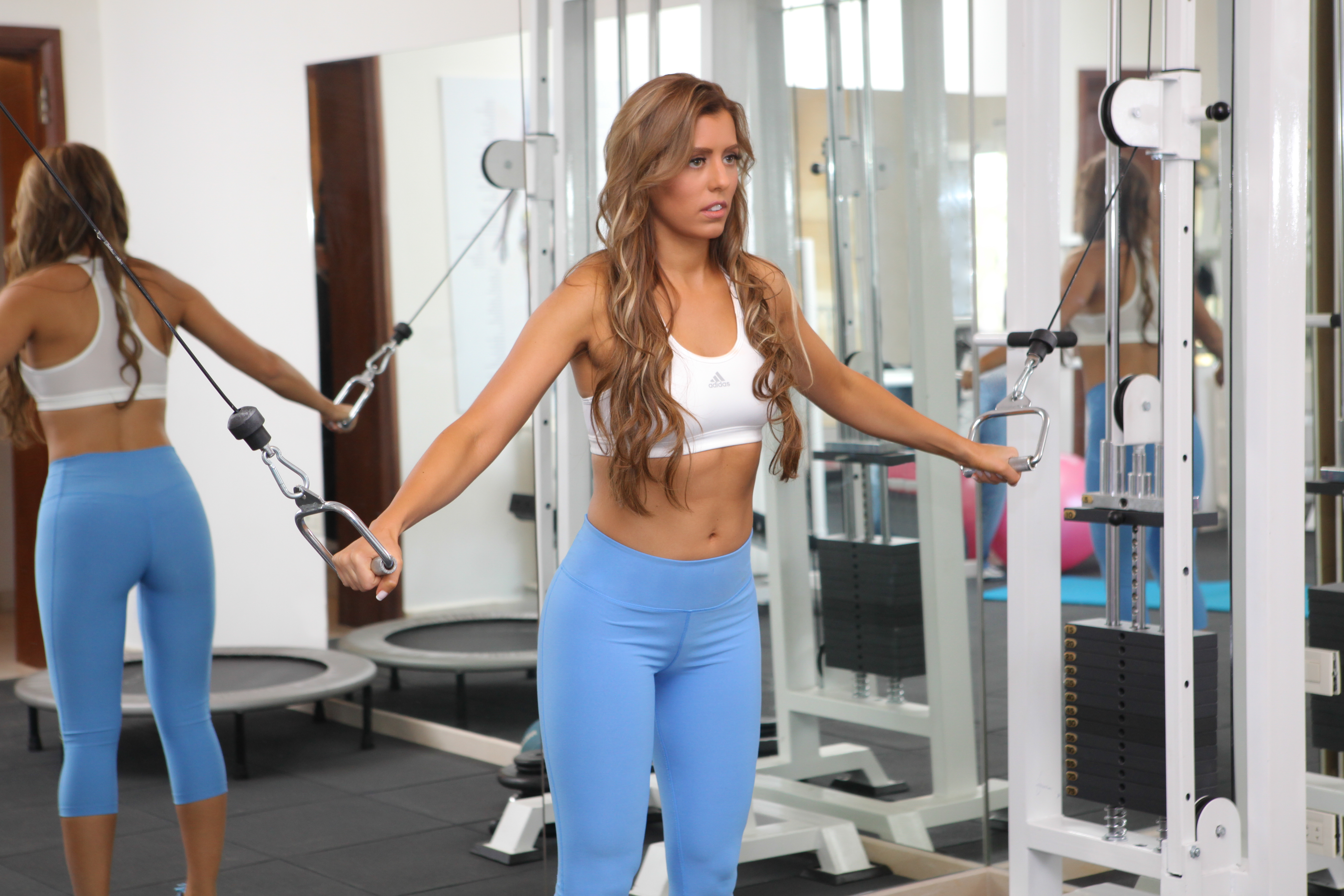 INTERVIEW : MAYA NASSAR
  Her story is a story of challenge and success, the lebanese athlete ,entrepreneur and her country's representative in body beauty Maya Nassar tells us her story of success through her struggles to be the world number one athlete .
Tell us a little about yourself as an entrepreneur.
I consider myself a fitness entrepreneur because I used my own weight loss story to create a platform that will change peoples' lives. I share my journey of how I went from being very insecure and out of shape to competing internationally in bikini fitness competitions. I created a website and the first fitness mobile application in Lebanon which offers all the information and guidance a person needs to achieve their fitness goals.
Have you always been into fitness since a young age?
I grew up in Nigeria and had always been active as a child. However, during my early 20s my lifestyle became sedentary. I never did any exercise and ate whatever I liked. It was during this time that I hit rock bottom and became very insecure about my body. This experience is what opened new doors. I decided it was time to stop feeling unhappy with my body and this is when I discovered fitness and changed my life.
What influenced you to become a fitness trainer?
I am currently not working as a trainer; however, I am certified in sports nutrition and personal training. Once I lost all the weight I wanted, fitness became my passion and my addiction. This is when I decided I wanted to learn more about the subject to further expand my knowledge. I also wanted to gain credibility and use my expertise to change the lives of others.
What keeps you motivated?
I compare my new lifestyle with my old lifestyle and keep myself motivated by realizing how rewarding a life of health and fitness is. When I was out of shape, I did not feel good on the inside. Once I started taking care of my health, my life improved in every possible way. When someone is healthy they are confident, energetic, productive and even have better relationships with other people. The benefits of a healthy lifestyle keep me motivated to never give up!
How often do you recommend we should work out?
I believe everyone should dedicate at least three hours a week to exercising, if not more. Many people claim that they are busy and do not have time, but I see exercise as an investment in yourself. There is a quote that says, "make time to exercise now or make time to be sick later."
What type of training are you mostly into?
My passion is definitely lifting heavy weights. Many people incorrectly believe that weightlifting will make a woman bulky or masculine. I always say that this is incorrect. Women do not have enough testosterone in their bodies to bulk up like a man. Weightlifting is what has transformed my body and it helps us lose fat a lot quicker too. My training consists of both weightlifting and cardio, such as running, swimming or cycling.
Where are you based at the moment? Do you travel around a lot?
I am currently based in Beirut although I do travel quite frequently and love exploring new cities.
Do you carry out any special fitness classes for the public to attend?
I do not give any classes, however my website and mobile application offer free fitness programs that anyone can follow. The exercise programs in my mobile application are linked to animated exercise illustrations which clearly show people how to perform an exercise. It is like a virtual personal trainer and I have exercise programs for all goals and fitness levels.
Your website offers its viewers a variety of services such as diet & exercise programs, nutrition, bikini competitions, weight training and even recipes! Could you give us an insight?
My website offers everything from information and advice to healthy recipes and complete guides to losing weight or even exercising at home. The purpose of my website is to educate people for free and teach them how to go about living a healthy lifestyle. My website's aim is to help anyone like my old self who does not know how to begin. I want to help people and earn their trust by showing that I have the results to prove what I am talking about and that the sole purpose of my website is to change peoples' lives.
You launched your "Start Living Right" app in March 2015, tell us a little about it.
I launched the first fitness mobile application in Lebanon and it has been endorsed by the minister of sports. It is a mobile version of my website but offers even more useful and helpful tools to help people achieve their fitness goals. It includes animated exercise illustrations, a fat loss calculator, calorie counter, tons of information, recipes plus much more. It has been ranked as the number one fitness application in Lebanon by the Apple store many times, even competing against international applications. People can download my application for free by searching for "startlivingright" in their smartphone store.
Do you have any upcoming business projects?
Yes! I have been approached by MTV to start my own morning fitness show which will be airing very soon. I love being in front of the camera and love helping other people, so I hope this will be an opportunity to change even more lives and share my passion of fitness with them.
You have thousands of followers on social media, how do you keep them wanting more?
In my Facebook page, I post daily motivational quotes to inspire people. I always say fitness is a mental challenge, not a physical challenge and inspirational quotes have helped me take things to the next level. I also share tips, advice and links to articles on my website to provide my followers with useful information. On my personal social media pages, I simply share my journey from where I was to where I am right now.
Which brands do you like wearing?
My favorite fitness brand is definitely Nike. I get most of my clothes from there and love the different styles. For a night out, most of my dresses are from Herve Leger. One of my best friends Bianca Karam has her own clothing line and I regularly shop at her store too. As for shoes, most of my heels and boots are from Christian Louboutin.
Where do you see Maya Nassar in 10 years?
I see myself as a fitness professional who changes other peoples' lives every single day. I see myself owning a complete wellness center, including a gym and spa, where people can come and get the support they need to see results. I also see myself competing in bikini fitness competitions.
What does London mean to you? What are some of your favourite spots in the world's most famous city?
I used to live in London as an adolescent and it is definitely one of my favorite cities in the world. I have many favorite spots. For shopping, you will always find me at Selfridges. I also love Hyde Park and it is one of my favorite spots for a nice morning jog. For a night out, I love the Peruvian restaurant Coya which is situated in Mayfair. I also love walking through Portobello market in Notting Hill.