MBC Launches Arabic version of "Top Chef" Show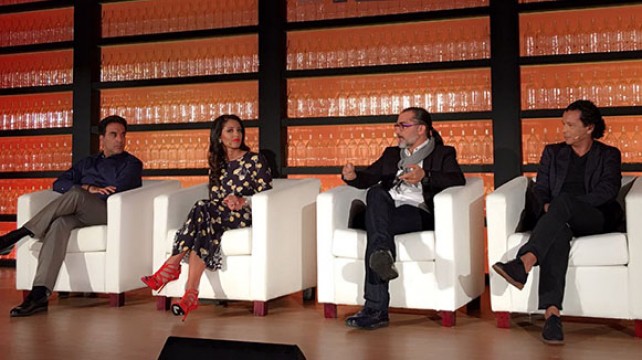 Starting September 21, the food reality show game will have a new competitor. The Arabic version of Top Chef, where competitors face off on various culinary challenges, will premiere on MBC with a panel that includes the internationally renowned chef Bobby Chinn, Saudi chef Mona Mosly and Lebanese chef Maroun Chedid.
A total of 15 chefs from across the Middle East will compete on tasks set by the judges, with the eventual Top Chef walking away with a cash prize of $100,000 (Dh367,215) after 13 weeks. Every week the contestants will take part in three segments — a Quickfire Challenge, Elimination Challenge and Judges' Table. At the end of each episode, one or more chefs are named the winners of the day, while one chef is eliminated from the competition.
Top Chef first launched in the US in 2006, and has been duplicated around the world.
Chinn, who is part Egyptian and Chinese, said he travelled to Egypt for five months to polish his "broken" Arabic.
"A chef is like an artist," he told Gulf News tabloid! at the launch of the show in Dubai earlier this week. "He needs to excel in both the classical and the modern, like a painter. He has to have the skills, the knowledge, the passion, and all the techniques. Then he has to know what to make for you, the diner."
Chinn, who has cooked for presidents and runs Bobby Chinn restaurants in different cities around the world, said "men cook with ego, while women cook with love."
Asked why most of the chefs around the world are men and not women, he responded: "For the same reason we don't have [too many] women presidents and prime ministers."
"But I cook with great women," he added. "My elder sister is not only my favourite friend, but also my guidance in many ways. She loves cooking, and she is very inspirational for me.
"I learnt from women. I was lucky that when I entered the kitchen, my Egyptian and Chinese grandmothers taught me with love."
Mosly, a known face in the region, faced objections from her mother when she wanted to take the path and joined Le Cordon Bleu in London to study the art of preparing food many years back.
She said food as a career is not for people who don't have the passion for it.
"You have to tolerate the heat in the kitchen and its pressure. You have to work long hours," she said. "When people celebrate Eids, you prepare their feasts. When they enjoy vacation, you prepare their meals."
Asked if she cooks at home daily, she laughed and quoted the Arabic saying "the carpenter's door is broken".
Judge Chedid, another known name in the region, was not originally planning to study the cooking art but found his "passion for the career" during studying. The Lebanese chef, who received the title of the chef of the year from Les Toques Blanches du Monde in 2013, believes "cuisines should not be stagnate, but rather continue developing with our lives."
But this does not mean a plate of hummus can be prepared with soya sauce or wasabi, he adds.
While Chedid believes Lebanese and Arab cuisine in general have succeeded in preserving their identities, Chinn said his "heart was hurt" to see how the Egyptian cuisine has "lost its originality" in many dishes. Shawarma, for instance, cannot be prepared with potato fries, he said.
Don't miss it
The Arabic version of Top Chef will air on MBC1 and MBC Masr every Wednesday at 8:30pm in the UAE.
MEET THE CONTESTANTS
Here are the 15 contestants from Season 1 of Top chef
1) Jan Barbour, Lebanon — Executive Chef
2) Hisham Manyamna, Lebanon — Executive Chef
3) Roya Shihab, Lebanon — Student & Sous-chef
4) Rami Salloum, Syria — Executive Chef
5) Hala Ayash, Syria — Chef & Personal Trainer
6) Jumana Hassan, Palestine — Sous-chef
7) Abdullah Shaheen, Jordan — Chef
8) Youmna Kheder, Egypt — Chef
9) Abdul Fattah Al Sawi, Egypt — Executive Chef
10) Essam Jafari, Morocco — Executive chef
11) Khalid Kahya, Morocco — Executive Chef and culinary teacher
12) Mustafa Al Hayiki, Bahrain — Culinary teacher
13) Nader Al Ayssari, Oman — Chef and restaurant/business owner
14) Adnan Yamani, Saudi Arabia — Executive Chef and Restaurateur
15) Khuloud Sohail, Saudi Arabia — Line cook