Saudi British Investment Forum: Joint cooperation towards a green future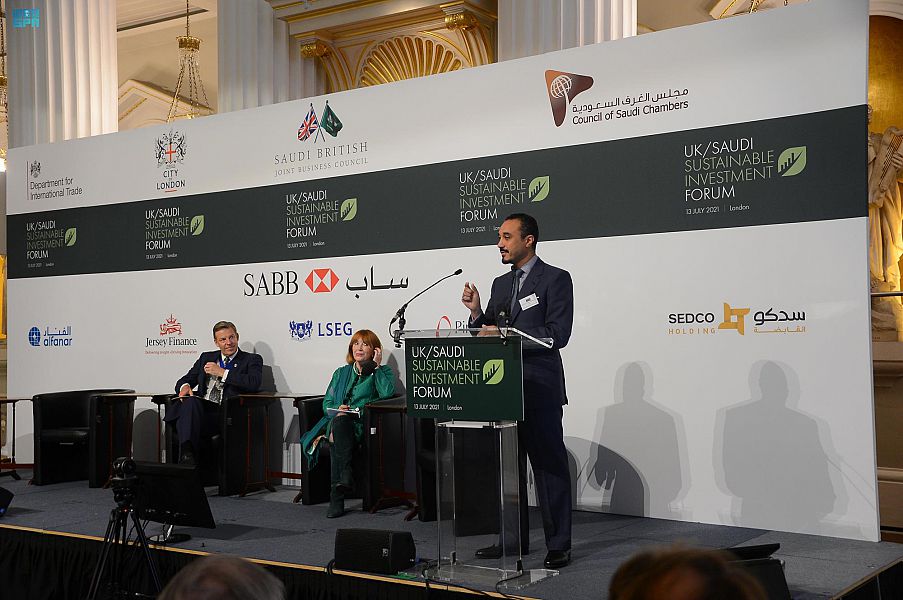 Workings of the Saudi-British Sustainable Investment Forum started in London.
The gathering, organized by the Saudi-British Business Council, takes place in the presence of Prince Khalid bin Bandar bin Sultan, the Saudi Ambassador to Britain, and Dr. Majid Al-Qasabi, Minister of Commerce.
A step on the road to an economic transformation
Regarding the event, William Russell, the Lord Mayor of the City of London, said he is looking forward to working with the KSA to fulfill the purpose of sustainable development in the green energy sectors. He highlighted that the world financial services would play a significant role in supporting the economic transformation and achieving a carbon-emission-free future.
The Saudi Ambassador, Mr. bin Sultan, stressed that the relations between the KSA and the UK are historic and old and that the United Kingdom is not only an ally but also a friend. The forum offers an important platform to discuss investment opportunities between the two countries and the joint work towards a green future.
The Saudi-British forum kicked off the ministerial investment meeting of the KSA and the UK under the title: "Challenges and opportunities for recovery and better reconstruction after the outbreak of Coronavirus pandemic."
Consequently, Mr. Al-Qasabi, Minister of Investment and Commerce, stressed in his speech that the recent visits of British ministers to Saudi Arabia demonstrate the strong relationship between the two countries, calling for establishing a channel of communication among investors to open new areas of investment.
The KSA vision achievement 2030
Deputy Minister of Commerce Dr. Iman bint Habas Al-Mutairi reviewed the recent updates concerning the implementing measures of the Kingdom's Vision 2030 with the indication that the achievements of the last four years would have otherwise taken decades.
She also indicated that one of the most tangible results achieved so far is: providing a competitive business environment through a series of reforms in various sectors and national-level consultations. In addition, recent reviews and updates have helped create a growth-oriented business environment, support investment, and promote rapid economic transformation. However, concerning women's empowerment, new legislations have been made to encourage women to participate in the new economic transformation by all means.
The forum featured two sessions. The first was to discuss investment opportunities in the sectors of clean energy, innovations, and infrastructure between KSA and the UK, as well as supporting companies and investors. However, the second session dealt with knowledge exchange between Saudi Arabia and the United Kingdom in green finance.