Mohamed bin Zayed meets with the President of Iraq's Kurdistan Region in London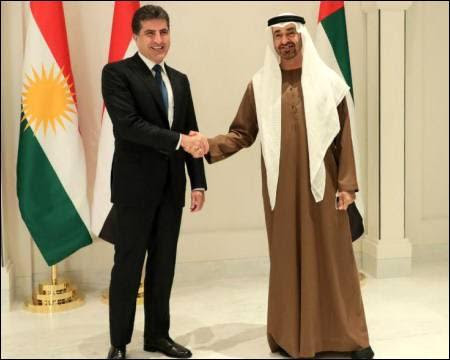 At the tail end of a four-day trip to the UK that concluded on Saturday, Kurdistan Region President Nechirvan Barzani visited the London residence of Abu Dhabi Crown Prince Mohammed bin Zayed Al Nahyan.
Sheikh Mohamed and Barzani discussed the cooperation and relations between the UAE and Iraq, particularly the Kurdistan Region, across various economic, investment, development, and humanitarian fields.
They also exchanged views on developments in the Middle East and efforts to achieve peace, stability, and prosperity.
Dr. Anwar Gargash, a diplomatic adviser to the President of the UAE, said that the visits of Sheikh Mohammed bin Zayed Al Nahyan, Crown Prince of Abu Dhabi and Deputy Supreme Commander of the UAE armed forces, to France and Britain were successful in all standards.
"The special status of the UAE is based on a regional success and a reliable political partnership," commented Dr. Anwar Gargash, on Twitter on Friday.
He added that Sheikh Mohammed bin Zayed Al Nahyan's meetings were characterized by credibility, clarity of attitudes, and strategic vision. "This is the political capital that distinguishes the state and its leadership," he added.