Sheikha Fatima Bint Hazaa Receives the Arab Woman Award 2023 in London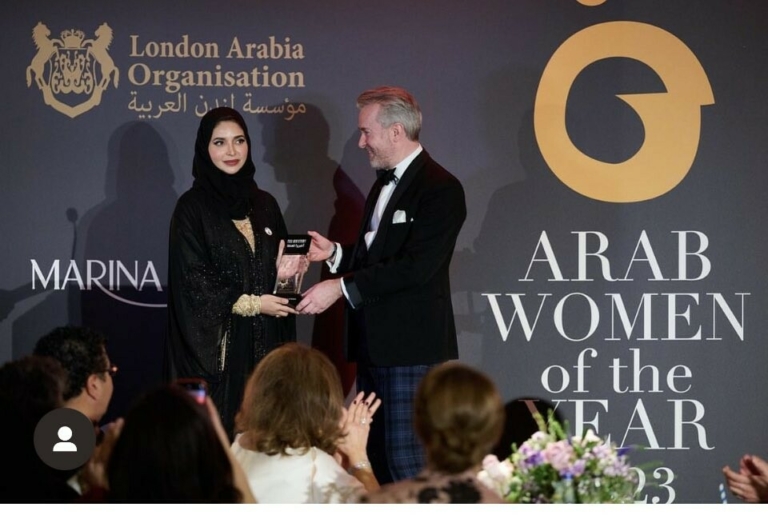 Sheikha Fatima, bint Hazaa bin Zayed Al Nahyan, won the Arab Woman Award 2023 in London for her outstanding achievements and efforts in empowering women in various fields, specifically culture and sports.
Sheikha Fatima won the award in the category of culture during a ceremony held in the capital, London, to distribute the annual Arab Women Awards in its eighth session under the title (Tell Her Story), in honour of her initiatives and remarkable successes in strengthening the role of women.
Sheikha Fatima bint Hazaa was nominated for this award for her pioneering role in the country's cultural scene and the region through launching initiatives to access education in the affected areas in Bangladesh and building schools in Kenya. In addition to launching the Fatima Bint Hazaa Fund for Emirati Women to enable Emirati women to obtain higher education opportunities in world-renowned universities. Sheikha Fatima also launched many initiatives for young people through the Fatima Bint Hazaa Cultural Foundation, which deals with art, literature, sustainability and community interaction.
The London Arab Foundation praised the active role of Sheikha Fatima bint Hazaa in empowering women in various fields, explaining that she was committed to strengthening the position of women in multiple ways, as she is a supporter of sports and the arts, and for this, she was honoured the Achievement Award in Cultural Development.
In her turn, Sheikha Fatima bint Hazaa saluted Arab women, considering that this ceremony celebrates women's ability to excel, succeed, and contribute to making a positive impact in the world.
Furthermore, she raised the highest verses of gratitude and appreciation to His Highness Sheikh Mohammed bin Zayed Al Nahyan, President of the UAE, and Sheikh Mohammed bin Rashid Al Maktoum, Vice President of the State, for their highness's keenness to encourage women and provide everything they need to play their positive role in society and achieve all their dreams.
Sheikha Fatima said, "Active participation, making progress, and positive change are among the basic values ​​we grew up on; I am proud to represent my country, the UAE, where women did not have to struggle to obtain their rights but always have the forefront since the establishment of the state".
Sheikha Fatima added, "The founding father, Sheikh Zayed, implanted in us to dream without limits and to contribute to society's development and good treatment. He considered that women are not only half of society, but they are also the makers of future generations. He was proactive in his vision of the role of women even before developed countries began to develop strategies related to this role. It is sufficient to indicate the extent of gender equality in the country by the presence of ten female ministers in the UAE government."
Sheikha Fatima also added "my father, Sheikh Hazaa bin Zayed Al Nahyan, Vice President of the Executive Council of the Emirate of Abu Dhabi, never stopped believing in me and supporting me until I reached what I have reached. He is one of many men who support women in my homeland."
This Arab London Foundation Award aims to highlight the successes of Arab women and honour distinguished women who have positively impacted education, literature, culture, media, entrepreneurship, science, community service, and others.
The London Arab Foundation launched the Arab Women Awards in 2014 in cooperation with the Mayor of London, government institutions, and British universities to show great appreciation for the achievements of Arab women around the world.