jw marriott marquis hotel dubai's popular restaurant month returns in may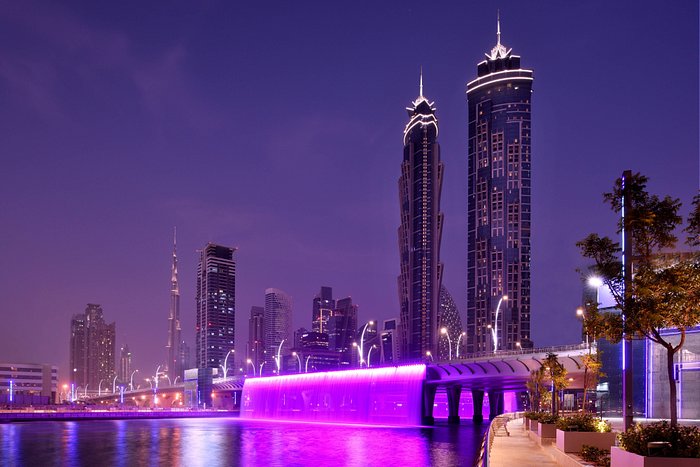 Restaurant Month returns to JW Marriott Marquis Hotel Dubai, the destination of exceptional taste, offering an array of unmissable dining deals at the hotel's award-winning restaurants.
Taking place from May 1st to 31st, JW Marriott Marquis' Restaurant Month allows guests to unlock a world of culinary delights and dine like royalty with specially curated menus across the hotel's diverse dining destinations. Explore nine acclaimed restaurants, including Rang Mahal, Tong Thai, Prime68, Izakaya, Positano, La Farine and Kitchen6, where you can experience vibrant flavors and lavish cuisines from around the globe.
Take advantage of the exceptional culinary deals at the world's tallest 5-star hotel with participating restaurants offering specially curated menus for AED 199, as well as exclusive deals for AED 99, all throughout May. Restaurant Month has something for everyone, whether you are in the mood for a casual dining affair or looking for a premium culinary experience.
DINING EXPERIENCES FOR AED 199
All your favorite restaurants will be included, such as the award-winning Prime68 steakhouse offering premium cuts with backdrops of Dubai's stunning skyline. Prime68 will serve a three-course set menu where diners can choose from starters such as French Onion Soup, Truffle Gnocchi, Caesar Salad and more, followed by a main course with choices of Roasted Loch Duarte Salmon, Pan-Fried Corn-Fed Chicken, or USDA Prime Black Angus Striploin, complete with a selection of optional side dishes that can be added on. For dessert, guests can satisfy their sweet cravings with Manjari Chocolate, Vanilla Crème Brulee, or a selection of Artisanal Cheeses.
At Rang Mahal, diners can enjoy a five-course menu featuring a selection of the very best Indian dishes, including authentic Chat, Tandoori Smoked fish, Peppered Lamb Chops, Chicken Tikka Masala and an indulgent Chocolate Chaklet for dessert. A vegetarian version of the set menu will also be available.
Offering flavorsome Thai dishes in an exquisite setting, Tong Thai is a must-visit for authentic Asian cuisine with a specially curated four-course set menu, featuring the restaurant's most popular signature dishes to choose from. Options of starters include Grilled Chicken Satay, Crispy Prawn Spring Rolls, Papaya & Steamed Prawn, and Minced Chicken Salad, followed by a choice of three aromatic soups, including Tom Yum Phak with mixed vegetables, Tom Kha Gai with coconut chicken, and Tom Yum Kung with prawns and lemongrass. For the main course, diners can choose from other classics, such as Green Chicken Curry, Wok Fried Beef Tenderloin, Stir Fried Cashew Nuts Chicken and more, while there is a choice of an authentic Tub Tim Krob or Thai Style Coconut Ice Cream for dessert.
Modern Japanese spot Izakaya will be serving up an extravagant sushi and sashimi combo in an upbeat environment, including Edamame to start and a deluxe platter featuring a variety of freshly prepared Salmon, Otoro and Hamachi Sashimi, Tokusen Nigiri including Hamachi Yuzu, Wagyu Truffle and more, as well as Prawn Tempura and Salmon Avocado Rolls.
DINING EXPERIENCES FOR AED 99
If you're looking for a more laid-back dining experience, you can take advantage of the special burger and hops deal at Bridgewater Tavern and choose from a selection of craft burgers such as the Bridgewater Smash Burger, Southern Fried Chicken Burger, or All American Burger, while the homegrown burger spot Lush Burger will be offering a Double Meal Combo that includes two burgers, a side of fries, soft drink and a refreshing froyo.
For those craving European cuisine, diners can head to contemporary café and bakery La Farine for a delicious two-course meal in a comfortable setting, with a selection of gourmet fare to choose from, including Brisket Croquettes and a Tuna Poke Bowl to start, followed by a choice of mains such as Seabass with Potato & Leek Mash, Corn-fed Chicken with Green Beans, or Gnocchi Primavera.
At JW Marriott Marquis' popular Italian restaurant Positano diners can feast on bottomless Spaghetti Bolognese and Pizza every night of the week during Restaurant Month, with a wide variety of authentic, stone oven baked pizzas to choose from, including Diavola, Quattro Formaggi, Bufalina, Frutti di Mare and more, while the award-winning Kitchen6* offers an expansive international buffet with a vast selection of starters, salads, desserts and a vibrant atmosphere.
Bring your appetite and explore Marriott Marquis Hotel Dubai's award-winning venues during Restaurant Month to experience exceptional culinary deals from May 1st to 31st.
RESTAURANT MONTH OFFER DETAILS:
Signature Restaurants: AED 199
Prime68, Tong Thai, Izakaya and Rang Mahal
Casual Dining Restaurant: AED 99
La Farine, Positano, Bridgewater Tavern, Lush Burger and Kitchen6*
Offer available from May 1st – 31st at participating venues only.
*Kitchen6* – This offer is available weekdays for lunch and dinner only (excluding Friday, Saturday and Sunday lunch only)
For reservations, please contact the hotel on mhrs.dxbjw.ays@marriotthotels.com or call 04 414 0000.