"Arabisk London" is honoured to interview the talented Videographer Ahmed Mekki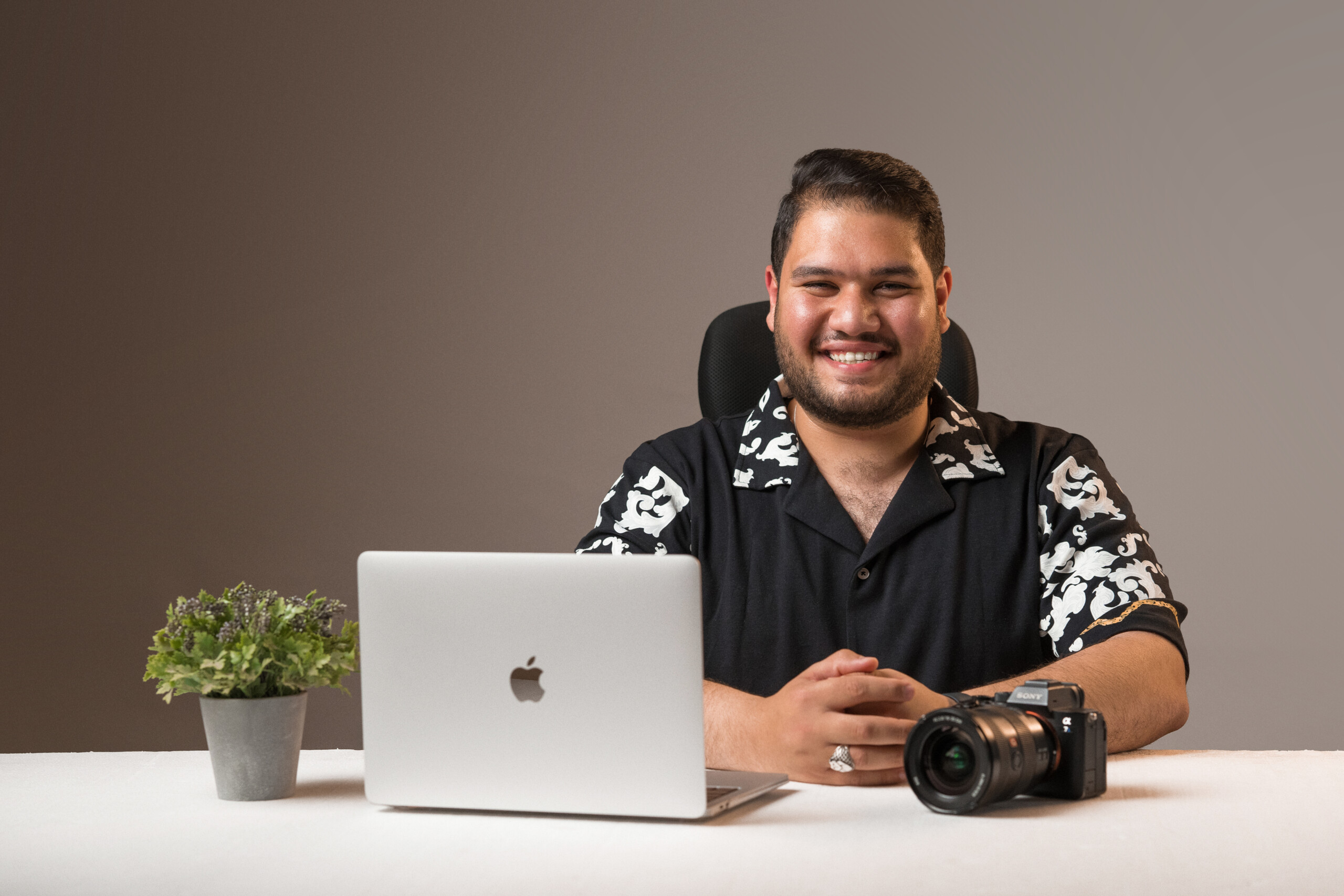 A dream that began with a camera lens, to be a spark of passion and a catalyst for art and creativity, From the word "Action" to "Best Videographer Award"!
Arabisk London Magazine is honoured to interview the talented young man Ahmed Mekki in an exclusive interview to tell us about his success story.
Edited by: Baidaa Qalteesh
In your own words, who is Ahmed Mekki?
I am Ahmed Mekki, a young Egyptian man from Dakahlia, specifically Mansoura. At 17, I learned photography via YouTube at the beginning of my career in 2015. Despite my computer and information engineering studies, my passion for professional photography and the realisation of my dream remained constant. So, I directed, filmed and edited my first short film with my friends via mobile phone, and the story began there!
Today, I am the youngest videographer who founded a photography company at age 21; I opened my first office in 2019, then a second branch in the most vital area of ​​the city Al-Mashaya in 2020. Today I have become one of the photographers chosen through the Cairo Photography Club (CPC) for photography lectures sponsored by Canon for 2022.
When did your passion for photography begin? How did you get started, and what was the first camera you acquired?
My passion for photography started in high school in 2014, specifically in the gaming class, where my classmates had the latest mobile devices with mediocre-quality cameras. I would use their devices for photography and then edit the videos at home.
Before the exam, my father promised to buy me a new phone If I got high grades. This promise motivated me to become one of the first students in the school and get a rank among the distinguished students. My father rewarded me with the award just like he promised. So, I shot my first short film and directed, photographed and edited the entire film myself; it won my friends' admiration and spread locally on YouTube, so I decided to continue my photography career and improve myself.
What does photography mean to Mekki?
Photography is simply the immortalisation of moments and small details that mean a lot to people. Although they may be ordinary moments for some people, it is a beautiful and unforgettable memory for the people I photograph, so they must be documented.
What is the role of the family in Mekki's success?
My family's role was more comprehensive than the first mobile phone they bought me, which was the first step in my path to success. Still, they were also the first supporters and motivators for me to continue and walk the path of professional photography and to unleash my passion and dream!
What type of photography do you prefer and why?
I prefer photographing weddings and parties because they contain a mix of all feelings, such as love, affection and joy between the two partners and their families and the audience, which adds lovely pleasure.
How do you prepare for filming a new project?
By collecting as many details as possible, my team manages all the necessary information about the people for whom I am doing the photo session on that day. All their data is obtained from the event dates, the place of filming, to their favourite music, and then I connect all that data and draw a plan with my team of photographers.
What challenges do you face when filming, and what are your challenges in your career?
My biggest challenge is not repeating my style and the constant attempts at renewal. I am constantly challenged to develop my style and performance in photography.
How do you edit your photos? Do you have any recommendations for favourite programmes?
I used to edit the videos, but now I have an excellent team specialising in only editing. This team is intensively trained in using the latest tools and programs, such as Premiere Pro and After Effects.
We notice through your photos that your lens tends to introduce comedy, so what is the secret behind that?
The secret behind introducing the spirit of comedy in the videos I film is that it is simply a general characteristic of the Egyptian people, who are known for their humour, wit and spontaneity. Therefore, my focus on showing a sense of humour and comedy in any photo session is that it makes me produce unique and distinct videos from the rest of my colleagues in the field of photography.
My style has become a new style in the world of wedding photography, and it won the admiration of the audience and my fellow photographers, so some of them are now adopting the comedy style in their work.
In your opinion, what are the characteristics of a successful photographer?
One of the essential features of a successful photographer is continuity. There are hundreds or even thousands of talented photographers, but the most successful is the one who can maintain and continue the path of success.
Do you think financial capabilities play a significant role in making a professional photographer?
Undoubtedly, every beginner in the field of photography aspires to obtain the best equipment that helps him produce professional visual content. However, in the beginning, you have to bear poor performance and poor equipment because it is the first step on the ladder of success, and we all started in the same way that made us professional photographers today.
What tips can you share with beginners who want to work as photographers?
I advise every beginner to make many mistakes and not be afraid of his mistakes. Instead, I turn every mistake into a lesson he can benefit from in developing his performance and learning how to teach himself.
What distinguishes your work from other photographers?
An essential characteristic of the visual content a photographer produces is its consistency with the music added to it and that it contains the most critical scenes shortly and lightly, which makes the viewer not want the video to end because it is full of joy and happiness.
What is the role of social media in Mekki's fame?
Social media is the largest portal for displaying the content produced by our company and our large team, through which the marketing team promotes our business.
What are the most important awards you got?
I won the Best Videographer of the Year 2021 by public vote on Radio Fi Sukkah. In addition, I was one of the photographers chosen by the Cairo Photography Club (CPC) for photography lectures sponsored by (Canon) for 2022.
Are you satisfied with what you have achieved so far? What are Ahmed Mekki's new plans for the near future?
So far, I have achieved only a small part of my dreams and aspire to accomplish a lot in the coming years.