Diamond Pen Sells for Four Million Qatari Riyals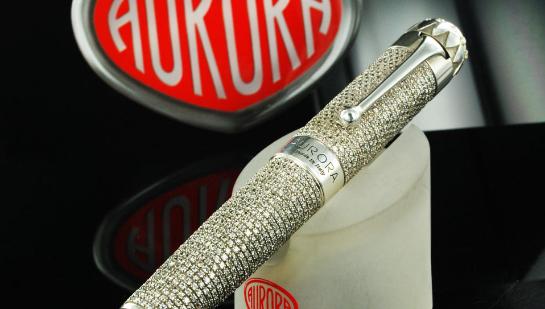 Step into the Aurora section of the Doha Jewellery and Watches Exhibition and you will be wowed immediately. The first thing you'll notice is the wealth of shiny, extravagant pieces selling at millions of Qatari Riyals.
The 14th round of the Exhibition took place at the Doha Exhibition and Convention Center three days ago, but what is most remarkable is the wing dedicated to the pens that seem shiny at best from afar. The second you step closer, you start to see the level of detail and craftsmanship involved in creating those fine pieces.
Handmade and covered in diamonds, these Italian luxury pens are a sight to see. Unique because of the large amount of diamonds and jewels individually hand-placed onto each one of the pens on a special platinum plate. Each pen is covered in close to 30 karats-worth of diamonds.
The Aurora company representative, Sara, mentioned that each pen is valued at around 4 million Euro or 4 million Qatari Riyals. Sara added that the most expensive pen in the world is actually valued at 9.1 million Euro or 8 million Qatari Riyals.