How has the lifestyle of Qatari students in Britain become due to Corona?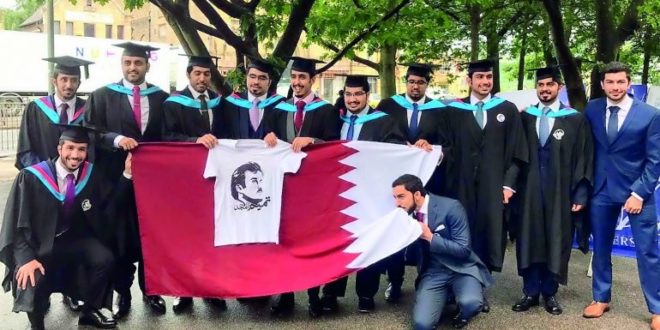 Lifestyles have changed with the spread of the Corona virus, and the epidemic has formed a watershed point in the history of most countries since the beginning of its outbreak, as they were forced to make radical changes in their policies, and extensive measures were taken to control the spread of the virus, and the application of these measures was not based on the expense of its economy and profits only but affected the nature of The case on educational methods in its universities and schools.
Certainly, the United Kingdom is one of the countries most affected by the emerging virus, and since it was necessary to take preventive measures related to restricting economic activities, taking into account the continuation of the productive wheel within safe health standards, the continuation of the educational process in accordance with those standards was not less important in terms of the measures taken in consideration from Governmental agencies, especially since distance education was one of the safe options for students to safely complete their education.
3000 students from Qatar studying in British universities
With university students in the Kingdom beginning to prepare for a new academic year, amidst the preventive measures in place, there are approximately 3,000 Qatari students studying in British universities annually, and they are experiencing the epidemic crisis.
The lockdown period imposed a new way of life
Qatari students at the University of Liverpool said that the epidemic imposed the suspension of all university activities that filled part of their time, but that is not all, as all activities have changed since the closure imposed by the Kingdom on March 24, so going out to eat became unlikely, and most students were forced To prepare food on their own, as well as for sports clubs, as home sports and the use of household tools have become like weights, a suitable solution for some in order to maintain a good body and raise immunity in light of the epidemic.
Mubarak Abdullah Al Mansouri, a third-year student at the University of Liverpool, specializing in mechanical engineering, said, "The Corona pandemic has changed a lot of what I used to do in the past, and has greatly improved my way of life and made me care about many things that are most useful to me and those around me, and after the closure. The year I started to set myself a new way of life in terms of preparing food at home instead of eating it outside and taking an interest in exercising on a daily basis after the sports centers were closed. I started practicing sports with the tools available to me at home in order to maintain my fitness and health. "
The head of the Qatari Students Club in Liverpool, Ghanem Al Ibrahim, a third-year student at Liverpool John Moores University in Electrical and Electronic Engineering, said, "There were many ideas to take advantage of our staying at home, and we adapted to this period, and we did not go to crowded places and stayed in Home ".
Return to Qatar after the end of the academic year
Many Qatari students chose to return to their country after completing their study programs for the past year, and the British authorities allowed them to return. Each of them spent a period of quarantine in Qatari hotels for a period of two weeks before they went to their homes in Qatar.
On that, student Mubarak Al Mansouri said, "I completed all my study programs for the last academic year, and as soon as we were allowed to return to our country, I went to Qatar and committed to quarantine at the hotel for a period of two weeks."
As for the student Ghanem Al-Ibrahim, he said, "I tried to finish our study programs and scientific research during the last academic year and committed myself to all precautionary measures until the university allowed us to return to our countries, and I returned to Qatar and adhered to the precautionary measures published by the state to limit the spread of the virus since my return in mid-May."
 Infections cases among Qataris in the United Kingdom
During the quarantine period of a student at Liverpool University and returning to Qatar before the general lockdown period in Britain, it was revealed that the student "Saleh Al-Awadhi" was infected with the Coronavirus, and upon his return to Doha, he developed symptoms of infection and received treatment for a full month before he recovered, from Then he will return to Liverpool to complete his graduation project in electrical engineering.
Student Saleh Al Awadi said, "I was diagnosed with Corona, and I was treated for a whole month until I recovered, praise be to God, but unfortunately I stopped practicing sports at that time because I was busy studying because I had severe pressure from the university between projects and exams. , But after completing the exams, I gradually returned to exercise, and regularly, although the topic was difficult at first, but with time my body began to adapt and improved greatly, and after the end of the exam period at the university I returned to enjoying my time.
challenges of the new school year and distance education
Despite the high hopes that Qatari students build and their willingness to complete their educational programs in British universities, many of them believe that the idea of ​​distance education is not completely familiar to them, especially since some of the studies applied specializations and thus will lack some educational tools that achieve a better understanding for them.
Regarding his preparation for the new academic year, student Mubarak Al Mansouri said, "The current school year is completely different from the previous one because it depends on it being a remote academic year until now, and this method is not used to it before, but I will adhere to it and strive to be an example among students. In order to achieve the highest grades and return to my country, Qatar, and contribute to raising its name high in the field of my specialization, "adding," With the start of the new school year, most of the things that I used to love will be under controls according to the precautionary measures followed here in the United Kingdom. "