Mohammed Suliman Golden medallist and inspiration for horse-loving Arab youth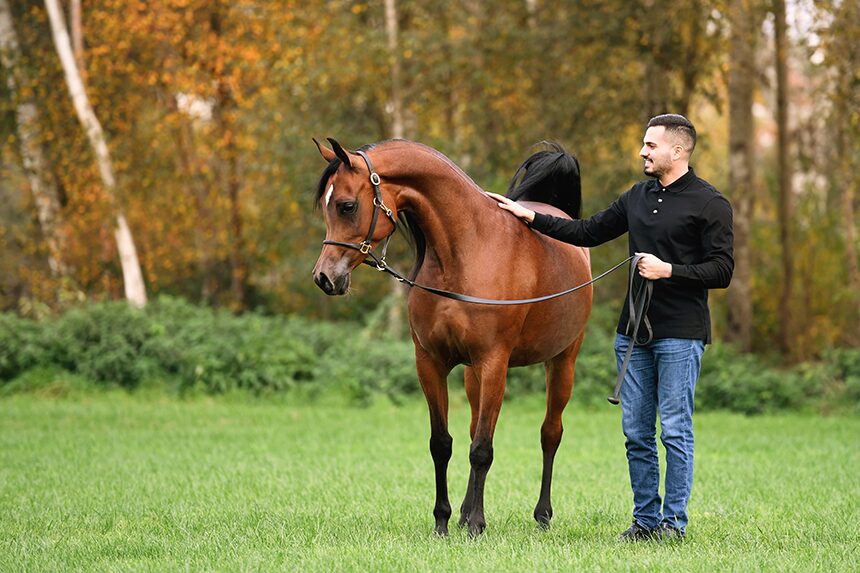 Mohammed Suliman :My relationship with horses started at a relatively young age, so much that I had a belief that loving these horses is a genetic trait that is passed through generations.
Interview By: Marah Sharba
First, Mohammed Suliman tell us about your business management experience and how you manage your time between that and the horse stud?
 Ever since I was a child, I have been obsessed with financial business, and I wanted to start something of my own, especially in those times when online trade was not as common. So, I started buying different things from eBay, and I sold them to my neighbours.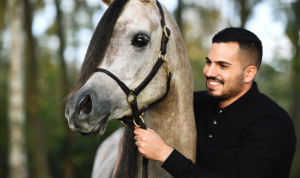 That way, I made my pocket money. I had excellent scores when I went to high school, and at the Franciscan Monastery in Nazareth, I  received an award in math.
  I got excellent grades in the government exams, and I graduated. Shortly after graduation, my parents decided that I must go to college and continue my studies.
So, I studied business and management, but deep inside of me, I had the same passion I had had as a child; to start something of my own, although my parents had their doubts about that idea. 
I decided to get out of my comfort zone, and I began working on a business project I had in mind for two years. By the first summer break, I had finished my prototype.
Shortly after, I presented the project to four of my high school friends, and I recruited them so we could begin together.
At 21, after three years of hard work, accompanied by good profits, I was financially able to move on to the next business field of real estate.
In time, I owned a real estate enterprise, hotels, and a horse stud, all under Al Sheikh Group's name. The horse stud is definitely something sacred for me.
Through it, I have achieved my childhood dream. Al Sheikh Stud has also achieved great success all over the Middle East, so of course, each thing has its own time for me to be busy with it. 
How have your hobbies affected your work and vice versa? What is shared between the two?
 Speaking of my relationship with horses, I must start with my first interaction with them. I belong to a horse-loving family, ever since my childhood.
My grandfather was an Arabian horse trainer, and I loved them from an early age.
I would always look forward to visiting my grandparents' house so that my grandfather could take me to see the horses, as usual.
I have always known that I would have an Arabian horse one day, but I never imagined a day would come when I would own a stud with over 30 Arabian stallions and horses from the best of the breed around the world.
As for my work, of course, I love it.  It has its dedicated portion of my time.
I learned many positive things from it, like patience, flexibility, compassion, and new experiences. I think that's what is in common between my hobbies and work.
Mohammed Suliman What is your personal and championship experience with horses?
 As I mentioned before, my relationship with horses started at a relatively young age, so much that I had a belief that loving these horses is a genetic trait that is passed through generations.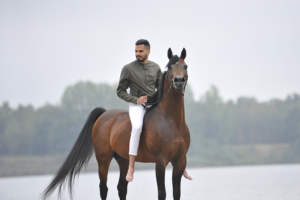 My grandfather started caring for horses before me, and here I am, continuing the journey he began. Add to that, horses have a special place in my heart, and not just because of their beauty or the joy in raising them, but for their stature in our religion, Islam.
Our prophet Mohammad has many sayings mentioning his love for Arabian horses and the importance of raising them. As he used to say that goodness and bliss are in horses' forelocks.
And I truly believe that one of the main reasons Allah blesses my business and life is because I raise horses. The prophet said, "Goodness is tied to the forelocks of horses until the Day of Resurrection…and reward and spoils of war," and here we are, seeking to walk with his guidance. 
Tell us about the relationship between the knight and his horse. It is usually very special. Could you explain it to us? 
Since my childhood, I've been training and practising my hobby of horse riding. At a later stage, I practised obstacles' jumping and dressage.
To this day, anytime I feel bothered or feel the need to free my mind and release energy, my first choice is to spend time with my horses.
Spending time with my horses away from the human world and the stresses of life gives me positive energy.  I noticed lately that life's stress and the loudness of reality take us away from these times and make us forget the importance of these pure relations between horses and their caregivers.
These competitions don't allow any direct contact between us. It is only a beauty competition.
Mohammed Suliman, How do you contribute to the development of this sport and reinforcing it in Emirati society?
The Emirati people are known as a horse loving community, horses in general and Arabian horses specifically. That is why the Emirates has an important role in most international horse competitions.
In turn, we hope what we, Al Sheik Stud, from productions and achievements aspire younger people to join this sport and help its development and reinforcement in Emirati society.
It is worth mentioning the cooperation between His Highness the Crown Prince Sheikh Ammar bin Humaid Al Nuaimi and Al Sheik Stud, as he had done very well in the Stud's Charity auction by buying the unborn foal of the stud and world champion Al Gamra, impregnated by stallion Shanghai EA.
The entire amount was donated to UNICEF to help support and rescue the children of Lebanon.
We plant the seeds of good, hoping that it grows a generation inspired by this sport and show what high purpose this sport can help accomplish.
Mohammed Suliman Do you see yourself as an inspiration for the Arab horse-loving youth?
 In every competition Al Sheik Stud participates in, I am surprised by the huge number of inspired youths who attend the event to be a part of the stud's achievements and feel a sense of belonging there.
The young audience doubles from each event to the other. This makes me so happy. As I am claiming the prize, I invite them to stand next to me and take photos because I feel this is as much of an achievement to them as it is to me.
I understand their passion, and I am very grateful for their efforts to attend the competitions. After every victory or achievement, I receive many letters of appreciation from all over the Arab world. They are proud that there is an Arab stud participating and winning first place in most of the contests it participates in, especially in the world championships held in Paris, for two years in a row.
This inspires many young people, horse trainers, and small stud owners to raise their ambitions and seek global recognition. That makes me happy and satisfied with spreading the seeds of inspiration in this sport and the achievements we've made in such a relatively short time. 
What are your plans and goals?
 Al Sheikh Stud's local and international achievements have raised the standard for our ambitions and future plans. In the last couple of years, the stud has received many awards around the world.
The most prominent ones are the international championships for Arabian Horse Beauty for two consecutive years, a first for a relatively new Stud.
Al Sheik Stud also launched a production line two years ago in the hopes of producing the best and most beautiful Arabian horses that can prove their capability and achievements in the Arabian Horse field around the world.
We are currently expecting foal Sharif Al Sheikh and filly Bahia Al Sheikh which can be seen for the first time in the exhibition halls in 2021.
We are now focusing all our efforts on a unique production line for Al Sheikh Stud, hoping to make future champions from the stud's products.