Interview with Esen Kaya ..Visual Artist, Curator & Educator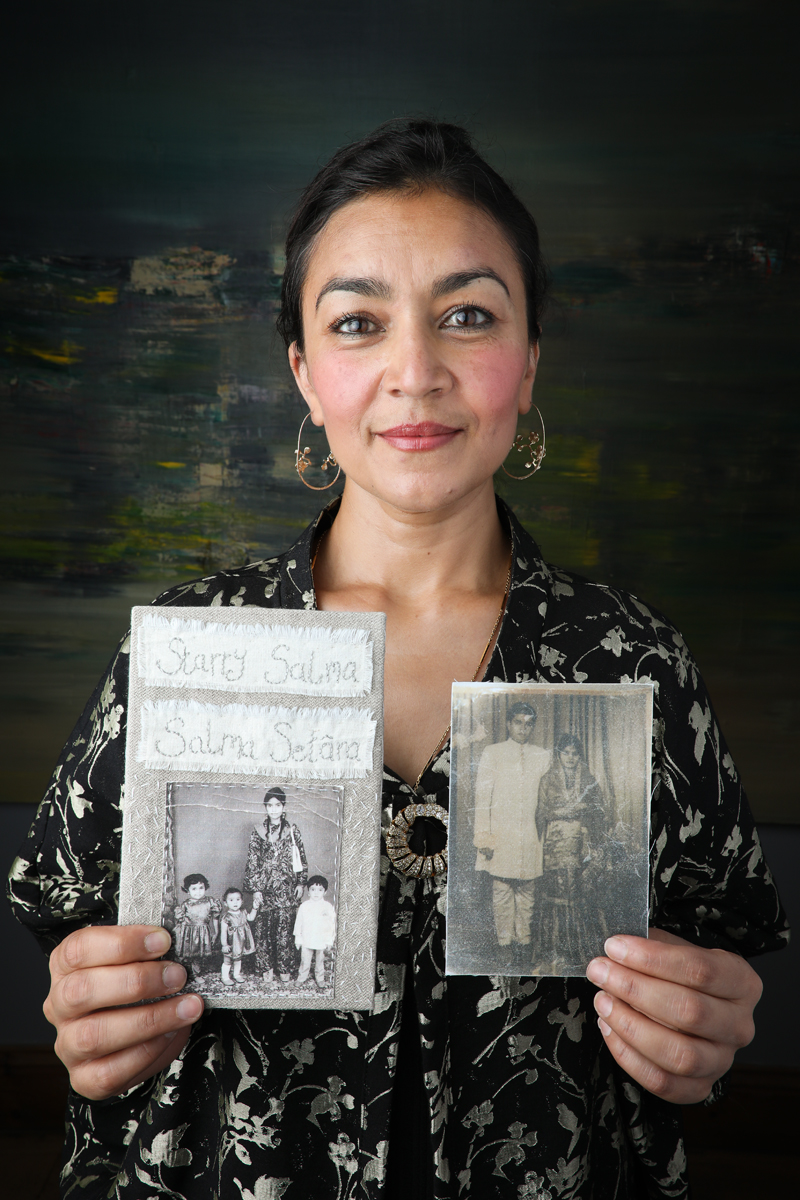 Esen Kaya, a creative Pakistani visual artist, curator and educator. She has worked in the field of art and culture for over 20 years, specializing in drawing, painting, sculpture, and crafts such as embroidery.  She graduated with 1st Class Bachelor of Fine Arts Honours from Bretton Hall College, Leeds University, in the department of sculpture. 
In 2017, Esen was awarded an Honorary Visiting Research Fellowship at the University of Sunderland for 3 years in recognition for her work with the university on contemporary drawing. 
Esen has worked in museums and galleries across the UK, including notable organisations such as Newlyn Art Gallery & The Exchange, The National Glass Centre, The Customs House Arts Centre, and for Arts Council England. She has curated over 130 exhibitions of work by national and international artists including projects with James Turrell, Sir Antony Gormley, and Tacita Dean.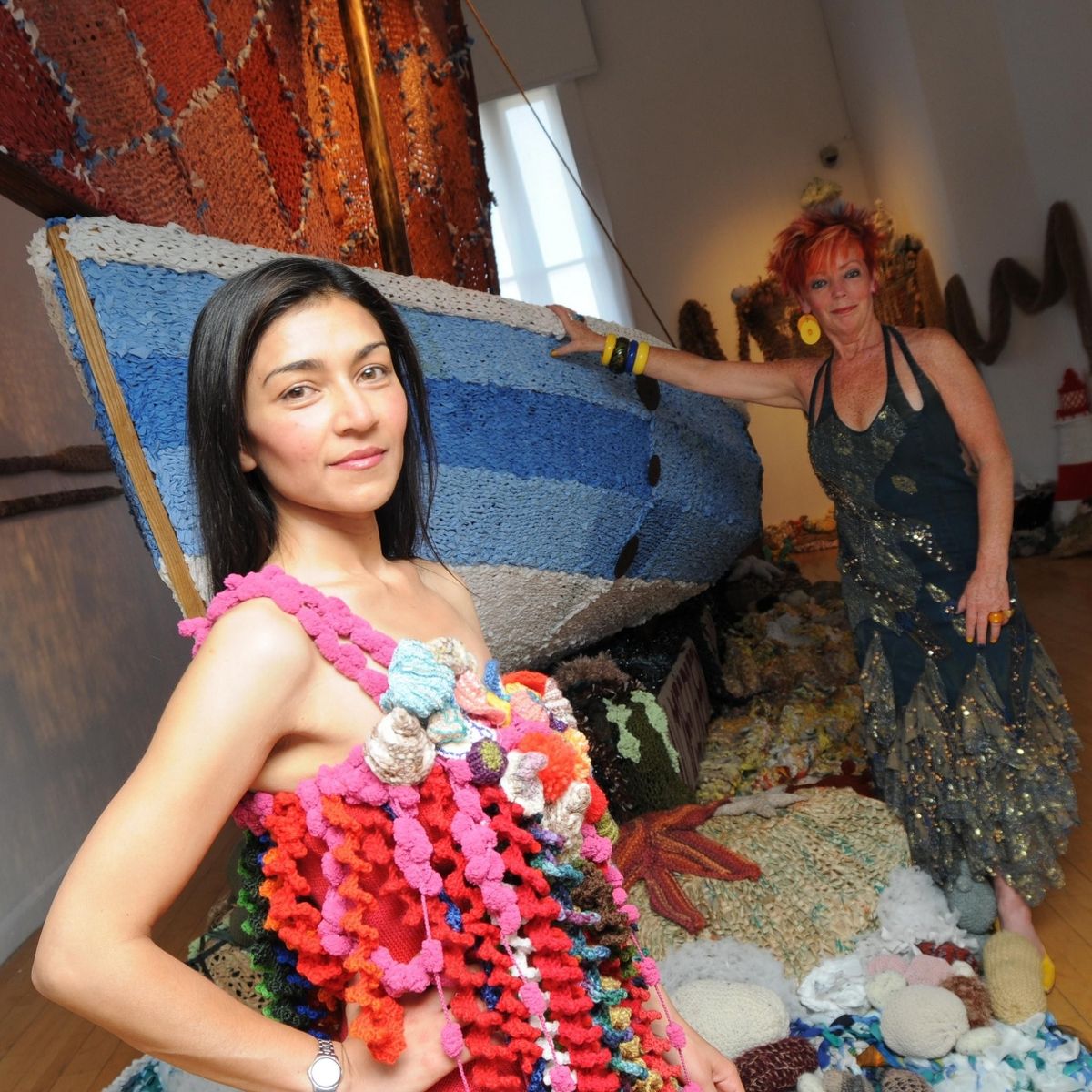 Esen is very passionate about working on creative projects that focus on community engagement and which enable people of all ages, abilities, and backgrounds to enter the field of arts and culture and interact with it. She believes in the power of art to change peoples' lives – how Art has the 'Power to Change the World', and the main role it plays in emotional, physical, and spiritual well-being as well as its aesthetic fulfilment. She continues to develop her own arts practice and has shown work in a variety of national and international exhibitions. 
Her mixed media drawings were displayed as part of Making the Postcard Women's Imaginarium at Wilsden Gallery, London in 2019. She also recently showed work in the online exhibition Carpet Pages III curated by Vaishali Prazmari in 2020. Currently, she is making new work for a solo exhibition in 2022 at Vane Gallery, Newcastle Upon Tyne.
Professionally and artistically speaking, who is Esen Kaya?
I was born in Karachi, Pakistan but moved to the UK with my family when I was seven. I arrived with very little spoken English, so had to learn quickly. But as a child, I was always so intrigued by the 'otherness'. By this I mean, the Western culture. It didn't belong to me but one I wished to adopt. I have since, lived a hybrid life. I am neither fully Asian anymore, nor am I fully western. The inner self I believe is eastern; I think in Urdu but generally speak in English. I rather like the dual heritage now. And so, I like to borrow elements from both these cultures, so I can draw the very best from both, and hope this gives me the sensibility and sensitivity to be a good human. I am interested in the rich tapestry of traditions, artefacts and colours of the East, all of which are now beginning to influence my artistic practice. This hybrid interest seeps into my professional work as a curator too; I like to curate exhibitions that combine interpretations and new perspectives from both cultures, as a way of exploring pluralism and creating opportunity for all, regardless of where people come from. I like to be unconventional and push the boundaries of what constitutes as 'art' i.e., I curated a community project Casting Off…A Coat For A Boat, that brought non arts communities together to create a 21ft knitted boat that sailed the River Tyne, in Northeast England.  I am very open-minded and interested in peoples' ideas and stories and wish to share them through creative means. 
How did you improve your creative skills and talents?
Practice, practice, and more practice…in terms of my artistic practice, I have undertaken numerous artists led workshops, that have helped me develop my knowledge and skills. During 2019, I spent the whole year making a drawing or two drawings a day during my hour-long commute into London for my job at Aga Khan Centre. I made the decision to use the time efficiently and create a strong body of work on the train, working initially on a folded A4 sheet of cartridge paper that I had prepared with inks in advance, to eventually making A3 drawings. All works with graphite, ink and coloured pencil on paper. Some of the A3 drawings were shown at Wilsden Gallery, London in 2019. 
What does your position as the Gallery Curator at Aga Khan include?
Research, develop and curate the highest quality exhibition programme of national and international significance foregrounding Muslim cultures, civilisations and societies through interdisciplinary approaches. Present platforms for discussion, debate and dialogue about Muslim cultures, civilisations and societies from the past to invest in both the present and future. Create opportunities to share, exchange and promote the historic collection while engaging contemporary creative practitioners, academics, art, heritage and cultural institutes and educators to build the collection's reach. Enable AKC Gallery and its cultural offer to be widely accessible to both broad and specialist audiences making the Gallery a significant contributor to the wider cultural offer across the City of London as well as nationally and internationally. Create exciting and innovative opportunities for contemporary interventions for the gallery programme as well as events and projects using the AKC gardens to contextualize the gallery programme. Establish close liaison with the Aga Khan Museum in Toronto to develop collaborative / parallel exhibitions where appropriate and creative imaginative collaborations with agencies across Aga Khan Development Network. Develop special exhibition opportunity specifically for emerging practice and create collaboration with key external partners and stakeholders that further champion AKDN's work and thus of the three institutes based at The Aga Khan Centre (AKF-UK, AKU-ISMC and IIS). 
Did your position at Aga Khan help your exposure to global art?
Yes, most definitely, the very fact I work for AKDN at Aga Khan Centre, London automatically demonstrates a notable international reputation for excellence. It gives me great pleasure to work for AKDN and His Highness the Aga Khan, not least, for the incredulous work that AKDN does around the world but also for the overarching principles around pluralism, which is a subject close to my own heart. This role has given way to help gain access to global art in a different way to what I had been exposed to before, notably, global art from the East. 
Tell us about the DRAWING program that you established in 2014
I initiated DRAWING after curating an exhibition exploring the question; What is Drawing? with Dr Mike Collier, Professor of Visual Art at University of Sunderland in 2013. This mix-media and group exhibition showcasing contemporary drawing practice by national and international artists, led to the development of DRAWING in 2014. DRAWING became a programme of exhibitions and events exploring the role of drawing in art and the everyday. It became a collaborative project with me as its curator and partnerships with Sunderland, Newcastle, Northumbria and Teesside Universities. Three phases of DRAWING were supported by grant funding from Arts Council England as well as trusts, foundations, and stakeholders. From 2014 – 2019, DRAWING engaged over 100,000 people, commissioned around 150 artists, and worked over 35 partner organisations across the Northeast of England.  The last phase of DRAWING in 2019 included a symposium with international speakers and an audience of artists, makers, academics and public. For now, DRAWING has been parked until further development work takes place, which could see it become an online platform for international exhibitions and events. 
What support did DRAWING receive from Arts Council England?
Arts Council England provided grant funding across the three-phases of DRAWING totally around £80,000. They also provided invaluable support with regular contact with the visual arts relationship manager based at the regional office and advocacy across the project's lifespan – with grant funding from Arts Council England, comes a reputable endorsement that our project aligns with their strategic ambitions.  
Tell us about your participation in notable art exhibits around the world.
A recent example is, the deconstructed hand embroidered and screen-printed kimono I made for a group exhibition based on inspired works by poets William Wordsworth and Matuso Basho held at the Karimori Bunko, Kyoto, Japan. I have worked more as a curator with international artists and galleries than shown internationally myself. My arts practice started in earnest six years ago, as much of my career was focused on community engagement and curatorial work – until recently, I spent many years supporting other artists' work and not much my own. 
What about your noticeable participation and curation of prominent exhibits in Britain?
For the first DRAWING project in 2014, we launched the programme with an exhibition of drawings by Sir Antony Gormley, held at Hatton Gallery at Newcastle University.  So, I worked with the project team at the university and gallery to plan this exhibition. Another notable example is when I was fortunate to have worked James Turrell as part of the Elliptic Ecliptic project managed by Newlyn Art Gallery. For this, I curated the extensive learning programme and assisted with the install of the exhibition at the gallery.  And of course, AKC Gallery's inaugural exhibition of work by Bahia Shehab, who had only every made street art but was commissioned to create four short films and graffiti drawings. Her messages of freedom and ability to have a voice, was a powerful way of launching the gallery. 
What creative galleries have you participated in online ?
In 2020 I was invited by artist and educator Vaishali Prazmari to be part of her online exhibition Carpet Pages III and more recently, in 2021 two drawings were selected for the online Elements exhibition curated by Sara Choudhrey. 
Britain has opened the gates of success for you, what has it given to you in general?
On some level, this is hard to answer as I came to Britain as a child, so it's really the only place I have known properly. I grew up here, like any first-generation child. But what Britain has given me is a sense of place, although my roots are in Pakistan, Britain is my home. I don't usually think about this but now that I am asked, Britain has given me a life that I may never have had, if my family had stayed in Karachi.  Perhaps, my fortunes may have been different, perhaps I would have taken the traditional route of having an arranged marriage and maybe not even a career. It's a case of sliding doors…my life could have been so different but thankfully, I was destined to have the freedom to carve a career for myself and be an independent woman. That wasn't achieved easily though and did come at a price. I had to run away from home to achieve this – gain my freedom from my family, even in Britain. Britain did give some incredible friends who helped me and the western culture which encouraged me to dream big. This along an inner resilience and fire within to fight against archetypal male dominance, was what allowed me to pursue my dreams. I may not have done this if I hadn't lived in Britain, that I am certain of.   
What are the most important art galleries that you worked on in London?
I have only really worked at Aga Khan Centre Gallery in London because my career was largely based elsewhere in Britain. A significant point is, I was appointed to establish AKC Gallery. The gallery did not formally exist when I arrived, so I was tasked with creating its mission statement, strategy, aims and objectives – so laying the foundations before any programming could take place. This also included working on its identity, logo and launching the gallery with its inaugural exhibition of new video and graffiti work by Lebanese Egyptian artist Bahia Shehab. So, I was really setting the gallery up, so it had a framework to work from. My ambition; to place AKC Gallery a significant contributor to the arts and cultural offer in the city of London and that internationally. The Gallery has had three exhibitions now and I am currently working on some ambitious shows for 2022 & 23. I hope by then, we would have firmly found our place in the international arts arena. 
How has the Honorary Visiting Research Fellowship at the University of Sunderland helped you in achieving your creative goals?
This was a humbling moment for me and an acknowledgement from the university, my work was valued and had its place within the faculty of fine arts. Any form of academic recognition brings a certain degree of prestige, but for me, a confidence boost, that what I am passionate about, and my vision is shared by sector professionals. 
What does it mean to be Lead Curator for Arts Council England's main strategic national touring project ?
This was a large-scale project that included bringing together a visual arts / crafts project (Casting Off…A Coat For A Boat) and a theatre production. The project involved taking the knitted boat on a tour to 13 venues along the east coast of England and Scotland. My role was to work with the 13 partner venues, their appointed artist, and community groups to curate a community project and exhibition with the boat at the centre of the display. This was a demanding project not least because each location presented its own challenges, and every community setting was very different, and we wanted every exhibition to be unique to the pace and its people. There were many expectations to meet, tight schedule and budgets to manage as well as developing activities that engaged audiences who may not have otherwise preoccupated in an arts project. I also contributed to the end of project report, which was submitted to Arts Council England, so we could provide qualitative feedback from each community setting. 
What are the most important topics that you focus on in your work?
It depends on what work you mean – for my artwork, I currently making work that explores internal landscapes and the elemental changes in a woman's body and the essence of our being, explored through drawing and embroidery. I am interested in stories of migration, dual heritage, the poetics of language, calligraphy and asemic writing as well as objects. I am fascinated by everyday objects and like to create works from objects that you may least expect. 
What is the secret behind your choice of making an embroidered Japanese Kimono, and why have you done it personally?
I was invited to make a new piece responding to the work of poets William Wordsworth and Matuso Basho. I decided to create a deconstructed kimono because pattern cuttings for garments are rather like landscapes. So, I wanted to try describing, the landscape the two poets may have explored in their respective countries. The deconstructed kimono included depictions of images of Wordsworth, text from some of his manuscripts, lineal stitches that traced the contours of an imagined landscape and specific phrasing in Japanese text and Chinese characters from Basho's poems. It was a fusion of the east and west. 
What do you think of Arab women and what makes them unique from your experience with them in multiple fairs?
I have worked with women from many different nationalities and by in large, they have all been great to worth with. The Arab women I have worked with, seem to have a different passion and drive compared to some of the western women I have worked with. Neither is better than the other, just different. Perhaps some of the Arab women I have worked with have a different kind of hunger for what they do, in comparison to their western counterparts. This was true for me, when growing up and when I was at art school – my hunger to absorb everything and work hard, was on a slightly different level. In my case, that was related to the lack of freedom and strict family homelife. Some of this hunger comes from what we have experienced as eastern women; our cultures have different set of traditions so our struggle can be very different. 
You are a successful, ambitious woman and a role model for many, what is your self-discovery advice for women around you?
Thank you for the kind compliment. The main piece of advice I can give to any woman, is to believe in your dreams and pursue them! Only we are in control of your happiness, we cannot rely on anyone else to make us happy. I know not everyone's situation is the same and some face a harder journey that others. But despite adversity, I fought for my life and rescued myself few times…so it is possible. You must think about what you want from this life; it is fleeting, and precious. You will make mistakes but what's important is to learn from these. It's also important to remember your journey and those who helped you along the way. You need to be a good human being and be kind. Listen and think about others and not just yourself. Help others where you can and take delight in seeing them fulfill their dreams too – there is a great deal of happiness to be gained from this. If you come from a culture that tells you, women are weaker, ignore this, listen to the voice within and maintain the fire that drives you. Treat others as you wish to be treated. Being humble is a great sign of resilience and strength. If you get hurt by others, carry on, don't let that deter you and don't let it change you. Maintain your true self. Look forward and not back. Be faithful to yourself and others around you. See the best in others and allow them to always see your best. And foremost, be kind, truthful and generous, of your time, energy, and spirit. 
What are you preparing for your solo exhibition in 2022, and what makes it special?
I am currently making a series of stitched drawings that incorporate a collection of mother of pearl and gilded spoons and forks I have collected over time. I am making stitched drawings that respond to these objects in some way. Some of the objects are imperfect, broken in parts but what I see is the beauty of their form. When you take the function away from the object, it simply becomes a form. I like the idea of taking an everyday object, observing its beautiful characteristics, materiality, and transforming it into something new. I am making clusters of stitched drawings that accentuate the object's form but also express imagined internal landscapes. I am also making a series of ink, graphite and coloured pencil drawings of mirrored imagined internal landscapes. I like the beauty of symmetry but also the juxtaposition of something off key. These drawings are reminiscent of Rorschach test, as they are imagined rather than observed. What makes this body of work special, is that this journey started when I made drawings on the train and this will be my first solo exhibition. 
Have you delivered your artistic message to the world, and what is your ambition?
My ambition is to make beautiful work, to make sense of my environment and help contribute to the world in some way. I want to fulfill my life's purpose. I want to help people though my role as a curator and educator, to inspire people and use the arts to build a better community, whether in a small way or an ambitious, powerful way. I want to bring happiness and make a small difference in their lives, where possible. I want to be a successful artist, not as in fame but in the knowledge, I have made a positive contribution and have a peaceful life. I don't want to add to the materiality of the world but rather use the resources available, recycle them and make new things from them. We are in a global environmental crisis and so, artists have a huge opportunity to make a difference and help with the global cause of raising awareness of how we can all contribute to saving our planet. I will do what I can as an artist, curator, and educator.