A world where everyone is championed: Tolerance & Inclusivity Week curates diverse experiences for all Expo 2020 visitors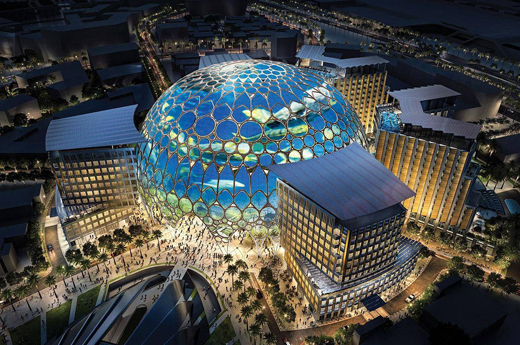 Cultivating a culture of inclusion, Expo 2020's Tolerance & Inclusivity Week, which runs from 14-20 November, aims to foster greater common understanding to create more tolerant societies. From a Firdaus Orchestra performance, to an array of film screenings, music and dance performances, Expo 2020 is hosting an extensive, inclusive cultural programme, open to all, to reflect the beautiful, diverse world around us.
To mark International Day for Tolerance on 16 November, the all-female Firdaus Orchestra returns to the Jubilee Stage at 1900 GST. Melding Middle Eastern influences with music taken from world cinema and TV, including Cinema Paradiso, Bombay Theme, Slumdog Millionaire and Maula Ya Salli, as well as featuring a children's choir from GEMS Legacy School.
The Firdaus Orchestra performance is the highlight of a packed International Tolerance Day programme that also includes a call to action from the UAE Ministry of Tolerance and Coexistence urging everyone to become a 'Champion of Tolerance' and join its platform to enhance connections, create awareness and open doors to collaborative solutions.
The same day, the USA Pavilion at Expo 2020 Dubai, together with the US Mission to the UAE and the Israel Pavilion will screen Amen-Amen-Amen, a film documenting the journey of a Torah scroll made in honour of the founder of the UAE, the late Sheikh Zayed bin Sultan Al Nahyan. Featuring milestones in the UAE's approach to religious tolerance, including Pope Francis's visit to Abu Dhabi in February 2019, the film will be screened at 1800 GST in Al Forsan Park.
Other events brought to Expo by participating countries include Cuando Cierro Los Ojos (When I Shut My Eyes), a Mexican film in which two voices express the need to fight against exclusion, which will be screened at the Terra Auditorium at 1400 GST on 15 November. Later, at 2000 GST on the Jubilee Stage, Canadian Indigenous Groups Showcase presents a multi-cultural extravaganza of music, traditional dance and poems featuring artists from around the globe, including Panama, Malaysia, New Zealand and Canada. 
Radiodervish, in conjunction with the Arab Orchestra of Nazareth, invites music lovers to the Dubai Millennium Amphitheatre at 1900 GST on 17 November to enjoy an evening of Western and Middle Eastern culture to showcase the artistic and religious coexistence of two worlds.
Finally, exemplifying inclusion and cross-border cooperation, 'Te Aratini – Festival of Indigenous & Tribal Ideas' will share ancestral and contemporary knowledge, cultures and experiences, with the aim of building a more tolerant, inclusive, cooperative and sustainable future. Taking place at Dubai Exhibition Centre (DEC) on 18 November, this all-day conference is a collaboration between New Zealand, Canada and other international partners.   
With a common objective to build a 'society for all', made up of all different kinds of people, across gender lines, age demographics, racial designations and levels of physical ability, Expo 2020's Tolerance & Inclusivity Week promotes greater common understanding and active participation.