The Cinnamon Bazaar – NOW OPEN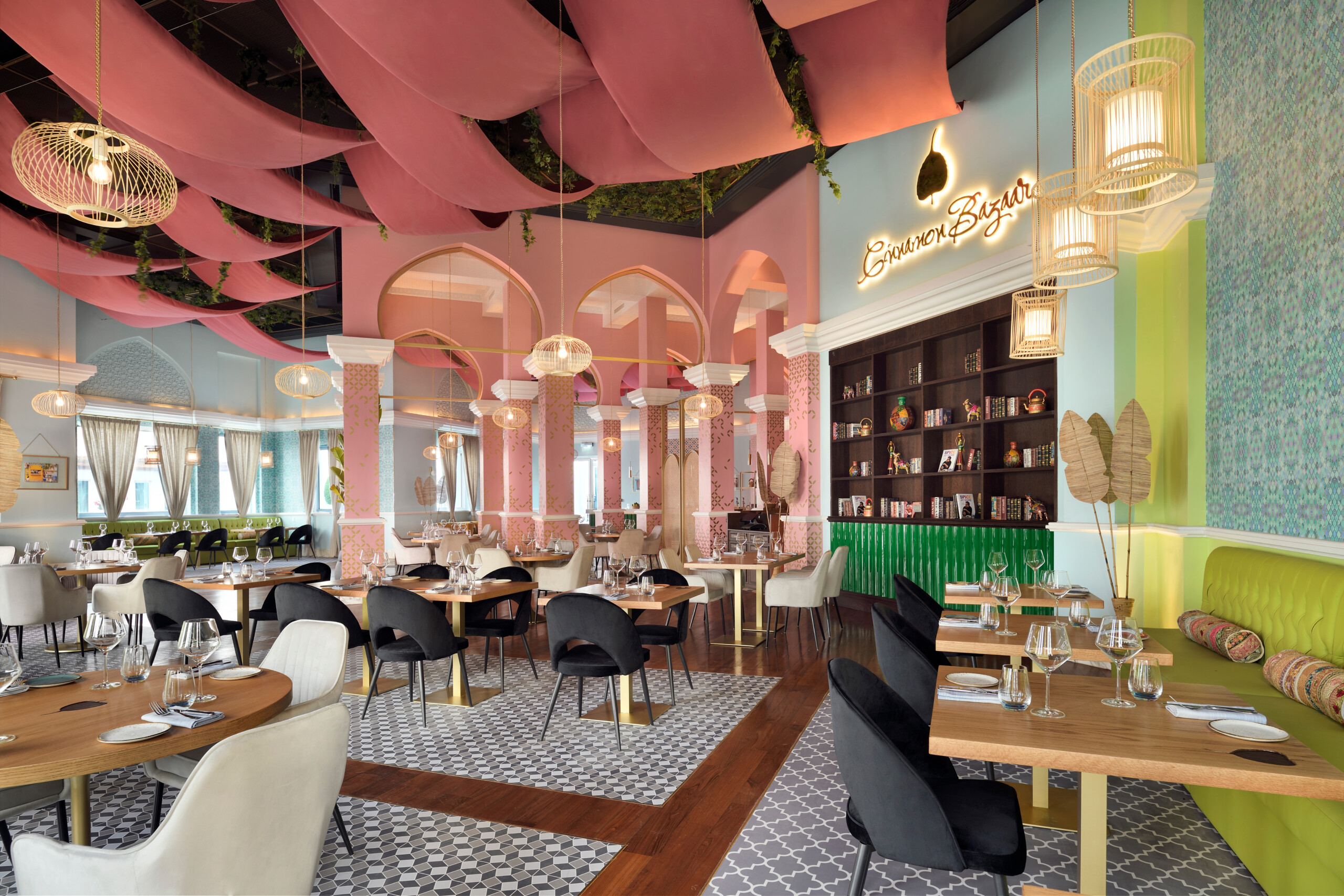 Located in Park Hyatt Dubai, all the way from London, this chic Indian restaurant with international flavours made its debut in UAE In the same year that Vivek Singh's The Cinnamon Club celebrates its landmark 20th anniversary, this leading, fine-dining Indian concept opened its first international outpost in Dubai.
Cinnamon Bazaar celebrity-loved, London based restaurant offering modern Indian cuisine with just the right amount of international flair, opened its doors on 1st of December 2021, spicing up the luxury waterfront resort, Park Hyatt Dubai with its vibrant, alluring and lux atmosphere.
Mimicking the hustle and bustle of the rustic old-world bazaars, this eclectic venue exudes elements of culture, heritage and community. The interiors combine bold patterned tiling, luxurious gold touches, hanging lanterns and Cinnamon Bazaar's signature vibrant drapery. Every detail within the bold venue is a prelude on the diversity within the culinary genius and is sure to transport you to the heart of the bazaar. 
The menu will consist of rich and flavourful Indian modern dishes seasoned with global touches. Each dish is carefully curated to showcase the cultural melting pot and stories of ancient and modern bazaars. The dishes offer a cross-cultural dining experience: patrons can begin their journey with snacks of crab bonda – Calcutta spiced crab and beetroot in chickpea batter; or chicken Haleem with masala sourdough toast. Bazaar Plates – larger dishes perfect for mains or sharing – will include Cinnamon Bazaar's famous Lamb roganjosh shepherd's pie; grilled aubergine with sesame peanut crumble, labna and toasted buckwheat; and Salli Wagyu short rib with pickled radish.  
A key feature of traditional Indian bazaars is the tantalising chaat cart, which Cinnamon Bazaar offers with a variety of traditional streets food snacks catered to guests from a customised cart that journeys through the restaurant. Signature fillings include king scallop ceviche with caviar and pressed persimmon; and watermelon chaat: pressed watermelon, amaranth seeds, date chutney and masala cashew nut. 
Vivek Singh, Executive Chef and Founder of The Cinnamon Collection, comments: "We are delighted to be working with Park Hyatt Dubai and excited to be able to bring all three brands to Dubai. This year marks the 20th anniversary of our first restaurant, The Cinnamon Club, so it feels like a fitting moment to extend our brand reach overseas. It's a pleasure to be working with Park Hyatt Dubai who, like The Cinnamon Collection, have a longstanding and deserved reputation for excellence and we look forward to welcoming a new group of diners." 
Luis Cobo, Hotel Manager, Park Hyatt Dubai, says: "Elevating and evolving our restaurant portfolio has always been a core business goal and, to be working with a chef of Vivek's calibre, reputation and talent is a dream come true for us. We could not have imagined a better brand partner and are confident that The Cinnamon Collection's success in London will be emulated in Dubai."
The Cinnamon Collection – Dubai – bringing superlative modern Indian dining to Dubai, via London.