$563 million expected revenues for digital entertainment platforms in the Kingdom within five years and expectations of 37% in the Middle East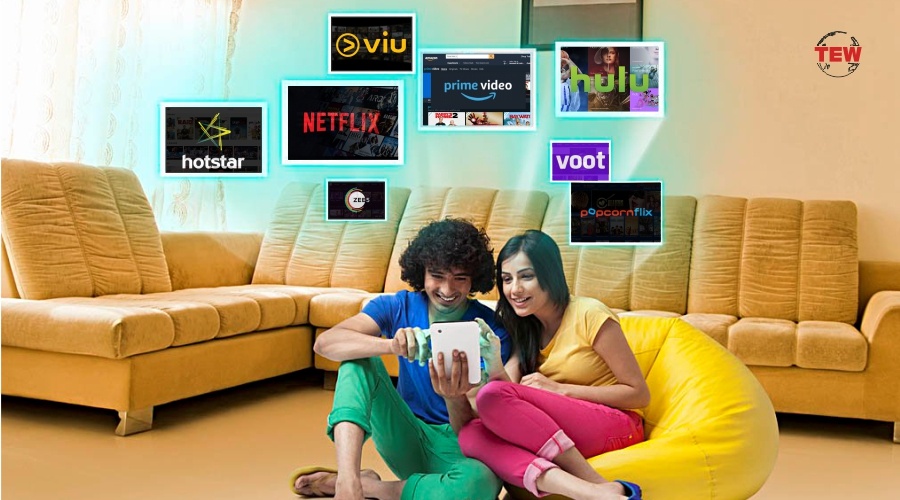 The Kingdom is a digital centre characterized by one of the highest internet spread in the region (95.7% in 2021). It was one of the first countries in the area and the world, offering commercial services for fifth-generation networks in line with the goals of the 2030 vision and the national digital transformation plan, which stated an intelligent economy and improving the quality of life.
The Digital Recreation Platforms (OTT) in the Kingdom with expected returns for SVOD is expected to be $ 563 million over the next five years. However, the Saudi OTT market leads the regional industry as the largest share of contributions (33%).
Digital entertainment is expected to maintain growth, particularly with accelerated consumption patterns imposed by the new Coronavirus (Covid-19).
At the same time, OTT platforms are expected to gain impetus supported by their investment capacity and the establishment of original productions that meet the cultural mix of a large category of the public in the Middle East and North Africa, with access to Arabic-speaking population worldwide. In fact, the more these pallets are represented in terms of capturing the essence of different Middle East communities, the more their chances of getting a larger market share are.
Through its long experience and desire to pursue strategic investments in creative content and delivery channels, digital content providers will continue to redefine the digital entertainment industry in regional countries while adding value to the growing OTT system in the Middle East and North Africa region.
The media and entertainment industry in the Middle East and North Africa has seen significant growth over the past few years.
World revenues and the most famous films are expected through Digital Recreation Platforms (OTT) to 210 billion US Dollars by 2026, approximately double what it was in 2020, worth US $ 106 billion.
About 23 billion US dollars will be added in 2021, while video subscriptions are expected to reach 1.5 billion by 2026 in the world, an increase of 46% over 2020.
After presenting traditional content in European markets and other Western markets, television broadcasting, television broadcasts and television on demand, the Middle East and North Africa have led to a wide range of related services.
Based on a generation of young people who experienced technology, the digital sector identified a new media distribution approach that depends on the variety of content, innovation, and easy use of the platform.
This comes at a time when the Middle East and North Africa continues to prosper and shine as an innovation centre, no surprise that digital entertainment will gain momentum as an option for millions of viewers.
More than 28% of the Middle East residents range between 15 and 29 years. This pushes the region to be a promising centre for expansion and innovation in digital entertainment.
According to the global consulting company PWC, digital revenues are expected to contribute 46% of total entertainment and information revenues in the Middle East and North Africa by 2024, up to 37% over 2019.
OTT services are one of the most common forms of digital entertainment. They are witnessing tremendous growth in the region via OTT in the Middle East and North Africa region.
The revenues resulting from OTT video services in the Middle East and North Africa will be $ 350 million in 2020, an increase of 55% over 2019.
The Middle East and North Africa will receive 32.65 million SVOD subscribers by 2026, after 14.16 million at the end of 2020.
The growth of the Digital OTT is largely dependent on the digital status of the country. The advanced digital infrastructure is an essential factor for providing a progressive digital media experience, where consumers can broadcast online content, watch and play and listen to it smoothly anywhere and at least as much interruption and disruption.
The leading regional corporations in Saudi Arabia and the United Arab Emirates have made major capital investments in developing their digital infrastructure and building robust digital environmental systems to enable a range of digital industries and ensure an integrated digital content experience.
For example, with the aim of building a leading technology, UAE, specifically Dubai, has invested heavily in technology development with significant growth in incomes, business accounts and greater plans to create smart cities. The United Arab Emirates provides a solid basis for digital entertainment growth within this supportive environment. The country maintains a larger share of OTT subscriptions in the Middle East and North Africa in 2020 by 25%.
The formation of consumption patterns will continue by the young generations leading OTT in the Middle East and North Africa, while these experienced technology viewers are constantly looking for new content. Default (VMVPDS) collect content from many sources and offer subscribers a wide range of content in one platform.
The possibility of one service pool – including direct TV channels, VOD service, and games – is presented through one easy-to-use platform, the most cost-effective option for OTT subscribers.
The fifth-generation networks formed a major factor for multiplying the main flow of digital content by providing more excellent reliability, short reliability and short-quality transmission.
This means that more users watch content with higher quality on mobility and refers to the capacity of the fifth generation networks to enter new experiences by promoting access to virtual and enhanced presentations.
The expansion of digital capacities leads to strengthening the digital media horizon and allows the integration of the following generation techniques, such as artificial intelligence, service providers to provide more personalized offers and ensure complementarity with subscribers.
At the same time, it leads quality in content resolution, both on a portable or main screen, digital media experience to new horizons.
Demand-based solutions are a key element to achieving leadership at the customers' experience level.
This extended partition for the market makes digital entertainment services available to a wider audience base and provides an interactive digital content experience for each consumer.
The Jawi TV is a unique digital transmission platform that launched in the Middle East and North Africa.
The Kingdom of Saudi Arabia is based on innovation-backed transformation in the Kingdom, enhancing its position as a leading digital content provider thanks to technology-based solutions and includes a universal level view of its main products, "TV" and " Plus " League.
The digital recreation and sports platforms are enjoyed from Engel, TV and "League Plus", from any connected device, as well as to get TV through the domestic system. Due to the cloud, these platforms provide high quality in UHD and 4K content offerings.
Through the "Jawi TV ", more than 190 free channels cover different types of entertainment, access to news and children's content in Arabic and English, as well as a rich library with more than 28,000 content in Arabic and English.
The recommendations on the content on the TV platform are selected individually to build a user experience based on a viewing activity, and the subscriber can create multiple accounts, account for each user, and take advantage of a custom experience providing a shortcut for the preferred content for each scene.
The TV platform broadcasts through 30 global and regional networks, including OSN, FOX, Starzplay, Widekhaliji, Discovery and many other networks. Exclusive addresses are also displayed in conjunction with their display in cinemas. The TVOD content is shown through partnerships with international content studios, including Disney, Fox, Paramount, Warner Bros and Sony.
Integral presents authentic content designed by a cultural character to its audience through its original products, including talents from Saudi Arabia, the Middle East, and North Africa. Since July 2019, England has produced and broadcasted 17 original shows on "Jawi TV", which received viewers' approval throughout the region.
"Jawi TV" contributed 22% of the total Arab output for the year 2020