The discovery of gas revives the hopes of Morocco to achieve self-sufficiency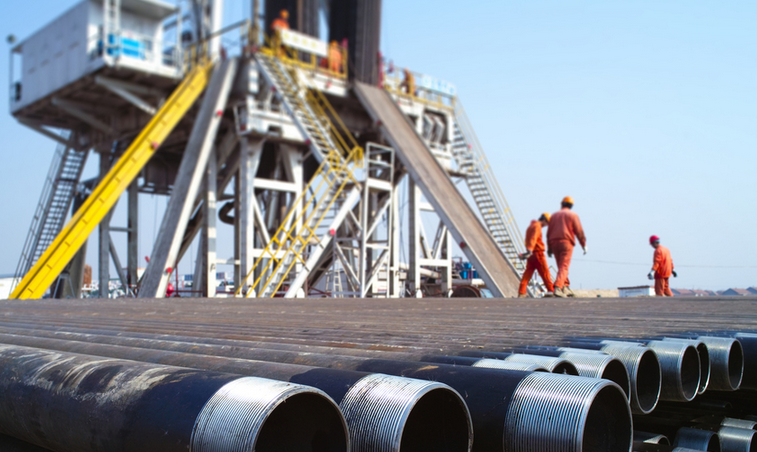 Start slideshowRabat is heading to diversifying sources of income as the local consumption bill has increased more than $ 11 billion
the Moroccan National Office of Hydrocarbons and Mines announced good results for digging the marine well "Anchovy-2", in the view of the coast of Larache, the north of the country.
According to the office, the marine well "Anchovy-2" was launched on December 17, 2021, to reach a final depth of 2512 meters, stressing an accumulation of gas with a net 100 meters, distributed over six regions, eight and thirty meters each and in addition that "will continue to conduct other in-depth analyses to obtain more precise figures for gas quantities."
Britain on the Moroccan gas line
Chariot Oil & Gas, specialized in the excavation of gas and oil, has announced the launch of the "Anchovy-2" maritime well in Lixus.
The British company expects to detect significant gaseous quantities, indicating that the technical frameworks have successfully dug a well. "Anchoa-2," explaining that the first drilling operations reached a total depth of 2512 metres, using the drilling platform, Giant Stena Dunn. That supports the hypothesis of large gas accumulations in the marine field, relying on the results of the total technical tests, which included wire recording, petrophysiological analysis, surface testing and seismic surveys of the well cavity.
Chariot Oil &Gas estimated that natural gas resources discovered on the Moroccan coast would exceed 1 trillion cubic feet, an increase of 148 per cent over previous projections. It also includes 361 billion cubic feet of confirmed natural resources and 690 billion cubic feet of potential resources.
ADONIS POUROULIS. Acting Chief Executive Officer stated that the company expected significant results in the "Anchovy-2" field, requiring "a doubling of technical tests and analysis of laboratory data in all wells."
Morocco's first liquefied gas station
The Moroccan Government is working on the construction of the country's first liquefied gas station at the port of Muhammadiyah, which will be equipped with a floating storage and re-gasification unit.
The study, to be conducted within seven months, addresses several aspects, including data analysis, safety procedures, demarcation and preliminary design.
The National Port Agency is examining the implementation of the project to strengthen Morocco's natural gas supply strategy and ensure the production capacity of the port of Mohammadiyah.
The Ministry of Energy Transport extended the request for proposals after many global companies had shown interest in the bidding, as was the case with the giant British Sound Energy, responsible for financing the first phase of the Moroccan Tendrara gas field.
Self-sustainment and export
Morocco's first liquefied gas station project is an alternative to the Morocco-Europe pipeline, which supplies natural gas to Spain from Algeria through Morocco.
The project will enable Rabat to export liquefied natural gas (LNG) by sea, to be converted into gas and then distributed to industrial partners and power plants operated by the National Office of Electricity and Drinking Water.
According to the Moroccan Minister of Energy Transition, Laila Benali, the country's gas consumption will rise from 1 billion cubic meters per 2021 to 3 billion cubic meters per 2040.
Morocco's domestic gas production is expected to reach 110 million cubic metres this year, with production waiting to double as oil companies discover a number of wells throughout the country.
Needs Beyond Capacity
According to Professor Khalid Fathi, Morocco's gas needs are beyond its capacity, which led the country to import. However, the discovery of the Tendrara field, which will pump 350 million cubic metres, in addition to what is previously produced, will allow Morocco to "produce about half of its energy needs to secure domestic consumption."
Fathi drew attention to the cost of Morocco's consumption bill of more than $11 billion, which led Rabat to "multi-dimensional strategic approaches, starting with opening the door to giant exploration companies and activating old partnerships, based on energy efficiency and environmentally friendly renewable energies."
Investment in energy
Morocco seeks to use its external position and partnerships to strengthen international cooperation in order to increase investments in sustainable capacities.
At a round table organized in Rome, Italy, on the topic of clean energy, in the framework of the Mediterranean Conversations, Laila Benali, in her post-intervention, emphasized that 50 renewable energy projects are currently being exploited, while in partnership with foreign collaborators, more than 60 projects of different sizes are being developed and completed.
In a video message to the participants, Morocco had set out a comprehensive vision for 2030, aimed at strengthening regional and international cooperation to achieve sustainable development goals, stressing the importance of strengthening the infrastructure for achieving the desired energy transition.
The energy bill raises Morocco's imports
By the end of October, Morocco's imports had risen to about $46 billion, compared with 37 billion in the same period last year, an increase of 8.5 billion, a rise of about 22.9 per cent.
Exchange Office figures revealed that this increase resulted from an increase in imports of all products, the largest of which were final consumer products (plus $2.6 billion) and energy products (plus $1.8 billion).
Morocco's energy bill rose significantly, to 43.1 per cent, owing to an increase in gas and fuel imports of $996 million and a price rise of about 34 per cent, along with a 10.7 per cent increase in imported volumes.
For exports, it reached about $28 billion as of October, up by $4.7 billion and 20 per cent as growth, with phosphate sales and derivatives up 47.2 per cent.
In an overview, Bureau of Exchange statistics revealed that Morocco's trade balance deficit stood at $17.7 billion at the end of last October, compared with $14 billion in the same period last year, with a negative rise of about $3.6 billion, and a growth rate of 26.6 per cent.
"Maritime Cable" between Britain and Morocco in its final stages
It appears that Moroccan-British cooperation will go beyond normal trade and collaboration in gas exploration to the export of electricity. Aziz Rabah, former Minister of Energy, Minerals and the Environment, has already announced that the massive project to build a "maritime cable" for the transfer of clean energy from the Moroccan desert to Britain will be approved in principle, pending the start of detailed studies.
In a statement to Moroccan media, Rabah stated that "a number of international companies have received preliminary approval to undertake renewable energies and hydrogen projects, especially in the southern regions, for export."
The integrated Xlinks project to produce electricity from renewable energies from wind and solar energy for export to Britain will pass through the coasts of Morocco, Portugal and France to reach the United Kingdom.
This massive project involves the construction of the world's tallest marine electric "cable," spanning 3800 kilometres, with a total completion value of £16 billion, or approximately $21 billion.