Hussam Taha and Nasser Al-Muharrami: This is a path of excellence in the field of law and legal practice in the UAE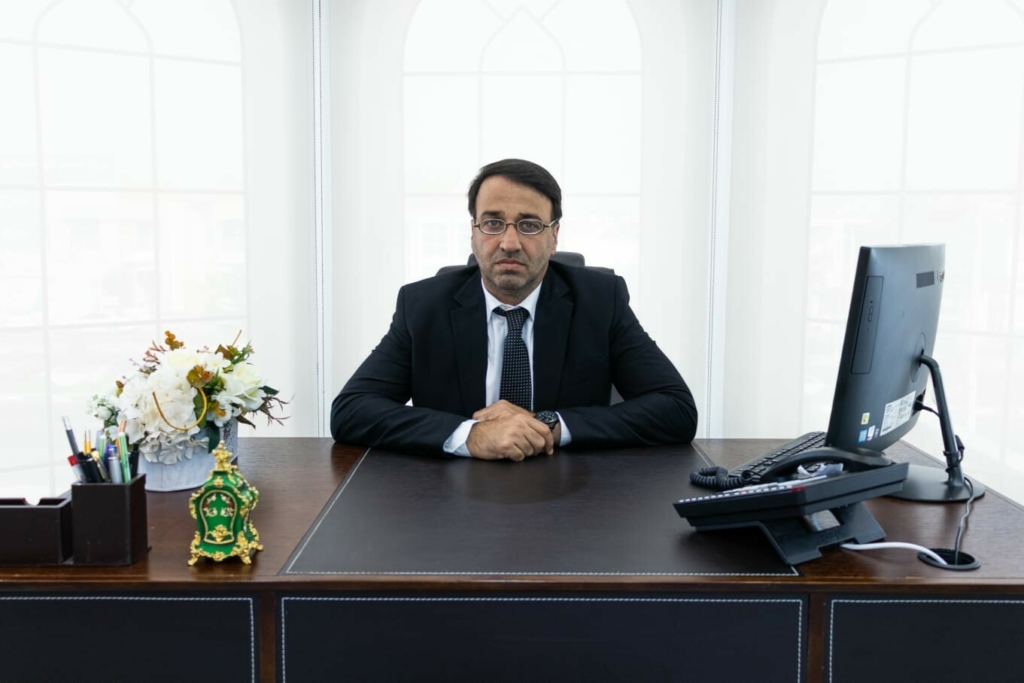 The United Arab Emirates has proved to be a source of excellence for its citizens, who have taken it upon themselves to raise the name of this country in international forums; politicians, scientists, economists, artists and lawyers. A perfect example of this excellence is Nasser Al-Muharrami Advocates and Legal Consultancy Law Firm.
A leading Example across the UAE
Nasser Al-Muharrami Law Firm is one of the leading law firms in the United Arab Emirates, based on the solid and sound foundations and principles of law, providing selected consultants with a high level of experience and competence in dealing with various kinds of issues such as commercial, civil, penal, labour and personal status issues.
Outstanding Staff:
Nasser Al Muharrami Law Firm has a bunch of the most significant professionals in the UAE, for the Firm to be worthy of representing the image of the inspiring Emirati lawyer and of conveying the experience of its success to lead by example.
Mr. Nasser Al-Muharrami's Law Firm Partners ensure that their Firm provides the highest level of Legal Care from; Legal Services and Consultations, Clients' Businesses and Issues, along with ensuring that the manner of dealing with the client is based on clarity and integrity so as to establish mutual-trust between the Law Firm and the client.
Nasser Al-Mahrami Law Firm and Legal Consulting, since its inception, also seeks to provide amenities for the client by recruiting a selection of advisers who are fully prepared to serve all clients at all times, Provide all means of communication and methods to the customer to ensure easy access to legal information accurately and keep him informed and communicate directly with his case and provide clients and clients with legal information and advice that supports their legal positions and positions in their business.
Since its inception, Nasser Al-Muharrami Advocates and Legal Consultancy Law Firm has sought to provide convenience to the client by recruiting a selection of Consultants who are fully prepared to serve all clients at all times; as well as providing the client with all means and methods of communication; ensuring his easy access to the accurate Legal Information, and thus keeping him informed and in direct contact with his case. This will, in turn, provide clients with the information and legal advice that support their legal status regarding work.
Nasser Abdullah Al-Muharrami, an ambitious young Emirati man, has always looked forward to being one of the best lawyers and jurists in the UAE.
Mr. Hussam Taha, a legal director at Nasser Al-Muharrami Law Firm, worked as a lawyer in Syria for nearly 23 years, practising as a lawyer and specialising in the recent years before moving to work in the United Arab Emirates at the Court of Cassation in Damascus, in various branches of criminal and civil law.
He also founded his own office in Lattakia, Syria, for a quarter of a century. From his office, many fellow practitioners graduated. He recently moved to the United Arab Emirates, where he gained sufficient experience to do legal work in Dubai and partnered with Nasser Al-Muharrami Law Firm in Dubai and Abu Dhabi.
Arabisk London has interviewed Mr. Hussam Taha and Mr. Nasser Al- Muharrami to pass on their experience and excellence in the field of legal work.
Hussam Taha
The path to success starts with education. Tell us more about your university studies more?
I started my studies at the Faculty of Law in Damascus in the early 1990s. I learned under the supervision of Syria's leading law professors and was passionate about learning from them. In addition, at that time, the Faculty of Law was limited to the cities of Damascus and Aleppo, which led to a large number of students from all over Syria in those two cities. During my undergraduate study, I got acquaintances and got to know a lot of friends. I kept in touch with them even during my professional career. The university stage was the beginning of my knowledge and opening up to the capital, Damascus, where I returned to work and had near-permanent stability.
Why did you choose the domain of legal practice?
I can safely say that the law chose me, not the other way round. I inherited it, so to speak. My father was a first-generation lawyer, and I grew up living on the love for this profession and the law. I would accompany my father to the office ever since I can remember. My choice of career was inevitable, and I did not agree to discuss any alternative option.
You've been practising the law since 2004. Tell us about the beginning of your career.
It began several years ago, as I started practising in Syria as a trainee lawyer in 1999, with the aim of gaining as much experience and knowledge as possible to live up to the title of a lawyer. This title has imposed great responsibilities, let alone the professional and ethical standards that are what lead me towards the goal without having any ethical and professional faux pas.
What are the most significant hurdles you have encountered at work, and how have I been able to overcome them?
I don't claim to have had many hurdles, but I can say I set my eyes early in my life on the way. I didn't try to cut corners to reach any goal, but I realised that success needed perseverance, hard work and dedication. This cumulative effect will eventually lead to the inevitable success of any lawyer. What I mean by success here, especially in Law, is to build a good reputation among all clients, colleagues and legal professionals, in addition to broadening the knowledge and understanding of the Law. The last stage is making a profit, and that is the result of all the previous factors.
Mr. Hussam, you are a graduate of the Faculty of Law at Damascus University, and you practised Law in Syria and the UAE. How do you describe your experience in both countries?
The experience in both countries was rich. However, my experience in the United Arab Emirates is kind-of enough to talk about. In Syria, my experience is significant. I gained a lot of professional, social and financial success. I can say that I had a rich experience in all its aspects. I even ended up specialising in cases like the litigation of judges and cases pending before the Court of Cassation and in highly qualitative cases requiring special legal understanding and knowledge.
Since moving to the United Arab Emirates, I have been tempted to go into the legal domain. I was inspired by the Government of Dubai's pioneering role not only in keeping up with the world but also in presenting a modern judicial system in the legislation and laws that ensure the leadership of Dubai and the UAE worldwide. In addition, it enjoys fast litigation and the provision of electronic services. All this prompts me to go through this new experience but differently because working in Dubai requires collective work and team spirit. As a result, I can say that it was a rich experience, and I hope it continues to be as prosperous.
Are you satisfied with today's success? What are you seeking in the future?
I cannot say that I am quite satisfied with the success, but thank God for always helping me during my career. With God's will and with diligence and perseverance, I was able to realise my clients, rights, knowing that I rarely encountered failures in any case entrusted to me. I can say that I am satisfied that I have never abandoned my social ethics or principles. Right now, I'm on a continuous but differently-oriented journey, as I'm trying to do my job as a legal director in Mr. Nasser Al-Muharrami's Firm. With each team, we strive to achieve the success that entitles us to be in the top law firms at the UAE level. Our Firm has a lot of dedicated and serious staff and expertise, and our work has a spirit of cooperation, and we work as an integrated team.
What distinguishes Dubai from other states in Law practising?
It is no secret that Dubai has always been a pioneer in keeping pace with progress in all fields, especially in the Law field; that it was the world's first paperless Government. All litigation procedures have been regulated through technological systems. In addition, the Government of Dubai, in particular, and the United Arab Emirates, in general, are keen to keep abreast of updating the laws to serve all existing segments of citizens and residents. The City of Dubai is the destination for all nationalities of the world. This provides everyone with confidence to work and settle in it. Moreover, the principle of the sovereignty of the Law is a well-established principle in Dubai.
What areas of law have you worked in? Specifically, what jurisdiction have you worked in the most, and why?
Dubai is known to be a global hub, so it was vital that we focus on everything related to business, mainly because Dubai has countless businesses, both local and international. Through our Firm, we have focused on all matters relating to contracts, the establishment and liquidation of companies and following-up on all matters related to contracts. In addition, attention is paid to cases of commercial bankruptcy and insolvency, particularly after the promulgation of laws governing such cases, family issues, etc. Our Firm has professional legal staff in all fields with a great experience for many years. We have always been keen to build a reputation with all customers and build bridges of trust as a result of the work and sincere legal effort.
What made you enter the legal business in Dubai, provided that there are a lot of law firms with a long and proud history, where such a thing would impose a lot of challenge and competition on you and what do you aspire to?
Indulging in business is undoubtedly a challenge, especially as professional competition is significant in the presence of large and old law firms. However, this competition falls within the framework of legitimate professional competition. The aim was to provide an outstanding legal service at the level of the United Arab Emirates and to build a professional reputation that is a continuation of the professional reputation established by Mr. Nasser Al-Muharrami in the Emirate of Abu Dhabi. We have been armed with our legal expertise and our extensively experienced staff. It is our ambition at the outset to establish a big name for our office at the UAE level and provide legal services to ensure that we reach the level of leading offices in the UAE.
There are a lot of law school students around the world who are trying to make a difference in their field. What advice do you give them according to your long experience?
Passion first. The law needs the passion of its practitioners. It is not the same as any other profession. If you cannot love this profession, you cannot offer anything to it in addition to seriousness, knowledge and professional ethics. Success is the goal. Academic and professional honesty is the means.
Nasser Al-Muharrami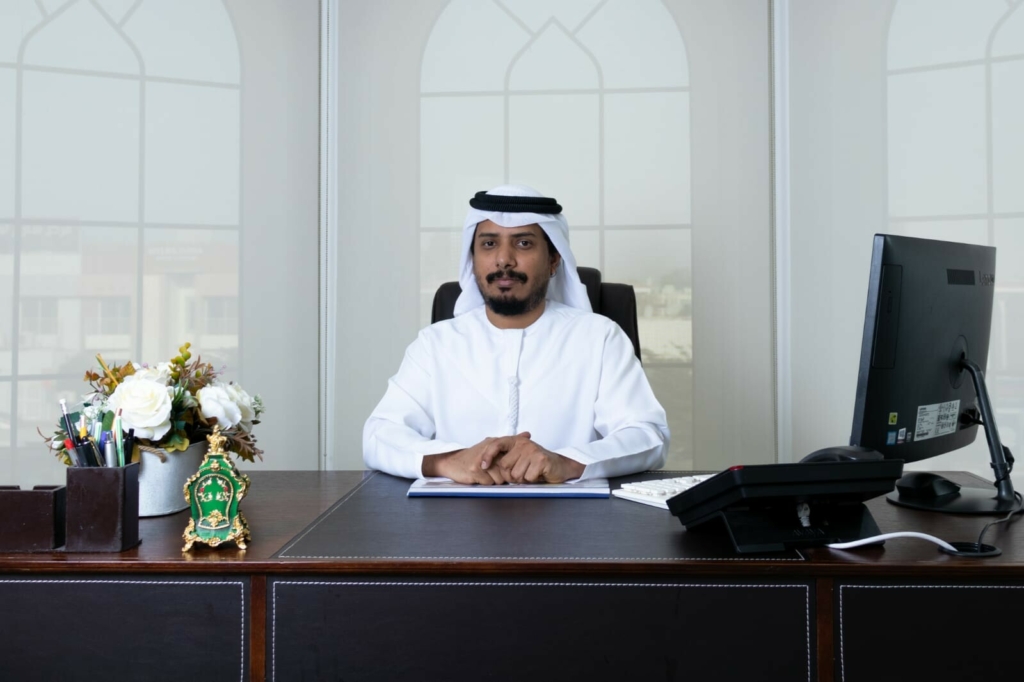 Tell us more about your undergraduate studies. How were they inspiring at work and success?
Undergraduate education was a very difficult stage. I had to combine study and work simultaneously. This is what I went on to do. I worked in a government agency in the Emirate of Abu Dhabi. I would do my work on weekdays and attend my university lectures at the weekends for a good four years. This is what I see as an achievement for any university student, combining study and work.
Why did you choose the law?
I have been inclined to do this job since my childhood, and I have always felt I would be creative in it. I have followed my dream until I achieved my goal due to my strong will and determination.
What are the most significant hurdles you have encountered at work? And how did you get through them?
I have faced a lot of hurdles while practising this profession, but what I see as the most difficult confrontation is the coronavirus pandemic, which has significantly affected our work in terms of its adverse effects on the entire world. Fortunately, thanks to integrated societal efforts, this crisis has been structured and we have been able to overcome it.
There are a lot of people in the legal field. What do you think is the way to stand out so that a lawyer can make a mark in his profession?
Personally speaking, I believe that reading, researching, and following up on all updates of laws are the basis for excellence in the practice of the law.
You have had a lot of legal training courses. What have they added to you at the professional level?
One must develop their skills and renew their experiences because the world only recognises outstanding capabilities and high competencies, so training courses are one of the most important ways of developing and self-education that provide many modern services, skills and methods of learning and self-development. The most prominent courses are arbitration courses, sports disputes and many other important courses.
Defending the rights of others requires strength, boldness and many other qualities. In your opinion, what qualities should a lawyer have to become successful in his field?
The basics of the practice of law are integrity and honesty with the client and following up the case as if it is the case of the lawyer, not the client's, as well as studying and briefing the case in all its aspects.
Advice for ambitious young people hungry for success and work in the legal profession?
Legal practice is a great profession that carries a dignified message, a high moral and a defensive force with its sanctity and status. It is a free and independent profession that contributes greatly to the achievement of justice and the victory of the oppressed. Moreover, it shares the judiciary in the achievement of justice, especially since the lawyer is the judge's partner in reaching the rule of law. The United Arab Emirates is a developed country economically and commercially, and this requires the presence of lawyers because any commercial or industrial sphere requires legal consultancy and advice and others.