Sheikh Al Khalifa discusses British-Gulf free trade negotiations in London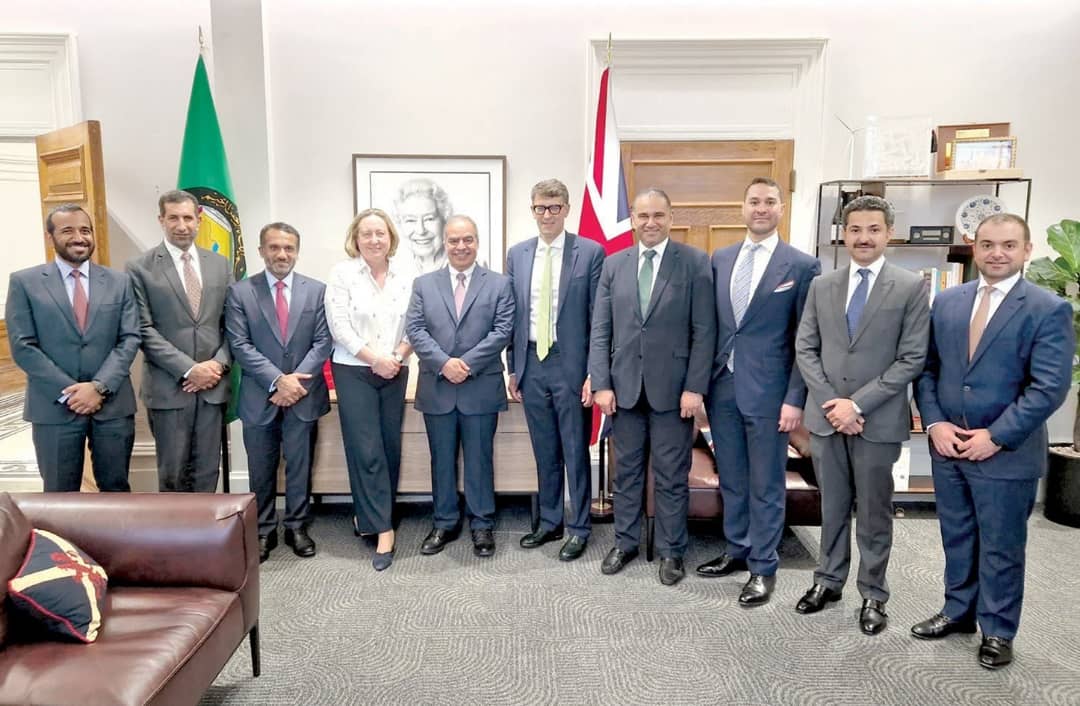 To complement the Gulf free trade negotiations with Britain, Sheikh Fawaz bin Mohammed Al Khalifa, Ambassador of Bahrain to the United Kingdom, chaired the Gulf side at the first Gulf Cooperation Council ambassadors meeting with Anne-Marie Trevelyan, British International Trade Secretary.
The meeting was devoted to free trade negotiations between the two sides, in the presence of Tom Wintel, the United Kingdom's chief negotiator, and a number of senior officials.
The meeting discussed the latest developments and negotiations on the GCC-United Kingdom free trade agreement and expected economic gains for both sides in terms of stimulating intra-trade and investment and supporting SMEs and joint cooperation and exchange of experiences in the areas of digital transformation, artificial intelligence, education, financial services, renewable energy and other advantages as to contribute to strengthening the historical cooperation and economic partnership between the two sides.
Ambassadors of the Gulf Cooperation Council and the United Kingdom's Foreign Trade Minister witnessed the display of British military music, which dates back to the 17th century and takes place once every two years.
Trade between the GCC countries and the United Kingdom rose between 2010 and 2019 to 41 billion pounds (about $50 billion) by the end of 2019, during which British exports to the Gulf countries increased 48%, while Gulf exports to the Kingdom rose 54%.
Exchanges between the two sides fell significantly in 2020 due to the coronavirus pandemic and the global lockdown, with Gulf exports to the United Kingdom falling 44% and British exports falling 16.3%.
Five products top the list of goods imported by Gulf states from Britain, primarily: power engines ($ 4 billion), jewellery ($ 1.5 billion), automobiles ($ 1.2 billion), medicines and pharmaceutical products ($ 730 million), and transport equipment ($ 600 million).
Products that top Gulf exports to Britain, first we find oil derivatives ($5.5 billion), then medium power generators ($2.2 billion), and gas ($1.3 billion).
As for services, including financial services, tourism and cultural exchange, the United Kingdom exported about $14 billion to the Gulf States and imported $6.1 billion worth of services from the Gulf region.
The 3 Gulf countries lead trade with the UK compared to the rest of the GCC, namely Qatar, the UAE and Saudi Arabia.