Curfew-a Dance Production: A UK- Palestinian message to the world.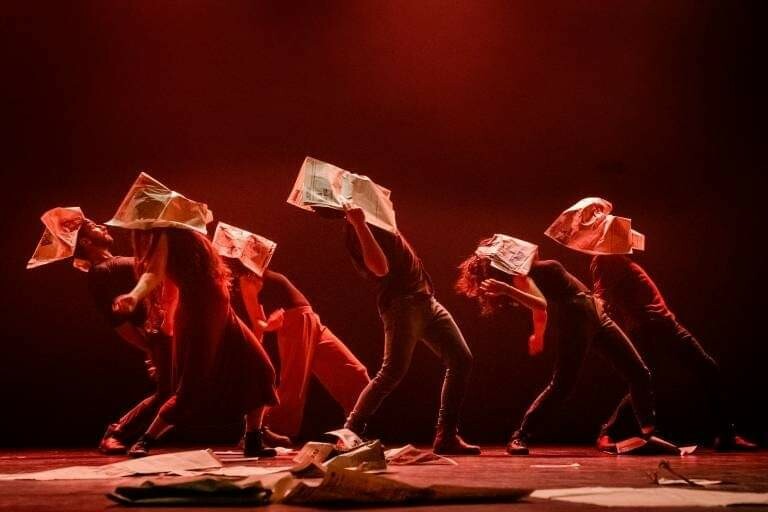 We may not be able to change the world's politics, but if we manage to change even one person's understanding of reality, I feel that we have done something!" With this phrase, the Palestinian Hawiyya Dance Company articulated its message to the world, crossing borders and distances loaded with dance and art to spread in the world.
In a UK-Palestinian collaboration, Hawiyya Dance Company and El-Funoun Palestinian Dance Troupe performed Curfew: A contemporary dance production at Unity Theatre in Liverpool as part of the Liverpool Arab Arts Festival on July 16th, while it will perform at the Bloomsbury Theatre in London tomorrow, Wednesday, July 20th.
Curfew comes as a medley of folk dance 'Dabke' and contemporary dance to address injustice by producing thought-provoking dance and stimulating the development of new reactions and discussions about social activity, raising awareness of the experience of daily life and individual introspection and contemplation, which will help us deepen our understanding of the world around us.
Curfew is a dance production conceived from the international collaboration of two dance groups: Hawiyya (UK) and El-Funoun (Palestine), to embody the concept of cross-cultural and cross-border partnership and the ability to deliver thought-provoking messages through an experimental work fusing Palestinian folk dance and contemporary dance.
The partnership between the two groups started in 2017 when members of Hawiyya travelled to Palestine and performed as part of the Palestine International Festival in Ramallah. In Ramallah, the two groups started the development of the concept and foundations, which also included training, rehearsals and performance with members of El-Funoun Palestinian Popular Dance Troupe.
"We, as Hawiyya Dance Company and El-Funoun Palestinian dance troupe, don't believe in dance for dance's sake or art for art's sake. Our art needs to be driven by a key message, one that positively contributes to society and culture. We don't want to share an answer – we want to share feelings and emotions," says Jamila Boughelaf, Curfew producer
Sharaf DarZaid, Curfew Artistic Director, confirms: "It's a pleasure to work again with Hawiyya Dance Company in the UK. These kinds of collaborations contribute to breaking the imposed isolation and building cultural bridges with the world."
Curfew is funded by the British Council's International Collaboration Grants, which are designed to support British and overseas organisations to collaborate on international art projects. It is also funded by the Arts Council England and Liverpool Arab Arts Festival.
Hawiyya Dance Company
Hawiyya was founded in 2017 as an all-women's collective that explores identity, culture and resistance through dance. The group uses folk dance 'Dabke' and contemporary dance to create narrative works that explore themes such as resistance, oppression, displacement, social justice, and individual and cultural identity. The culturally diverse dancers unite in their commitment to anti-racism and anti-imperialism in all they do.
Facebook: HawiyyaDabke
Instagram:HawiyyaDabke
El-Funoun Palestinian Dance Troupe
El-Funoun is an independent, non-profit arts organisation established in 1979 by a small number of enthusiastic, talented and committed artists. Since then, El-Funoun has been crowned as the lead Palestinian dance company in Palestine, as well as among Palestinians in exile. El-Funoun led over one thousand performances locally and internationally.
The website:
FB: ElFunoun.Troupe