The Carlton Tower Jumeirah launches limited edition fashion advent calendar in collaboration with London College of Fashion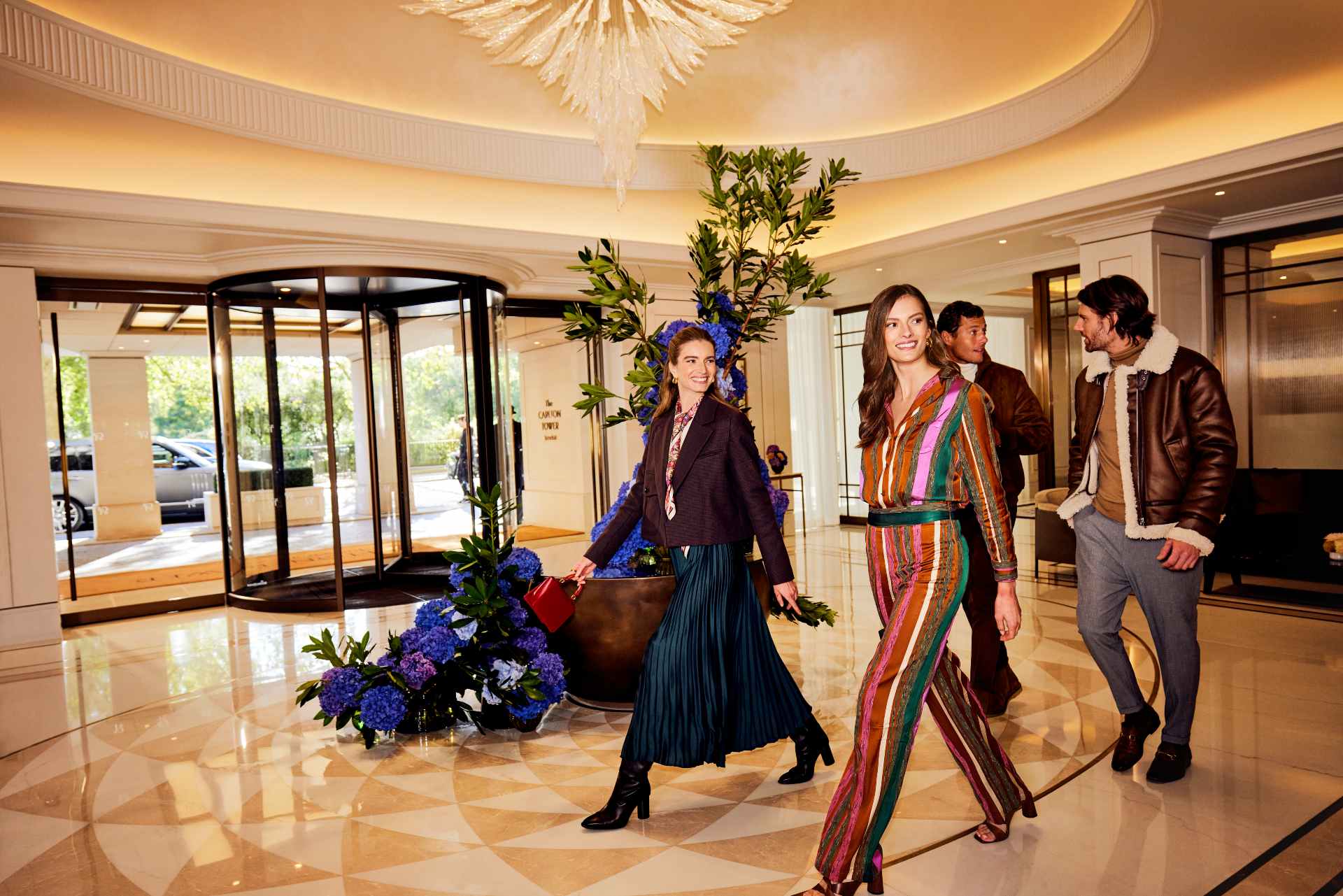 The Carlton Tower Jumeirah, located in the heart of London's fashionable Knightsbridge, is pleased to announce a brand-new partnership with London College of Fashion, UAL, to support young and emerging designers through a collaboration that takes the property back to its 1960s roots of fashion and creativity. This November, Carlton Tower Jumeirah will reveal a festive miniature capsule collection advent calendar designed and created by London College of Fashion (LCF) graduates. With a mission to support emerging designers, The Carlton's advent calendar will feature exquisite miniature couture dresses behind every door, carefully crafted and designed by the LCF alumni that can be hung on the tree. The limited-edition advent calendars will be available at the hotel, and are inspired by The Carlton Tower Jumeirah's illustrious history.
The LCF alumni designers commissioned for this exclusive advent calendar include:
Salima Sule Ali – Founder of SALIMA.ALI, a non-seasonal, luxury womenswear brand
Emily-Jane Bayliss – Founder of Beatrice Bayliss, a sustainably focused, slow fashion clothing brand
Gabriele Gabija – Womenswear and costume designer with experience in fashion houses such as Roksanda and Emilia Wickstead
Asya Ter-Hovakimyan – Co-founder of OMNISS an ethical fashion brand based in London
Lucy QI  – Freelancer designer and researcher working in sustainable fashion
Daisy Riley – Founder of Monozygotics, a slow fashion label breaking down barriers
Samreen Shaikh – Creator of Seam-mo, a cutting-edge womenswear label
Sanyukta Shrestha – A pioneer in sustainable bridal and evening wear
Fanni Varga – Founder of byVarga, an award-winning womenswear brand
Aaron Kaupp, Regional Vice President Northern Europe and General Manager of The Carlton Tower Jumeirah commented: "Our goal with this project is to take The Carlton Tower essence into your home. We are revisiting the roots of the hotel and bringing back the energy of the 1960s and the creative spirit of London by working with and supporting young designers and we couldn't find a better partner than London College of Fashion". 
Linda Roberts, Director of Graduate Futures Business & Innovation, London College of Fashion, UAL said: "This project is an example of how LCF provides opportunities for industry to engage with our talented graduates. These designers are members of LCF Founders Club, a network for our entrepreneurial alumni. We are delighted to be able to engage them in this collaboration with The Carlton Tower and showcase their creativity on this one-of-a kind advent calendar".
Tony Glenville, the project's Creative Director said: "For nearly a year The Carlton Tower and London College of Fashion Founders Club have been plotting something special. It's been my privilege to support the outcome, a limited-edition festive calendar filled with 25 miniature fantasy ballgowns created out of the international designers' dreams. If haute couture fashion is all about dreams, and luxury hotels are all about making dreams come true, this partnership was bound to produce something truly special". 
Overlooking the world-famous Sloane Street and key London landmarks, The Carlton Tower Jumeirah is a modern classic and sophisticated destination with a rich history. The five-star property – originally opened in 1961 as London's first tower hotel – as a luxurious and obviously modern destination. It instantly became a by-word for the most sophisticated in trans-Atlantic service and comfort and welcomed the Swinging Sixties in true style. This was when London was first recognised as the most creative capital in the world, and The Carlton Tower was at the epicentre of this new mood.
Staying true to the original roots of The Carlton Tower, the collaboration with London College of Fashion was borne from a desire to showcase the creativity of London – the home of fashion. Working outside of the mainstream, and with the soul of disruptive brands to bring a true sense of creativity back to the area, much like the brands in the Kings Road in the 1960s.
The Carlton Tower Jumeirah reopened in July 2021, following an 18-month closure for refurbishment, undergoing the most extensive transformation in its history, at a cost of over £100 million. Every corner of the 17-storey building was redesigned, creating a new foyer and reception, 186 new bedrooms and suites reduced from 216 to offer larger accommodations, a new health club and spa with London's largest naturally lit swimming pool, a restaurant, Lobby bar and lounge, ballroom, and meeting rooms. The hotel maintains its world-renowned reputation for first class service and meticulous attention to detail and has been reinvented for a new generation of discerning guests.
About The Carlton Tower Jumeirah
Jumeirah Group, a member of Dubai Holding and a global luxury hotel company, operates a world-class 6,500+-key portfolio of 23 properties across the Middle East (including the flagship Burj Al Arab Jumeirah) Europe and Asia, with more properties currently under construction around the globe.
About London College of Fashion
London College of Fashion, UAL, leads the world in fashion business, media, and design education. We've been nurturing creative talent for over a century, offering courses in all things fashion. With our philosophy of open and inclusive education, we encourage students to examine the past and question the present. To develop inventive, assertive ideas that challenge social and political agendas. And we give them the skills, opportunities – and above all, the freedom – to put those ideas into practice. As we look towards our move to the Queen Elizabeth Olympic Park in 2023, we're forging partnerships, opening up opportunities, and creating connections with east London's schools, community and industry. Part of East Bank, a new culture, education and innovation development, our single-site campus will spark collaboration, experimentation, and inspiration – all under one roof. In doing so, we'll continue to pioneer how we all consume and practice fashion. Use fashion business, media, and design to shape culture, economics, and society. And through fashion, shape lives.
London College of Fashion Founders Club 
The journey a student makes endures way beyond their years of studying, and LCF Founders Club is there to support students with their careers as they transition into their professional lives.
Whether creating a cutting-edge fashion business, or setting up a new media channel, designing a new digital platform, or a range of best-selling cosmetics, young graduates all need nurturing and professional support at the outset.
And so, in 2017, London College of Fashion created the LCF Founders Club to expand and build upon its long-established support for students, by offering its community of graduates access to a range of resources and networking opportunities to help them as they venture into the complex and wonderful world of fashion.