Saudi Arabia, UK sign MoU to enhance cooperation in financial services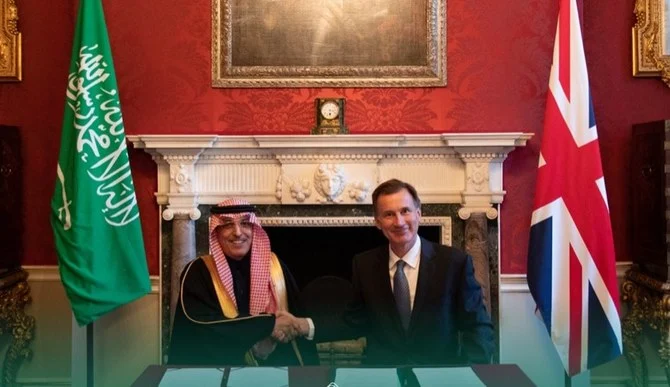 Saudi Arabia and the UK on Tuesday signed a memorandum of understanding to identify economic opportunities, exchange experiences and enhance cooperation in the field of financial development and public finance services.
The MoU was signed during a meeting between Saudi Finance Minister Mohammed Al-Jadaan and his British counterpart Jeremy Hunt in London.
According to an official statement, the two ministers discussed bilateral ties, major global economic issues and the promising outlook of the Saudi economy.
Al-Jadaan, who is on a two-day visit to the UK, also held a meeting with Investment Minister Lord Johnson and discussed ways to enhance bilateral ties and cooperation in financial services between the two countries.
The Saudi minister also met investors and CEOs of British companies and briefed them about the promising outlook of the Saudi economy, and the Kingdom's ongoing plans for economic and financial reforms within the framework of Saudi Vision 2030.
Al-Jadaan also held a meeting with the Lord Mayor of London, Nicholas Lyons, and reviewed public-private partnerships in the Kingdom with him.