Tech giants from around the world take center-stage at Saudi Arabia's LEAP conference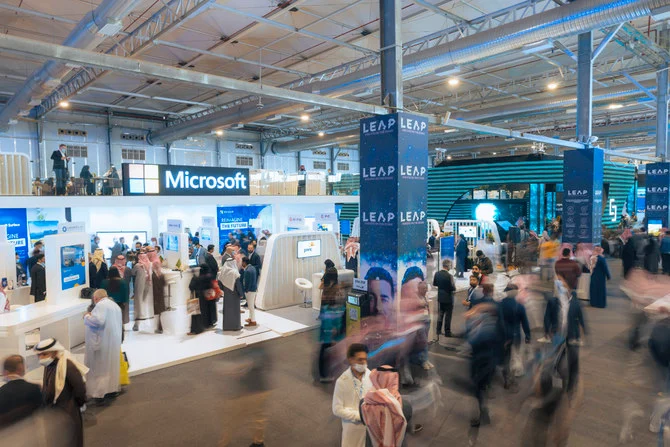 More than 700 leading experts in technology investment from 50 countries are set to speak during the second edition of the LEAP technology conference, which will take place at Riyadh Front Expo Center from Monday to Thursday.
The conference is organized by the Ministry of Communications and Information Technology, the Saudi Federation for Cybersecurity, Programming and Drones, and UAE-based IT services and consulting firm Tahaluf.
It aims to spark discussions on artificial intelligence, the digital transformation and advancements in the field of technical and innovative entrepreneurship through immersive learning, storytelling sessions and lectures.
"The first edition of LEAP was surprisingly more than I expected from a debut event. I am excited to see how this edition will make an even greater impact on our industry and the creative economy," Sujoy Cherian, group CEO of Option 1 Events, an event technology and content company, told Arab News.
"Besides speaking on the panel for future live events, I am honored with the opportunity for a solo session to share my insight on some of the latest in tech for hybrid events and content creation," he added.
Cherian, a creative technologist and serial entrepreneur, is just one of the hundreds of speakers from more than 400 global and local technology companies speaking at the event.
Executives from leading firms such as Saudi Aramco, NEOM, Microsoft, Oracle, Huawei, Zoom, Ericsson and Hewlett Packard Enterprise are set to deliver speeches during the conference.
Some of the world's leading tech figures will take to the Investor Stage, including G.V. Ravishankar, the managing partner of Sequoia Capital India, Tim Ringel, an investor and advisory board member at Adit Ventures, and William Bao Bean, general partner of venture capital firm SOSV.
The tech conference will be held in Riyadh. (Supplied/LEAP)
Former world boxing champion Anthony Joshua, astronaut Susan Kilrain and West Ham United Football Club vice-chairman Karren Brady will also speak at the conference.
Some of the talks set to take place at LEAP will shed light on the creative economy, education, retail, the Fourth Industrial Revolution, future energy, smart cities, and health tech.
One of the companies that will discuss the creative economy during one of the many orbital talks is Sparkup, a real-time engagement platform for live streams and hybrid events. "Our experience combines virtual audience technology and interactive live streaming to offer attendees a front-row seat on an event and allow them to react in real-time," Vincent Bruneau, founder and CEO of Sparkup, told Arab News.
The company is working toward scaling and integrating its real-time engagement platform, bringing the concept into different environments. "It's quite exciting because virtual and hybrid events are becoming very popular, people are now used to it and it forces you to innovate, to level up your game and imagine what should the next experience be like," Bruneau said.
The investors' platform is expected to witness multiple investment deals with global tech industries.