Mondrian Doha Celebrates the Art of Self-Love with LOVE YOURSELF Campaign Launch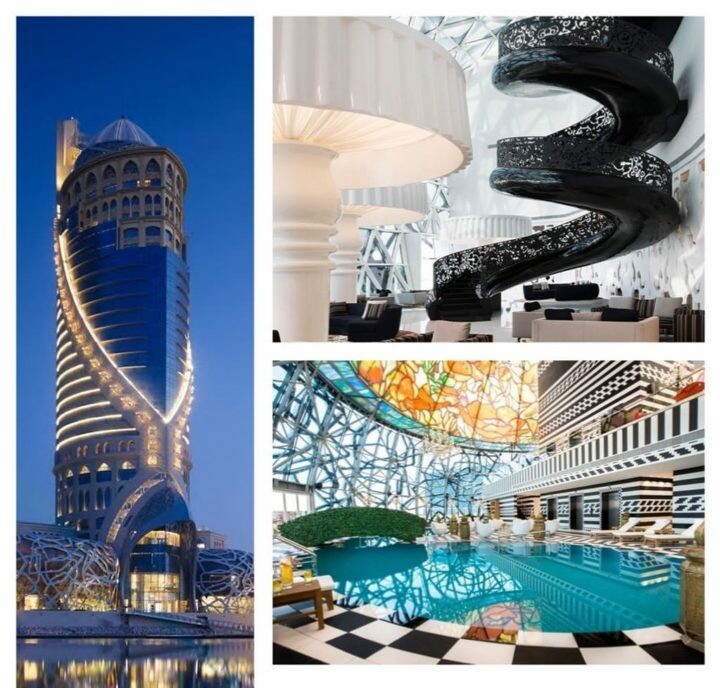 Doha's leading luxury hotel, Mondrian Doha, has been delivering excellence and extraordinary experiences since it first opened its doors.
As the hotel enters its sixth year, Mondrian Doha is encouraging guests to prioritize self-love first and foremost with the brand campaign, LOVE YOURSELF. To honour the occasion, the hotel will be bringing a selection of self-love-themed offers and promotions across its award-winning culinary emporium and spa, to support every guest's self-love journey. An exclusive brand video will also be launched to coincide with the latest campaign.
The short puts a spotlight on Mondrian Doha being the ultimate destination to cherish the simple moments, acknowledge responsibility for your own well-being, and practice self-love. The story shows that by prioritizing self-love and embracing these small things that bring us joy, we can learn more about being happy. Whether that's treating yourself to a decadent dinner, a casual coffee, or enjoying a total wellness experience at ESPA, Mondrian Doha supports and celebrates all self-love. LOVE YOURSELF video is available to watch on Mondrian Doha's social media channels.
Commenting on the new campaign launch, Mikel Ibrahim, General Manager of Mondrian Doha, said: "We are thrilled to step into this new era for Mondrian Doha and celebrate what's most important, our guests and their wellbeing. We hope our guests will embrace this journey of self-love and enjoy the range of bespoke experiences we have launching at the hotel. It's self-love season and we look forward to bringing even more love throughout the year."
On offer from now until the end of March is a range of promotions and experiences for guests to help put their self-love into practice and spoil themselves with delicious treats, bespoke menus and zen spa experiences.
At Hudson Tavern, guests can treat themselves daily to three cocktails and bites for just QAR 195, for me myself, and I. While whimsical coffee shop, EllaMia Doha, will be bringing guests decadent and tasty treats with the new Love Yourself Afternoon Tea, available daily from 2 PM to 7 PM and starting from QAR 175, for the ultimate afternoon indulgence.
Award-winning Japanese restaurant Morimoto will be offering an exclusive daily Love Yourself Menu featuring a selection of the chef's favourite dishes paired with either mocktails or cocktails starting at QAR 375. While the most exclusive caviar bar in town, 12 Chairs, will be celebrating love with a masterfully curated four-course Omakase menu paired with exquisite cocktails for QAR 1,200, available Sunday – Tuesday, so guests can dine on the finest of food and enjoy a culinary experience designed with self-love in mind.
Smoke and Mirrors will be serving a bespoke daily L.O.V.E menu for every guest to enjoy an exhilarating feast for the senses. Guests can also opt for an unforgettable sunset experience at Patio by Walima with discounted prices on selected menu items every day from 4 PM – 8 PM. Everyday calls for a toast to you at Bottega di Carna with a daily 4 PM – 6 PM drinks promotion on selected Italian-inspired beverages.
The stunning ESPA, the ultimate destination for tranquillity and relaxation, will be offering two bespoke packages for the occasion, both for QAR 1,200. Keep Calm and Love Yourself features a relaxing hammam, golden mask wrap, and a signature ESPA massage. Glow On and Love Yourself combines a HydraFacial treatment with a manicure and pedicure, for the perfect pick-me-up package. Both designed specially to relax the mind, body and soul, guests will leave ESPA feeling refreshed and revitalised and ready to embrace self-love.
For further information about LOVE YOURSELF and the offers available visit www.mondriandoha.com
ABOUT MONDRIAN DOHA
Located in the heart of West Bay Lagoon and next to Lusail City, the future of Qatar with its innovative design, architecturally led landscape marking the gateway to Qatar's next major city destination, The Mondrian Doha was designed in collaboration with the world-renowned Dutch designer, Marcel Wanders, and marks his first hotel in the Middle East. Mondrian Doha comprises of 270 distinctive rooms: including the Penthouse studios and Studio suites with custom-made furniture, and Swarovski crystal chandeliers. Mondrian Doha is known for its luxurious lifestyle hospitality offerings, which include four restaurants serving both local and international cuisines: Morimoto Hudson Tavern, and Walima, as well as its newly renovated patio, Patio by Walima. In addition, there are three bar outlets: Smoke and Mirrors, 12 Chairs, and Black Orchid. Guests can also visit EllaMia for authentic coffee blends and a beautiful setting. The renowned property houses Qatar's first ESPA Spa, a 2,000 square metre facility with separate spas for men and women, twelve treatment rooms, and Hammam areas, in addition to 24-hour fitness centre and a rooftop pool.
To learn more visit mondriandoha.com