Mondrian Doha is Elevating the Ramadan Experience With its Alf Leila w Leila Tent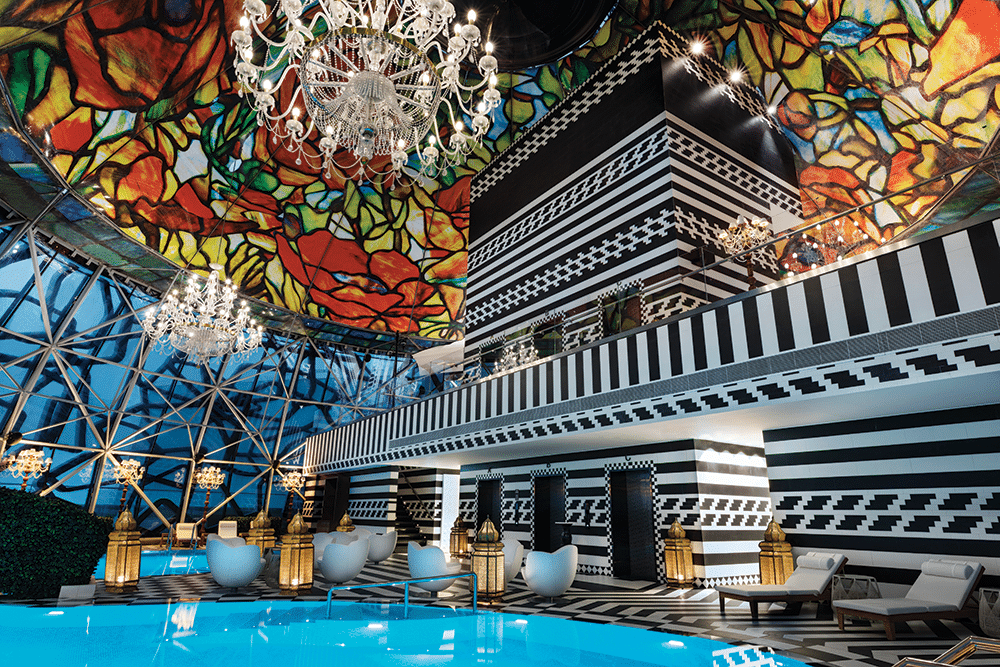 This Ramadan, Mondrian Doha invites guests to gather their friends and family and discover their breath-taking Alf Leila w Leila Tent. Available for both Iftar and Suhoor, an evening in the tent promises to take guests on a one-of-a-kind culinary journey to celebrate the Holy Month.
The traditional tent is embellished with a gold touch, featuring intricate patterns, bright lanterns, and a large stage that will be filled with an unmatched ambiance throughout the night as the sound of tuneful instruments will be serenading the crowd. Guests will be transported to a mystical wonderland as they fully immerse themselves in the spirit of Ramadan.
Honouring the essence of Ramadan, the buffet style menu commences with delightful Medjoul dates and a selection of traditional fresh juices, artisan breads, cold mezzeh and fresh salads. Hot food stations include a sumptuous spread of delectable cuisines from all over the world bringing all cultures and traditions to the heart of Doha. Ending the affair on a sweet note, a wide selection of desserts will be served, including Arabic classics like Kunafa and Umm Ali.
Commenting on the new magical Alf Leila w Leila Tent, Mikel Ibrahim, General Manager of Mondrian Doha, said: "We are so excited to be home to one of the most magnificent tents in Doha. With spectacular interiors and delightful cuisines, we are sure that this tent will exceed all guests' expectations. We would like to welcome all our guests into Mondrian Doha, along with their friends and family, to honour the Holy Month with us and experience the oasis of the Alf Leila w Leila Tent."
With its stunning location, sophisticated decor, and incomparable ambience, this Ramadan, Mondrian Doha's Alf Leila w Leila Tent promises to take guests on an extraordinary culinary adventure, surrounded by the people they love, and create an unforgettable dining experience that is second to none.
Alf Leila w Leila Tent
Location: Mondrian Doha
Price:
⦁ Iftar: QR 260 per person
⦁ Suhoor: 285 QR per person
For Reservation: please call +974 5100 5161
Located in the heart of West Bay Lagoon and next to Lusail City, the future of Qatar with its innovative design, architecturally led landscape marking the gateway to Qatar's next major city destination, The Mondrian Doha was designed in collaboration with the world-renowned Dutch designer, Marcel Wanders, and marks his first hotel in the Middle East. Mondrian Doha comprises of 270 distinctive rooms: including the Penthouse studios and Studio suites with custom-made furniture, and Swarovski crystal chandeliers. Mondrian Doha is known for its luxurious lifestyle hospitality offerings, which include four restaurants serving both local and international cuisines: Morimoto Hudson Tavern, and Walima, as well as its newly renovated patio, Patio by Walima. In addition, there are three bar outlets: Smoke and Mirrors, 12 Chairs, and Black Orchid. Guests can also visit EllaMia for authentic coffee blends and a beautiful setting. The renowned property houses Qatar's first ESPA Spa, a 2,000 square metre facility with separate spas for men and women, twelve treatment rooms, and Hammam areas, in addition to 24-hour fitness centre and a rooftop pool.
To learn more visit mondriandoha.com