Saudi-Turkiye trade volume to reach $10bn in coming years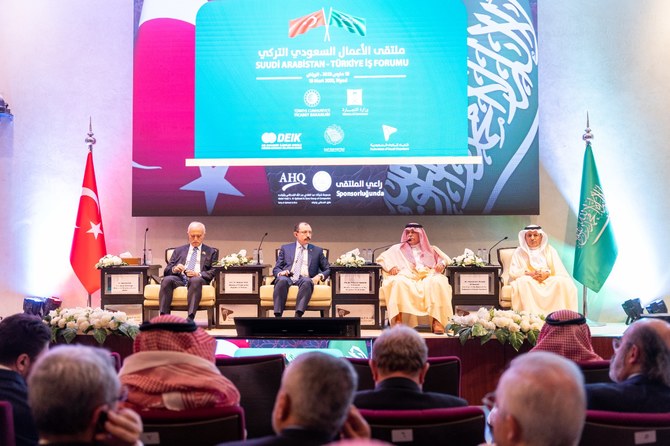 Turkiye expects bilateral trade with Saudi Arabia to reach $10 billion in the coming years, said Trade Minister Mehmet Mus.
The Turkish official was speaking at the Saudi-Turkish Business Forum in Riyadh. The minister said several Turkish companies are keen on exploring the investment opportunities available in the Kingdom particularly in the construction and manufacturing sectors, which are on a roll due to the huge economic transformation currently underway in Saudi Arabia.
He attributing the economic boom in Saudi Arabia to the successful implementation of the Vision 2030 program. The visiting dignitary said that huge investment opportunities are also present in Turkiye whose economy is witnessing a rapid growth, which is evident from the current volume of foreign investments in the country that stands at $285 billion.
He said the factors that increase the attraction of Turkiye as an investment destination include its EU Customs Union membership, a population of 85 million and an impressive growth rate of 6 percent.
The president of the Federation of Saudi Chambers, Hassan Al-Huwaizi, stated that Saudi-Turkish relations are among the best global models for international trade which have been greatly boosted with the formation of the Saudi-Turkish Coordination Council last year.
He said that 1,140 Saudi companies invested in Turkiye while 390 Turkish companies invested in the Kingdom and the bilateral trade volume jumped from SR17 billion ($4.52 billion) in 2017 to SR23 billion in 2022. Investments were made in the construction, manufacturing, wholesale, retail, and restaurant sectors.
The forum was organized by the Federation of Saudi Chambers with the participation of over 450 Saudi and Turkish companies.
Three deals were signed between the two countries in the fields of trade and manufacturing and the two sides also agreed on a joint venture in the automation and engineering sector.