Inaugural Ramadan Pavilion celebrates the lives of Muslims across the UK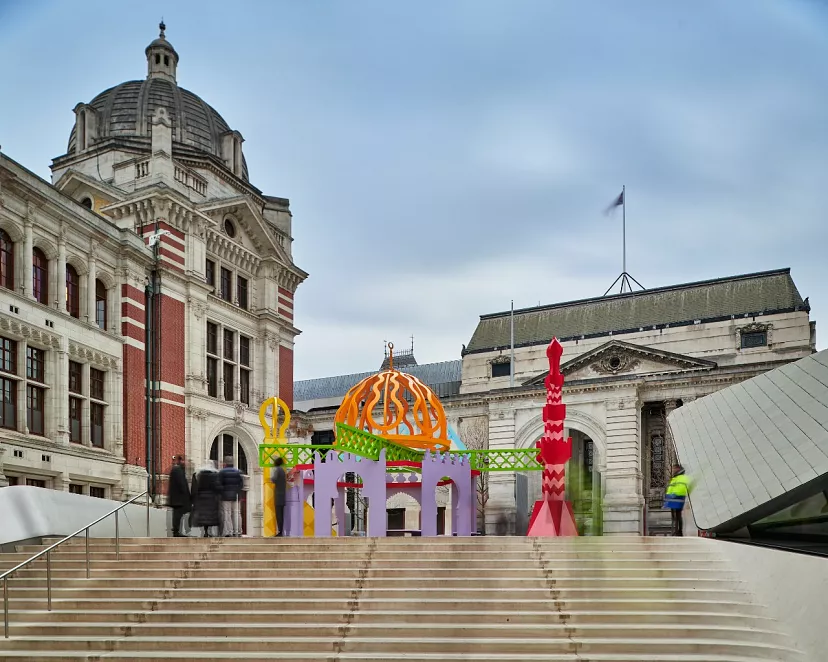 A specially designed abstract mosque installed outside the Victoria and Albert Museum in London has opened to the public to celebrate the month of Ramadan.
The 2023 Ramadan Pavilion was inspired by the museum's collection of drawings and photographs of historic Islamic architecture.
Designed by architect Shahed Saleem, the pavilion is intended to reflect the way that British mosques have been built by their communities, with references to various traditions of Islamic history through architectural symbols.
The pavilion will host a series of public events and two Open Iftars, the UK's largest community event in Ramadan, aimed at celebrating the lived experiences of Muslims across the UK and the globe during the holiest month of the Islamic calendar.
The core values and traditions of Ramadan will be explored through architectural expression, experimentation and associated public arts programmes.
The pavilion is part of the annual Ramadan Festival, a collection of artistic, cultural, and creative events to inspire and engage audiences from all backgrounds.
The Festival is curated by the Ramadan Tent Project, an award-winning charity established in 2013 which aims to bring communities together and develop an understanding of Ramadan.
The pavilion will be on show until 1 May.