An interview with Nada Thabet, one of the founders of "Liblib Publishing House" in Britain, is featured on Arabisk London: a stunning world inside the stories of Arab youngsters all across the world!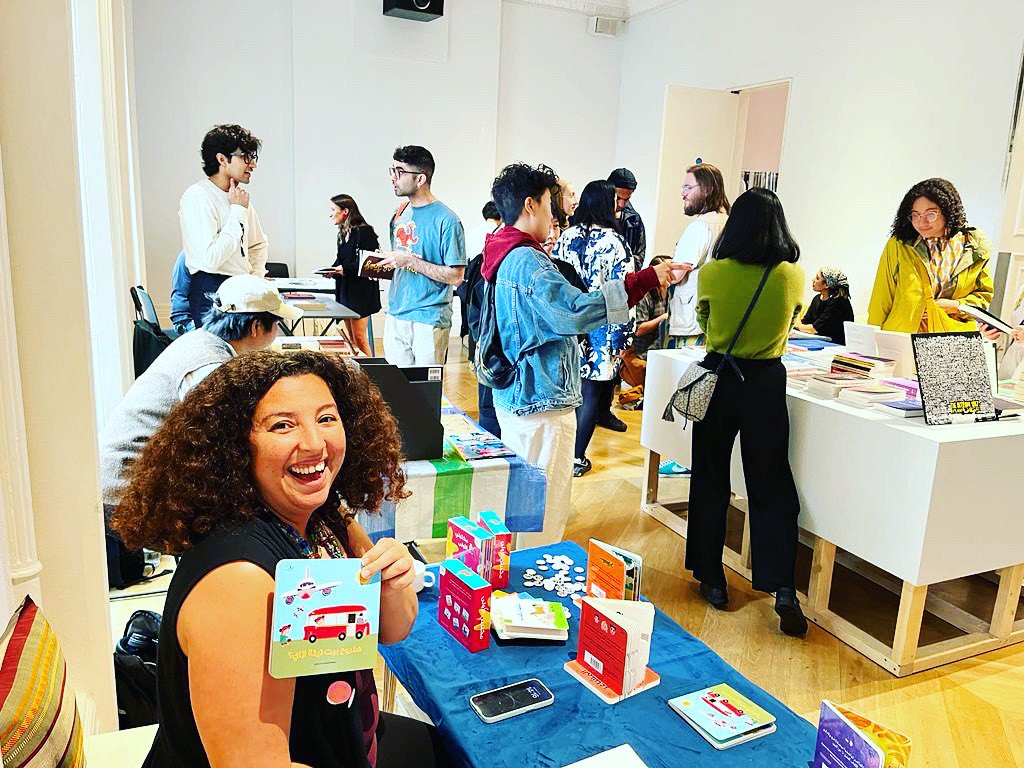 Do you struggle to locate good children's books in Arabic? Are you always hunting for novels and amusing tales written in the boys' and girls' local dialect? You are not by yourself!
This is what ignited Dar Liblib's initial flame for publication!
The story started in 2001, in London, the capital city. The house still publishes children's books in everyday Arabic for kids not just in Britain but all across the world. Arabisk London had the privilege of hosting Ms. Nada Thabet, one of the "Liblib" founders, to discuss this tale.
Interviewed by: Fatima Omrani
⦁ "Liblib Publishing House" and the "Liblib" in the Egyptian dialect are examples of the proficient language user. Ms. Nada, can we agree with your goal, which is " Storytelling and tales can help youngsters become more fluent in Arabic? "
We definitely want to achieve this. I've always had trouble purchasing children's books. I didn't come across many recent and modern works, and if I did locate certain books, they were scarce, and when I went to repurchase them, I discovered that there were no more copies available since they had already been sold out.
I started to realise when I purchased books in other languages, such as English, French, German, and others, I discovered that these books are entertaining and depending on the approach of reading for enjoyment, the child actually prefers these books over Arabic, which uses an instructional and educational approach and gives the child just two options: do or do not.
This marked the start of a staged incorporation, therefore, I travelled to the UK to launch a publishing house. By chance, while I was getting ready to move to London, I got in touch with two of my friends, who immediately expressed interest in going on the trip. We then started preparing, creating action plans and looking into the project's feasibility.
And on September 17, 2001, we officially founded Liblib Publishing House and began to work on the first 11 books for the company. On our website, they are already for sale.
⦁ "Our mission is to become a globally recognised publishing house for children's books in spoken Arabic". According to your official website, this is what you aim to, however, why do you prefer spoken Arabic to classical Arabic?
Despite the fact that there are numerous and already-published books in classical Arabic, it turns out that there are actually relatively few classical Arabic books published, according to our analysis of sales data and publishing numbers for each book, however, they are not widely distributed. So, since we are a publishing house in the United Kingdom, we have a particular interest in Arab expats who want to maintain ties with grandparents, and other family members back home as the colloquial dialect is used in this communication, we began there.
Our books now cater to youngsters between the ages of 0 and 5.
This age typically hasn't started school yet and won't understand classical Arabic, so we teach them the words the child needs to express himself, we are interested in these terms appearing in our tales from the reality of the child's life, and from useful words that he can use at home with his parents so that he may study, communicate, and think in their own tongue with their family.
⦁ The founders are, "Three friends with high aspirations for Arabic-spoken children's books", tell us more about Nada Thabet, Maryam Ali Batterjeel, Mohab Wehbe?
Nada Thabet is who I am. I work in both theatre and psychology, having studied both. Though moving into publishing is a new area for me, it is not really dissimilar from my areas of expertise in psychology, theatre, child psychology, education, and other fields. I didn't have a hard time making the transition between these two worlds.
Maryam Ali Batterjeel is a teacher who was formerly a highly gifted in music and acting. She has worked in numerous publishing houses in the past, so she is not new to creating stories.
Mohab Wehbe is more interested in games and thinks that books are the first step in creating Arabic games for kids, this is what initially brought us together when we were university students.
Maryam and Mohab reside in the United States, so it is important for them to write books that are aimed at Arab children and catch their attention. Mohab, in particular, used to make a lot of effort to get his kids to talk to him in Arabic. But he was unable to figure out any strategies to encourage them to speak Arabic and instill a love for Arabic language and literature at that time.
⦁ "Oh, that's wonderful when the little reader is surprised when he opens the book."
Making the youngster surprised when he opens a book is one of the most difficult tasks to achieve, especially in light of the Internet's and social networking sites' overwhelming influence. What are your plans to uphold this rule?
Our major objective is for the youngster to be fascinated by and drawn to the book, which will encourage him or her to read it often. Every time he or she does, they will discover something new that will draw them in and make them want to read the book once more. He or she will also like reading the book to their family and friends. The book should be enjoyable for the child to read and make him or her happy when he or she does.
We also work to make sure the book has vibrant and lovely illustrations to go along with the engaging story. It should also be simple for the child to open and close with his or her small hands and of high enough quality that the child can read it again, play with it, arrange it with other books, or even throw it on the ground without it tearing or losing any of its quality.
⦁ What are your most well-known literary publications? Please tell us about your writings. How would you rate the popularity of Arabic children's literature?
There are currently 11 books in our collection, which are interactive books with basic storylines, huge illustrations, and text that have been on sale since February. We have had a solid turnout throughout this time, and by children's book standards, our sales are doing well. We have some popularity, and the books received extremely favourable feedback. The youngsters genuinely admired these books.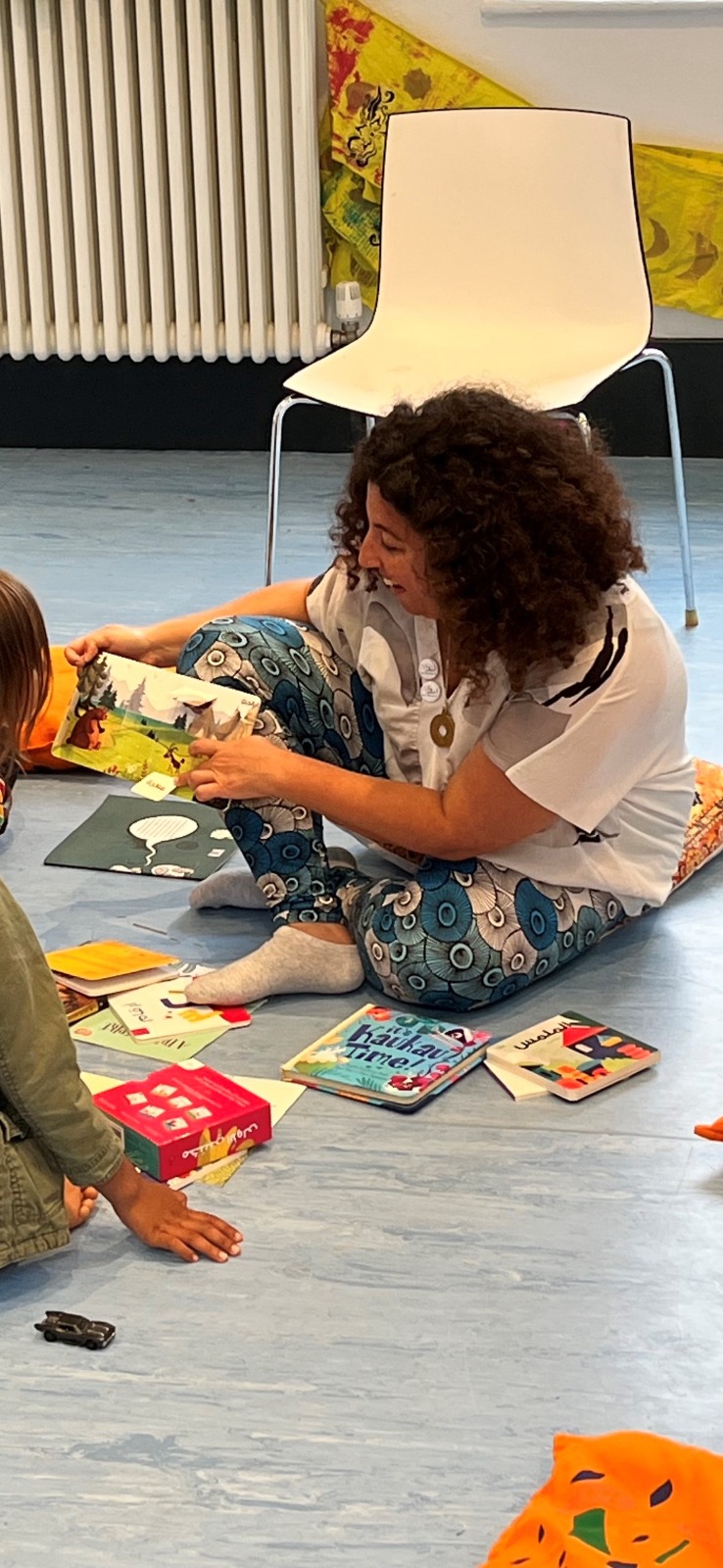 ⦁ What factors do you consider to be most crucial when releasing a book? What are the principles and prerequisites for publication at Dar Liblib for writers?
The integration of the tales is one of our primary publication requirements because many children's stories that come to us lack a conclusion, a logical flow of events, or have other structural flaws. The tale has to be technically finished as a result.
A second requirement is that in order to draw in the youngster, the narrative must be appropriate for his age group. This implies that it must be engaging, amusing, appealing, nourishing enthusiasm, love of discovery, and accessible to new knowledge, as well as fit for the imagination of the youngster it targets. It must also make an impression and contribute to the child, as well as broaden his perspective.
⦁ Interactive books are one of the most satisfying attractions; can you tell us more about the interactive "Four Books Pack"?
This bundle includes 4 interactive books, two of which are foldable or "Lift Flap" books, which kids especially enjoy playing with. Our nature books have many animals hidden throughout the book's folds and in the surrounding landscape, kids really enjoy playing with these books, which indicate that they find the books to be very interesting.
There is also a book of feelings, which is made up of faces. Each face represents a particular emotion, such as joy, sadness, anger, enthusiasm, etc. There are both feminine and masculine faces in the book, and kids can play by funny changing the features of the faces, such as making the face happy while the eyes are crying. And children who are good at reading can read the words in the book, which are also funny words, and feel happy when they reach a full happy face or a full sad face.
Additionally, youngsters who are adept readers may read the humorous phrases in the book and experience happiness when they reach the full happy or full sad face.
The children's book "How Will We Go To Tita's House" is also a short narrative about transportation. Since many children today reside in Britain while their grandparents remain in Egypt, many of them are already considering how they will get to their grandmothers' homes.
⦁ Do you encounter writers and authors who are eager to work with you? What would you say about the painters' excitement as well?
We do, in fact, receive a lot of messages from authors and illustrators via our website, the mail, or our social media platforms, and they often give us stories or an exhibition of their work. However, we are now interested in selling our current publications in order to make new books at a later time. Actually, we gather data from all the authors and painters who have contacted us about the forthcoming collection.
⦁ You demonstrate active involvement in a variety of significant UK-level activities and events. What were the most significant festivals and exhibitions you took part in?
Although we haven't officially taken part in any events with the intention of selling anything yet, we have attended a number of outstanding events at the London Book Fair both this year and the year before, and we have a strong desire to take part in the fair's session the following year. It serves as a platform for us to further our creative work by networking with publishing companies and other professionals in the industry. We are more concerned with this issue than concentrating on boosting the sale of our books at the moment.
In addition, if we publish more books, we will be more interested in reserving a space at exhibits under the house name and making more sales, but for now, we are networking with potential customers at meetings.
Furthermore, we went to the Cairo Book Festival to network with publishers of children's books and meet other attendees, and we showed our books in other bookstores.
Also, we attended the Liverpool Arab Arts Festival. There was a lovely reaction when we took part in the storytelling exercises. A lot of kids came in groups, but we were unable to set up a book sale display.
We participated in a book sale for the first time at a lovely event organised by Mosaic, and it had a great turnout over the course of two days.
My current interest is in visiting children's learning centres, such as kindergartens and others, as one of their goals is to introduce children to various cultures so that they may get familiar with diverse and rich cultures.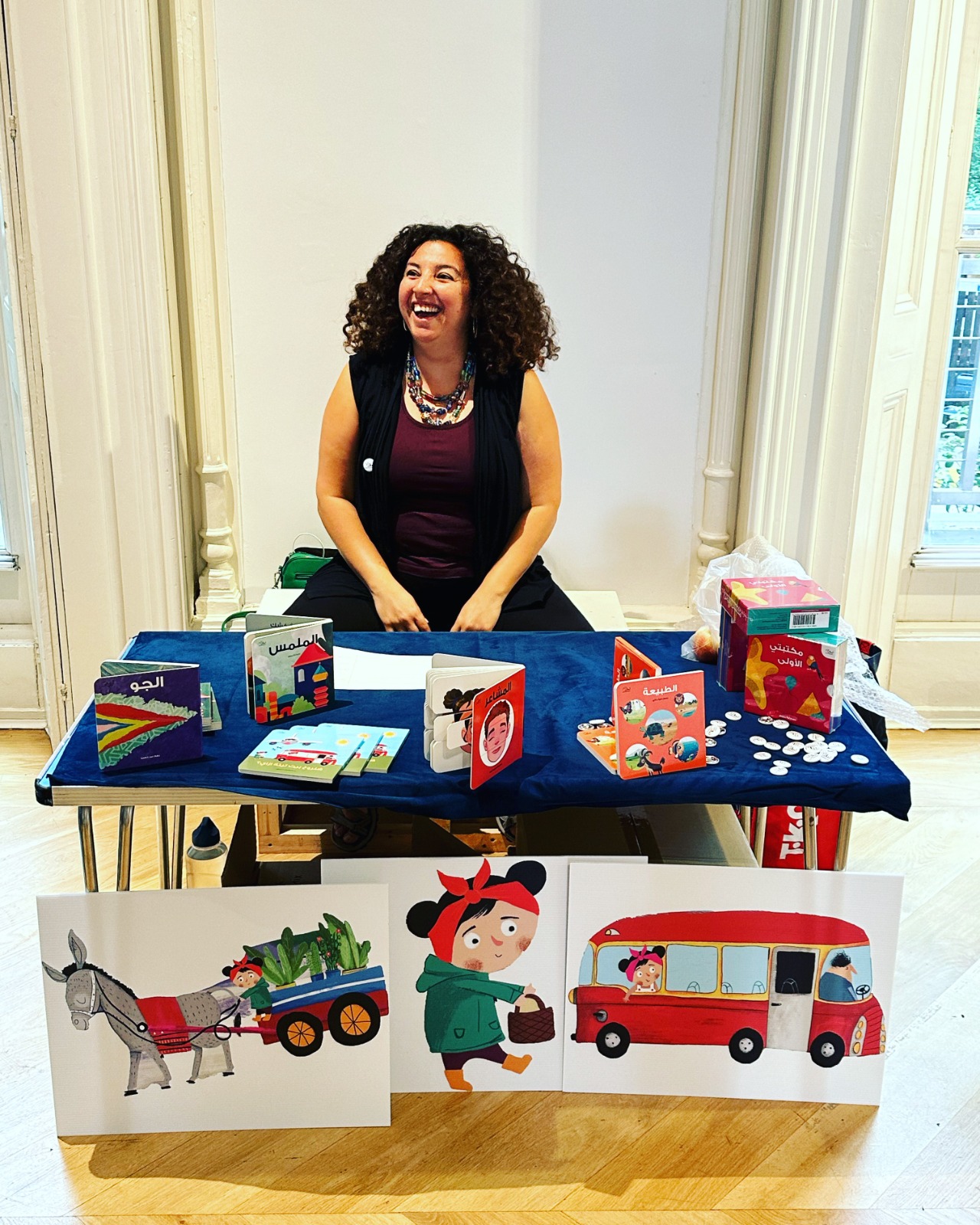 ⦁ You must be facing several difficulties in trying to start, promote, and encourage kids to read. What were the biggest difficulties you encountered?
Our publications being in Arabic is just one of many difficulties we confront, like with any endeavour. We frequently debate the need of undertaking initiatives in Arab nations, with Egypt in particular, specifically in context of our plans to publish books in dialects other than Egyptian and our research into doing so in Iraqi, Saudi, and Emirati.
We'd also like to grow our collection in the Egyptian dialect so that we can write books for kids older than 5 to 7. Our goal is to eventually combine all of these ideas, but for now, our main challenge is figuring out what our next publications will be. For now, we are concentrating on book sales and waiting until we reach our objective before announcing our upcoming releases.
The difficulty is also to concentrate on the Arab audiences as Arabic is the language of our publications. We also concentrate on England and Europe since they are Arab expats and need to obtain Arabic-language publications.
Shipping books from Egypt to the rest of the globe is problematic because of the high customs expenses. This is a significant obstacle for us.
Ultimately, it is impossible to predict what will happen until we begin operating, which is difficult for a start-up business.
Currently, 40% of our sales come from Egypt and 40% from the UK. We have a number of Arab and European nations as well, including Canada, New Zealand, and Australia.
⦁ Tell us more about how you invite your audience to participate in the success of your experience?
Since the day Dar Liblib was created, we have been eager to share our knowledge with all fans and readers who have a passion for children's literature, including readers, academics, publishers, and researchers.
We attempt to support each other and cooperate to build a good, inclusive community. People need to understand how essential this issue is so that we can work together, share our experiences, and trade knowledge, allowing the reader to go on. The young reader must never stop reading in order to quench his thirst for knowledge.
We have always enjoyed being a member of the professional community, publishing in Arabic, and publishing for young readers. We collaborate with several organisations and institutes and are frequently present at numerous specialised gatherings.
We are also interested in building an audience, meeting its needs, showcasing its interests and passions, and providing room for its feedback on what we provide so that it is simple and open for others to provide us with constructive feedback, encouraging youngsters to continue reading books because they find them intriguing, not merely in our perspective.
Since the beginning, we have had a fan base that is interested in what we have to give. Their presence has been a wonderful support and motivator for us, and this is the true treasure that keeps expanding as a result of the word of mouth about what we have to offer.
⦁ It is the initial step towards the dream. What are the last stages to achieving the "Liblib" dream? Are you happy with the presentation you made today?
The dream of "Liblib" is to produce engaging children's books in a variety of Arabic dialects and to have many individuals who are eager to instruct and amuse young readers in their own tongue and dialect. Besides, we hope to write books for children of all ages, from toddlers to young adults.
Liblib's offical website:
https://liblibpublishing.co.uk/