Arabisk London Interviews Percussionist Mohamad Shahada: A Magnificent Musical Scientist from Damascus to the Rest of the Globe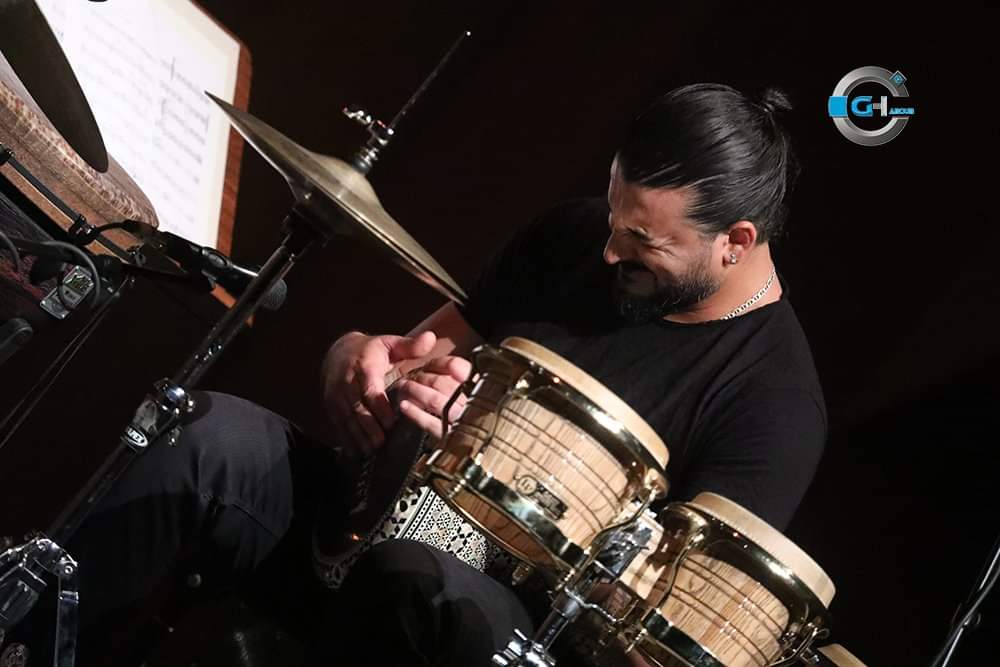 Mohamad Shahada possessed nothing except his bodily space, his ingenuity, and his musical instruments! In his own universe, he fantasised and played away from the chaos of reality. As for his rhythm-loving admirers, they've been fascinated by his music forever! Consequently, you'll always notice them closing their eyes fully before opening them again, as if they had just returned from a lengthy journey.
Their shouts of excitement blend with the whisper of his music, as their bodies are carried alone under the dazzling lights that emerge from the depths of the night, like an astonishing scenario from a movie!
"Arabisk London" is honoured to host the young musician Mohamad Shahada, one of the most renowned percussionists, in an exclusive conversation where we learn the secrets of his charming musical world.
Interviewed by: Fatima Omrani
• Born into an artistic family, a well-known young percussionist began playing at three and performed on stage at six, showcasing his tremendous skill throughout his life. Describe Mohamad Shahada as an artist in your own words.
Mohamad Shahada is a guy who was raised in a home where music is played nonstop, as I recall hearing music at all times. What most attracted me to pursue this career was the fact that I used to observe my father's rehearsals and I would accompany him wherever he went so I could see him play and practise with his colleagues. I was influenced by how he listened to music until the concept of music became more firmly entrenched in me before the age of three. I have felt a great connection to percussion instruments of various sizes and kinds ever since I was a little child, and I feel as though I am in continual contact with them.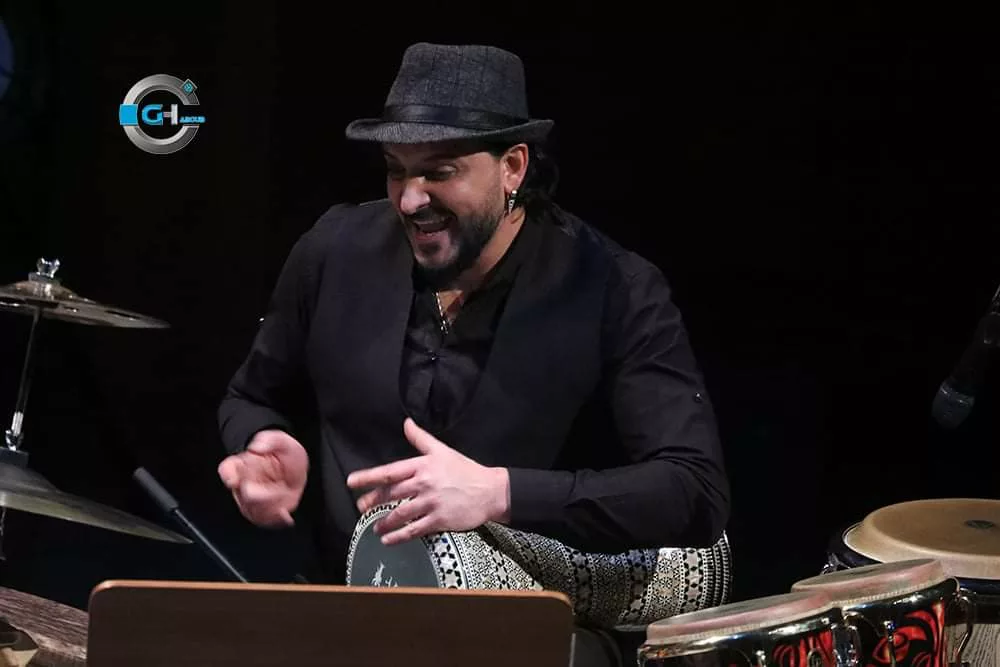 • You were raised in a musical family and surrounded by music. Do you recall how you felt when you first took the stage? Has Muhammad fulfilled his boyhood ambition today?
Yes, my childhood wish did come true, and I'm quite happy with Mohamad Shahada right now. Since I used to often listen to, practise, and play music in our home on a regular basis, I benefited from the supportive environment of my musical family.
Since there was no Internet at that point in time, specifically in 1987_1988, I was unable to take training courses online, so my father was the one to teach me rhythm and music. As a result, I was able, at a very young age, to go out on stage with all courage and without any confusion or fear, and it was my father who gave me that ability. He was thrilled and impassioned as he stood next to me on stage.
In 1995, I represented the Syrian Arab Republic at the first Arab Children's Forum, which was held in Sharjah, United Arab Emirates. Additionally, I represented Syria in Tunisia in 1996 as part of the Arab Children's Festival. Furthermore, from 1994 to 1995, I took first place for two years in a row in the Syrian level of percussion playing.
The Cultural Centre Band in Masyaf, Hama Governorate, formed me, and that encounter had a big impact on my sense of musical identity and how I deliver music properly and free of musical smog. In addition, I was exposed to extremely significant musical templates that helped me to develop my sense of what traditional oriental music is, such as ballads and monologues.
• Which musical instruments do you play? Which do you like better? What factors determine the instruments you choose for performances?
I am an expert in percussion instruments, and as for which percussion instruments I like, I do not make a distinction. I consider all percussion instruments to be my children. Whenever I hear the drums, my youth is brought back to mind.
Regarding the criteria for selecting instruments, I am equally incapable of differentiating between one instrument and another. Nevertheless, with technological advancements that brought about new musical instruments, there is now a preference for musical genres and styles, allowing the musician to purchase the instruments that best suit him. However, I must reiterate that I hear the sounds of all the instruments that I play with the same passion and love.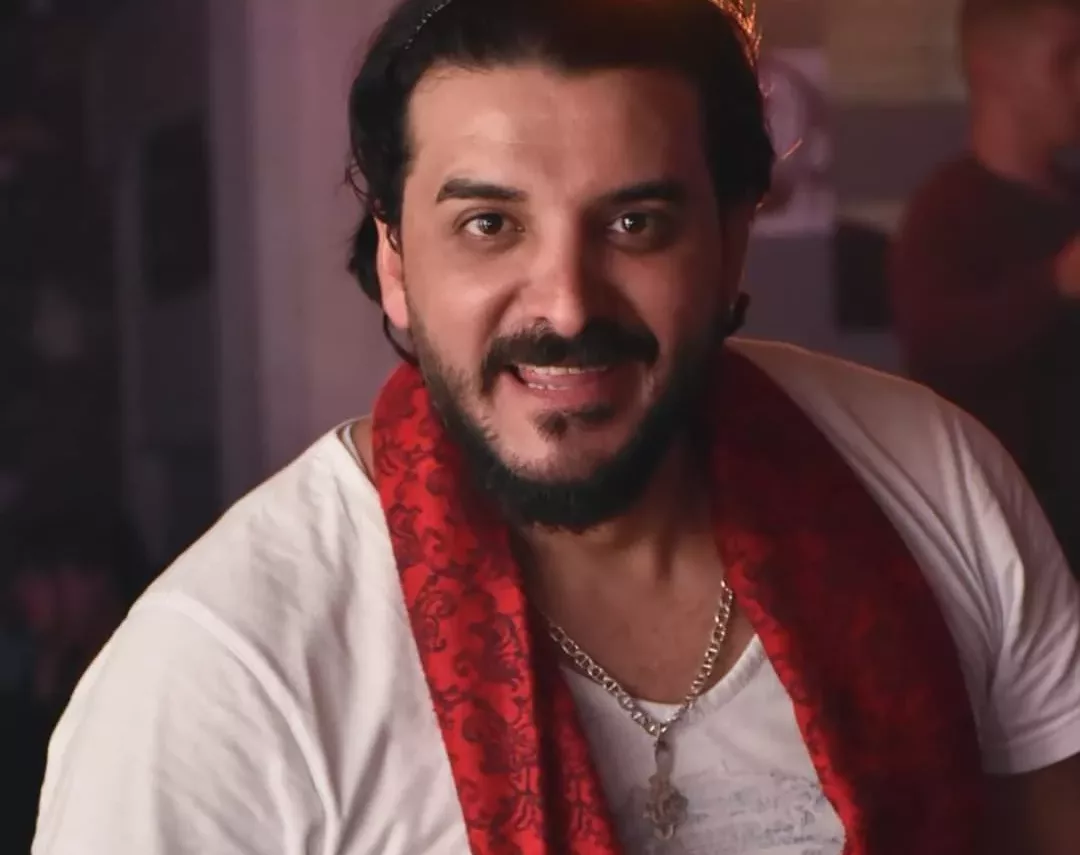 • In your artistic career, "Rony Barrak" is a recognisable symbol. Tell us about how your music influenced him.
Actually, the beginning of a new phase in my performing or musical career for me began with the artist Rony Barrak. I was raised in a musical household that plays oriental percussion, and at times I wondered if there was another, less conventional approach to play percussion instruments. That is to say, I was considering creating unique ways and playing them in a distinctive manner by going against the norm. For instance, the drum is a two-handed instrument. At the moment, I questioned if one could use the drum's letter or fingernails to play.
This suggestion was modest until I watched a video of the artist Rony Barrak, which was sufficient to alter the direction of my life and convince me that what I was thinking was true. Consequently, prior to being affected by Rony, both in terms of how he created his music and how he wrote it, I had thinking patterns comparable to his, and how he organises, composes, distributes, and gets around the rhythm of his songs. Additionally, I was struck by his charm, his demeanour on stage, and the way he engages with the music in front of the crowd.
After 20 years, it was a terrific experience for me to discover Rony Barrak's music and perform with him. Since then, we have become friends and discuss our thoughts on a daily or weekly basis. We may disagree or agree on points of view, but I'm glad I joined the Rony Barrak school since it has a quirky tradition of playing in Rony's presence who has a vast aural and musical repertoire and the ability to perform in front of an audience, which is a skill that not all players or musicians possess.
• Out of all the artists you've collaborated with, who are the most well-known? Do you like playing solo or with bands more?
I have collaborated on music projects and played with a variety of musicians. As an example, I worked with legendary musicians like the late Wadih Al-Safi and the late Azar Habib, and later I have played with singers in Syria like Linda Bitar, Hala Naqrour, and Lina Shamamian, as well as the artist Hussein Atfa. In regard to celebrities, I played with artists Saif Nabil, Joseph Attia, Moein Sharif, Melhem Zain, Nassif Zaytoun, Alaa Zalzali, and Nader Al-Atat, among others.
Regarding the musical projects, I took part more than once in them at the Damascus Opera House. I played with the Tariq Salhia project, the Kinan Kadnawi project, the Kabi Sahyoni project, and the Helm and Hanin choir. When I finally got to the artist Iyad Al-Rimawi, I sensed a sense of seclusion in his work where there is music that reminds me of myself and conveys who I am, Professor Iyad Al-Rimawi stands out as one of the most talented and inspirational artists in the Arab world. I had the pleasure of playing the badges for a number of programmes, including "Haramlek," "Souk Al-Harir," "Dabbu Al-Shanati," "Aziza Choir," and most recently, "Mushgul Alaik Mushgul," along with him.
You and DJ Bilal Hamsho are a renowned duo; and you also have amazing experiences with DJ  Kapo Keshishian. tell us about your participation with DJs in general during your concerts. What would you say is driving demand for performances without a lead singer?
I participated in various television programmes while I was living in Beirut, Lebanon, particularly the Rabaa Al-Zayat programme. After that, I moved to Syria with a strong desire to instill the culture of "show" that I had learnt about by listening to Rony Barrak's music in Lebanon. I wondered if the Syrian people would approve this approach at this point. It wasn't until I subsequently became the personification of these performances with audiences all around Syria that I realised how unique it was to play: acting in front of an audience while using musical instruments.
Bilal Hamsho and I first worked together for more than one summer season, and we continue to conduct "show" concerts. I also played with a lot of musicians, including Oqba Kayal and Kabo Kashishian, before Syrian audiences started to prefer "show" performances.
Later, I stopped playing in big orchestras; rather, I honed my skills in smaller ensembles where I could practise several genres, such as jazz, funk, Latin jazz, house, and deep house. I thought that the crowd enjoyed and got a sense of enthusiasm from this style of performing.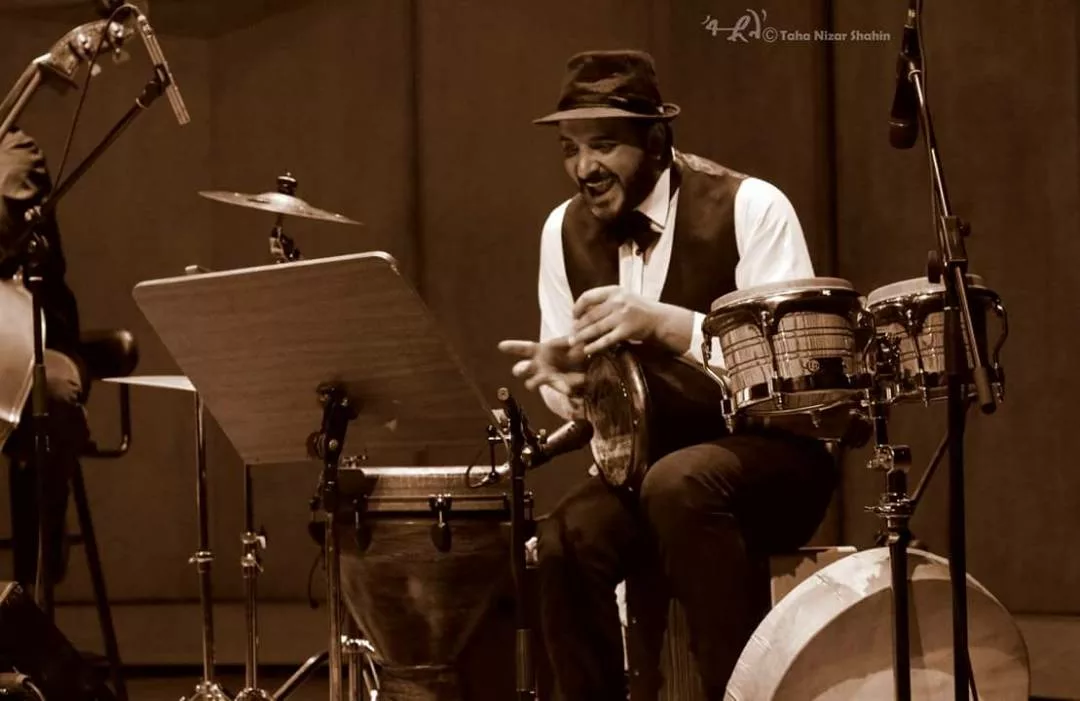 • You created the Grove Academy and served as a teacher at the Arab House Music Institute. How would you sum up your background in music education?
I had the opportunity to learn how to teach and train in music at an early age since I provided many pupils private lessons and trained at the Arab House of Music in the Lattakia Governorate. Additionally, I shared the classroom with musician Kabi Sahyoni, whom I regard as one of the greatest colleagues, at the "Tempo" Institute of Music in Lattakia. Kaby is one of the finest friends and musical collaborators I have ever had with his consistent determination and perseverance.
And once I had success with my training and my teaching, I established my own education institution for percussion training. It held special significance for graduating students, some of whom finished their percussion studies in Europe, at the Higher Institute of Music, or the College of Music Education in Syria. A portion of my students, whose training I oversaw, were among the first group of students to graduate from the College of Music.
As for my experience in the realm of musical training, I would characterise it as a great trust because I believe the student or trainee is putting their trust in my hands. Moreover, the teaching or training profession forced me to mature at a young age; at the age of 19, I was a reference for many students because the majority of them were either my age or older. At the moment, I am teaching rhythm online through an Internet-based course, and I have students from all over the world.
• You made a unique contribution to fusion music, one of the most challenging musical genres since the performer must combine several musical genres, such as Eastern and Western. Do you believe that Western ears are used to Eastern music? What about the inverse?
I became interested in fusion music because it combines a variety of musical genres, such as jazz, rock, funk, and hip-hop. As a result, it describes the condition of a professional musician who is skilled and has a strong audio repertoire, allowing him to perform a variety of musical genres in various styles.
Given that oriental music has a unique influence and character even on the ears of the West, one of the finest ideas is the notion of bringing the term "fusion" into Arab oriental music. Arab music has a unique character that appeals to the general population due to the fusion of jazz and funk with oriental music and deep house as the background music, but with the need that fusion not impair the Arab musical legacy. In other words, a novel idea is distributed in a professional manner while respecting the privacy of the eastern musical heritage.
• What difficulties does Arab music face nowadays in general? What difficulties did you, as a musician from Syria, personally encounter?
Deviating from the norm in the wrong way is one of the challenges that Arab music is currently facing. This has partially distorted the perception of Arab music, especially with the introduction of offensive and degrading vocabulary in pop songs, leading to the notion that these dwindling songs express traditional oriental music. However, that's not how Arabic music is at all. Umm Kulthum, Abdel Wahab, Farid Al-Atrash, Baligh Hamdi, and more top singers are included in the music.
Although many artists have turned into obnoxious noisemakers by playing instruments, I still find it difficult to envisage a day when songs that do not reflect our culture and musical history would contain vulgarity. While pop songs have dominated the music industry for 15 years and caused music to decline, there is still a segment of the audience that enjoys music with an old Eastern background, which gives us musicians hope.
Regarding the difficulties the Syrian musician is experiencing, no musician in the world today faces more obstacles and challenges than a musician from Syria, and one of my main issues is that I am unable to travel to some countries because I do not have entry visas for certain countries. I have been dealing with this issue for the past six years despite the fact that I used to have a party in a different country on a monthly basis.
The living environment and the circumstances in which Syria lives are among the obstacles in my path. I am now working on my debut music album, however because of my current financial situation, I am unable to finish an album with five songs. As artists, we thus require backers and funders for our creative endeavours.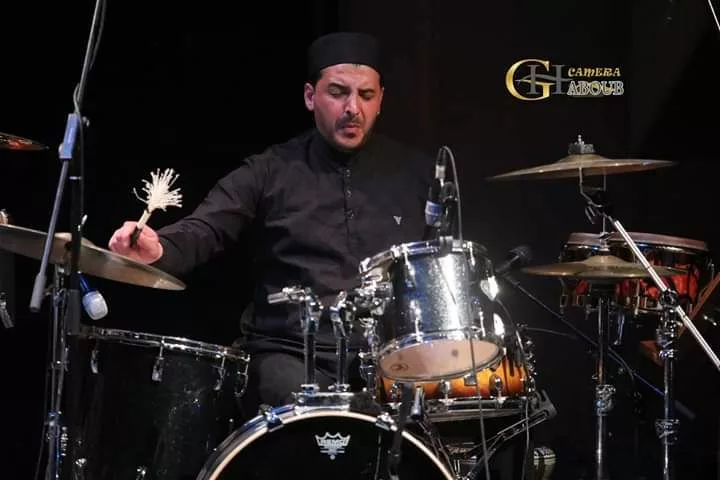 • How do you now perceive your artistic development? And what projects are you now engaged in?
Today, I'm not quite happy with who I am. I'm now working on Mohamad Shahada music album, which he composed. Since music is a sea of knowledge and subtleties, I suppose that it requires ongoing training and instruction. As a result, I need to train every day to learn something new and eventually get to where I want to be.
•If you could leave one piece of advice with those who wish to play music yet are unsure, what would it be?
To everybody who is thinking about or contemplating learning to play any instrument, I would like to convey the following message: never assume that playing is hard or unattainable. Hence, they shouldn't tell themselves that it's impossible to get to his place while listening to professional or international music. Consequently, everyone who wishes to enter the world of music must set a specific goal for himself and work towards achieving it. Training calls for patience, willpower, and adequate time until the person achieves the goal they desire.