Mecca Clock Tower: A symbol of Saudi Arabia's economy, culture, and religion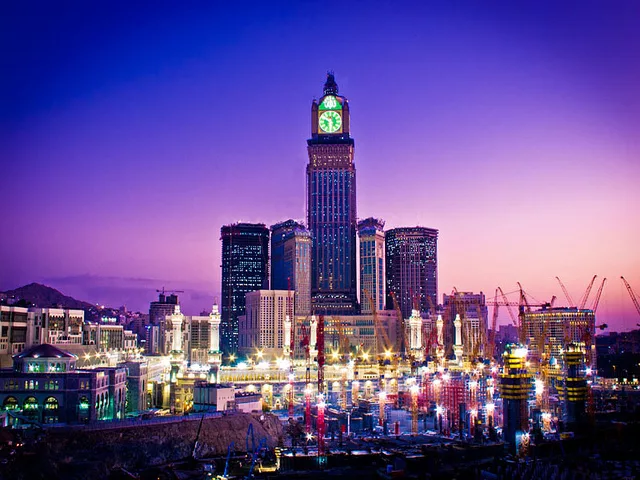 The Clock Tower in Mecca is a globally recognized religious and architectural landmark in Saudi Arabia and the world.
The clock tower, situated opposite to the Grand Mosque, boasts the world's largest clock on its four facades, visible 17 km away.
At 601 metres, the tower is Saudi Arabia's highest skyscraper and the third-tallest tower in the world.
The tower is adorned with Islamic writings and Quranic verses, illuminated in various colours on religious and national occasions.
When was Mecca's clock tower constructed?
The clock tower in Mecca was built between 2004 and 2012.
In 2008, Mecca Region, Prince Khaled Al-Faisal notified King Abdullah bin Abdulaziz of his intention to establish the tower, and the king commanded the construction of a 601-meter-tall building.
Actual construction work began in 2008, and ended in 2011 with the installation of the huge clock.
2012 saw the tower's opening following the completion of advanced technologies and interior renovations.
The Clock Tower Project in Mecca also includes the following additional towers: Al Safa Tower, Al Marwa Tower, Hajar Tower, Zamzam Tower, Al Maqam Tower, Sarah Tower, and Hotel Tower.
Every tower has a different number of floors, apartments and lifts; some even have helipads.
What's within Mecca's clock tower?
The enormous Mecca Clock Tower complex houses seven hotel towers as well as a number of amenities for pilgrims and guests.
Features of the clock tower include:
The biggest clock in the world, with four facades, is based on Mecca time and uses enormous speakers to broadcast the call to prayer from the top of the tower.
The world's largest prayer hall, the Hourly Chapel, has space for over 10,000 worshippers.
The Museum of Clocks and Astronomy showcases Islamic civilization's history with regard to clocks, calendars, and astronomical computations.
The Cosmology Centre and the Lunar Research Centre, which house some of the biggest telescopes on the planet.
A shopping centre with a variety of stores, restaurants, and cafés.
The five-star Fairmont Hotel, which provides opulent lodging along with a stunning view of the Holy Kaaba and the Grand Mosque.
Royal suites and flats, which offer opulence, seclusion, and first-rate services.
The significance of Mecca's clock tower
Saudi Arabia places a high value on the Mecca clock tower for various reasons, including:
Mecca is a city of great significance to Muslims worldwide, and the clock tower represents this city.
A well-known landmark in Mecca, the clock tower is a major pilgrimage site for Hajj and Umrah.
The clock tower draws travellers from all over the world, which helps to boost the Saudi economy.
Additionally, Saudi citizens can now find new employment opportunities thanks to the clock tower.
The clock tower helps to fortify Saudi Arabia's sense of national identity by reflecting the country's advancements in culture and civilization.