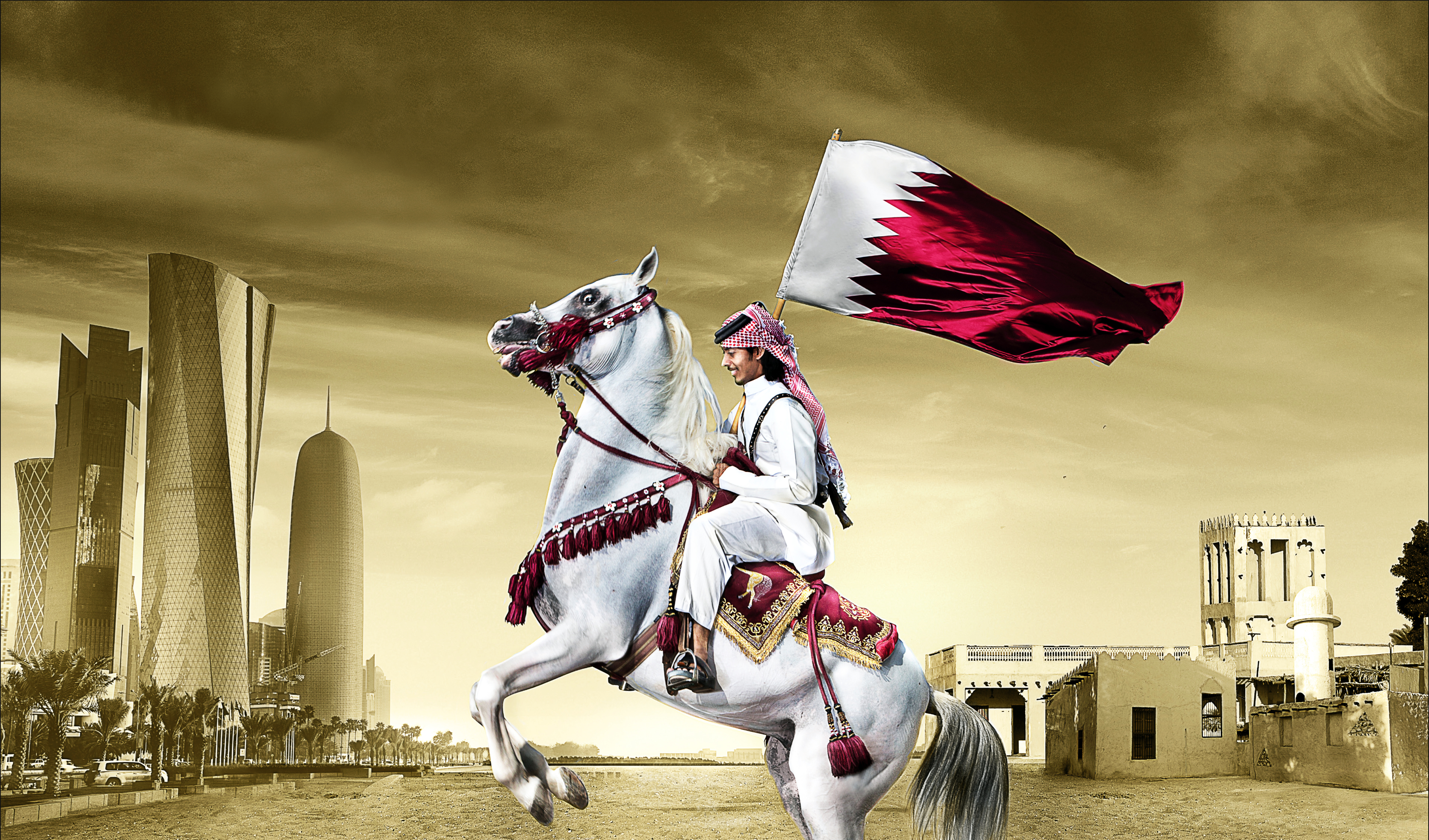 The oil price plunge", cry headlines all over the world, as one of the most keenly watched commodities continues to lose value — at least 50 percent in the past five months.
Oil-producing governments across various continents have been forced to re-assess their budgets and prepare to tighten their purse strings.
While hydrocarbons have been responsible for elevating the Gulf state of Qatar to become the richest nation per capita on the planet, the country's monarchy also is arguably in the best position of all oil-exporting countries to ride out the price decline.No economist has come close to predicting gloom — or even a slowdown in the $200bn-plus infrastructure spending — in Qatar. Far from it.
"[Qatar] is very well buffered to weather a decline in oil prices," says John Sfakianakis, the GCC director of emerging markets investment firm Ashmore Group.
"Its breakeven [oil price] is significantly lower than any other countries in the region and they have a tremendous amount of fiscal power to
support that spending; the government is definitely committed to completing the infrastructure programme they've announced."
But analysts expect Qatar, which is widely regarded to have a breakeven oil price of about $65-67, to record gross domestic product (GDP) growth of between 6.5 percent and 7.5 percent in 2014, with only a slight retraction forecast for next year. That would see it remain one of the fastest growing economies in the world.
The government also has one of the strongest fiscal reserves, which reached an all-time high of $45.7bn in October, according to Qatar National Bank (QNB), which expects international reserves to rise even further in 2015 on continued high current account surpluses.
Qatar's import cover stood at 8.6 months at the end of October, well above the IMF-recommended level of three months for pegged exchange rates.
Qatar's sovereign wealth fund is one of the wealthiest in the world. Launched in 2005, Qatar Investment Authority has amassed ownership or significant stakes in prime assets across Europe, including London's iconic Harrods, Heathrow Airport, Credit Suisse, Volkswagen, Sainsbury's, and other holdings.
More recently, the fund has turned its attention to Asia, where it has committed to investing $20bn, and Russia, where it reportedly allocated $2bn in May.
Estimates of its size range from below $100bn to as much as $256bn, while its influence has garnered the fund a reputation as being one of the most sought-after investors.
It is a remarkable status for a tiny peninsula whose economy was originally built on pearl diving. Qatar is the smallest member of OPEC (Organisation of the Petroleum Exporting Countries) by geographical and population size, but has one of the strongest economies.
Its 25 billion barrels of proven crude oil reserves and almost the same in proven natural gas reserves have helped it expand exponentially since independence from the UK in 1971. Qatar holds the world record for the fastest GDP growth, at 1,156 percent, recorded in the 1970s.
Its GDP has increased 356 times since 1970 to more than $200bn, moving it from 106th largest economy in the world, in line with the likes of Malawi and Iceland, to 51st in 2012. Its average annual growth rate between 2004 and 2011 was higher than even China, at about 15 percent, and it remains one of the highest among emerging markets. That compares to Saudi Arabia, the largest GCC economy with $745bn but a geographical area about 200 times larger than Qatar and 12 times the population.
The National Bank of Kuwait estimates $25.6bn worth of construction contracts were awarded in the first three quarters of 2014, already 10 percent more than the total during 2013. Gross investments as a share of GDP are expected to reach 30 percent in 2014, the bank says.
The construction pipeline includes three main rail projects that are currently under way: the Doha Metro, a light rail project in Lusail City, which will host the main World Cup stadium, and a high-speed, long-distance heavy rail line that will eventually connect with Saudi Arabia and Bahrain.
The four-line Doha Metro will operate within the greater Doha area. More than $8bn worth of contracts for phase one have been awarded, with services scheduled to begin in 2019.
The metro will link up to the heavy rail network, which will include both freight and passenger services, as part of the wider Gulf rail network. The six Gulf Cooperation Council member states have said the line would be ready by 2018, although Qatar Rail is yet to award any tenders for the project within its borders.
The Lusail light rail system, which is designed with 32 passenger stations across a 30km network, also has a 2018 deadline.
Qatar Rail chief technical officer Daniel Leckel said last year the rail projects would not suffer the same delays and additional costs incurred by the new Hamad International Airport, which opened in April, four years late.
The new 26.5 sq km port in Mesaieed, south of the capital Doha, is one of the country's most significant construction projects and will be among the deepest in the world when it is completed.
It is designed with a total capacity of 6 million TEU (twenty-foot equivalent unit) containers as well as with a new base for the Emiri Naval Forces and Qatar Economic Zone 3.
Transport minister Jassim Saif Ahmed Al Sulaiti said in December phase one of the project was half-way completed and would open in early 2016.
The new container facility will replace the existing Port of Doha, which is to be transformed to accept passenger cruise ships.
Qatar also is building numerous stadiums, schools, hospitals and roads, as well as several major residential, commercial and retail developments underway by both private and public firms.
The construction boom has been spurred on by the government's commitment to improve the livelihood of residents, as outlined in its Qatar National Vision 2030, released in July, 2008.
But the impetus has been since 2010 when football world governing body FIFA awarded Qatar the rights to host the World Cup in 2022. Additionally, the need for more imported labour to carry out the work has in turn fuelled more growth, across multiple industries.
Qatar's population grew by about 9.7 percent year-on-year in November, to 2.27 million, according to QNB. The population is expected to grow to 3 million by the end of the decade, with majority of the increase due to foreigners. There are only about 400,000 Qatari citizens.
Despite the significant decline in the oil price, Qatar's finance minister Ali Shareef Al Emadi has insisted the government will "never cancel" any of its announced infrastructure projects.
QNB said in its December monthly report Qatar had "ample reserves" to continue its infrastructure programme amid an oil price of below $70 per barrel.

While Sfakianakis is confident Qatari authorities will not fall back on any of its projects in the next few years, he warns the exodus of expats expected when construction slows down — unlikely prior to 2022 — could leave an oversupply of infrastructure and real estate. However, the Qatari economy will have little difficulty absorbing it, he says.
"The metro, railways and roads are very much needed in order to improve infrastructure in the country but also to cater towards the tourists and visitors for the World Cup, otherwise it will become an issue if you can't provide standards as good as everybody expects them to do," Sfakianakis says.
The World Cup organising committee has already revised the number of stadiums to be built, down from 12 to eight.
Ratings agency Moody's says about 15 percent of development projects not related to the World Cup were postponed or cancelled earlier last year — prior to the oil price drop.
Outside construction, the government's diversification programme has also emphasised building a knowledge economy, with particular focus on small and medium enterprises and building up entrepreneurship among Qataris.
Of the almost 83,000 "economically active" Qataris in 2012, 84 percent were employed by the government or one of its companies, according to the Ministry of Development Planning and Statistics.
State-owned Qatar Development Bank has boosted financial services available to smaller businesses, now offering bank guarantees of up to 85 percent of commercial loans, up to QR15m ($4.1m). Other banks including Qatar National Bank have since launched similar initiatives.
The government's Enterprise Qatar also has been established to support businesses in the early phases of operations, including subsidises for consultancy services and feasibility study costs.
Sfakianakis says while there has been some efforts to develop SMEs, Qatar still "lags a bit behind".
"But the SME sector contributes about 10 percent and I think over the next few years it will move up to 20 percent, on a par with other parts of the region," he says.
The sustained price decline, however, has not been positive for the Qatar Stock Exchange, which fell to below 11,000 points on 14 December, a level not seen since early January, as investors sought to cash in on profits. The exchange has lost about 20 percent since its 2014 peak in September, when oil prices began to rapidly decline, although it tracked back up again towards the end of December.
"The stock market has been affected negatively over the last few weeks … however, as those valuations become attractive again I think the investors will return," Sfakianakis says. "Once the oil prices stabilise that will give investors confidence to return to the Qatar equities markets."
It is hoped more of those investors will be foreigners, following a May directive from Emir Sheikh Tamim Bin Hamad Al Thani for publicly listed companies to increase their foreign ownership thresholds from 25 percent to 49 percent to help boost liquidity in the market.
The change came a week before a MSCI upgrade to emerging from frontier markets status took effect. The MSCI Emerging Markets Index, which tracks $7.3 trillion of equities around the world, is considered the A-list of growth markets and includes countries such as China, Brazil and India. Qatar's promotion to the list, alongside the UAE, was a major sign of approval from institutional investors for the country's stock market. At the time, HSBC said the upgrade could attract about $649m to the bourse.
Such investment may now be delayed due to oil-price jitters in the market, but there is no doubt investors globally are keeping a close eye on Qatar. And if they're not, they should be.
Then again, the Gulf state appears to need little back up.