Inaugurating Hospitality Qatar 2016 by Ministry of Economy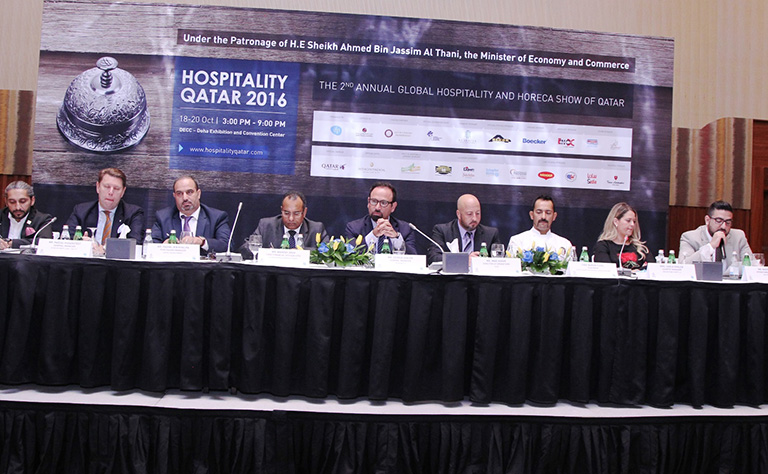 Doha, October 18, 2016 – His Excellency Sheikh Ahmed Bin Jassim Al Thani, Minister of Economy and Commerce officially inaugurated, on October 18, Hospitality Qatar 2016, at the Doha Exhibition and Convention Center (DECC). The show runs from today through 20 October 2016.
This high-profile expo in Doha provides the ideal forum for suppliers, hoteliers, HORECA suppliers, buyers, and investors to highlight their newest products and exchange expertise with professionals in the hospitality sector.
After the inauguration of the exhibition, His Excellency Sheikh Ahmed Bin Jassim Al Thani, Minister of Economy and Commerce confirmed that the hospitality and tourism sector represents one of the basics of the Qatari economy. "We have witnessed during the past few years, the development of tourism and hospitality sectors. That development was driven by the huge interest that the state of Qatar has expressed towards this sector, and that was reflected in the National Strategy for the Tourism sector 2030. The strategy was set to be adapted as a roadmap towards developing the tourism industry during the next decades, and transforming Qatar into an international touristic destination proud of its cultural roots", he added.
Mr. Rashed Nassir Sraiya Al Kaabi, Vice Chairman of Al Sraiya Holding Group, noted: "The exhibition features all aspects of the hotel and franchise market in the Gulf region. We would like to thank all participants who have helped make this event a success, achieving its mission in providing regional and international agents, dealers and buyers the opportunity to network in a suitable, professional environment."
"During its two editions, Hospitality Qatar has proved its role as Qatar's leading hospitality exhibition, bringing together a large number of local, regional and international decision makers and industry professionals. The main reason for the success of this event is the continuous support of the Government of Qatar which played a major role in putting together this memorable event", said on the Mr. George Ayache, General Manager of IFP Qatar.
Hospitality Qatar 2016 has attracted a record level of interest and participation from across the industry with more than 10 countries participating, and hundreds of exhibitors and brands. Some of the hospitality-related disciplines present at this year's show include retail investors and businesspersons.
Hospitality Qatar 2016 plays a major role in enhancing the role of Qatar as Qatar is emerging as a major player in the hospitality investment market in the MENA region.
With a broad array of pavilions, workshops, and B2B networking sessions taking place today, exhibitors are putting the newest products and technological advancements in the hospitality sector on display at Hospitality Qatar 2016.
Associate Sponsor, INOX Kitchen Equipment, was on hand today, with Operations Manager, Nadim Solh remarking: "This is our second consecutive year participating in Hospitality Qatar, and we are excited to be a part of this show, in particular due to its increasing profile across the region. We have high hopes and expectations that Hospitality Qatar will be the perfect location to showcase our state-of-the-art kitchen products."
Meanwhile, General Manager at InterContinental Doha The City, Pascal Eggerstedt, had this to say about Hospitality Qatar: "We are proud to be a part of this top-tier exhibition in our industry. There are numerous suppliers and buyers whom we are in contact with through B2B match-ups which we expect will help us achieve our mission of delivering the highest quality five-star hotel and dining experience to residents and visitors of Qatar."
In addition to the trade show, Salon Culinaire is in full-swing with more than 250 chefs and sculptors competing to be receive top honors in one of 17 categories, live and on display for Show visitors to experience. Hundreds of B2B match-ups are taking place thanks to Hospitality Qatar's dedicated networking mobile app that brings buyers and sellers together.