Launching the Turkish Arab Chamber of Commerce in Istanbul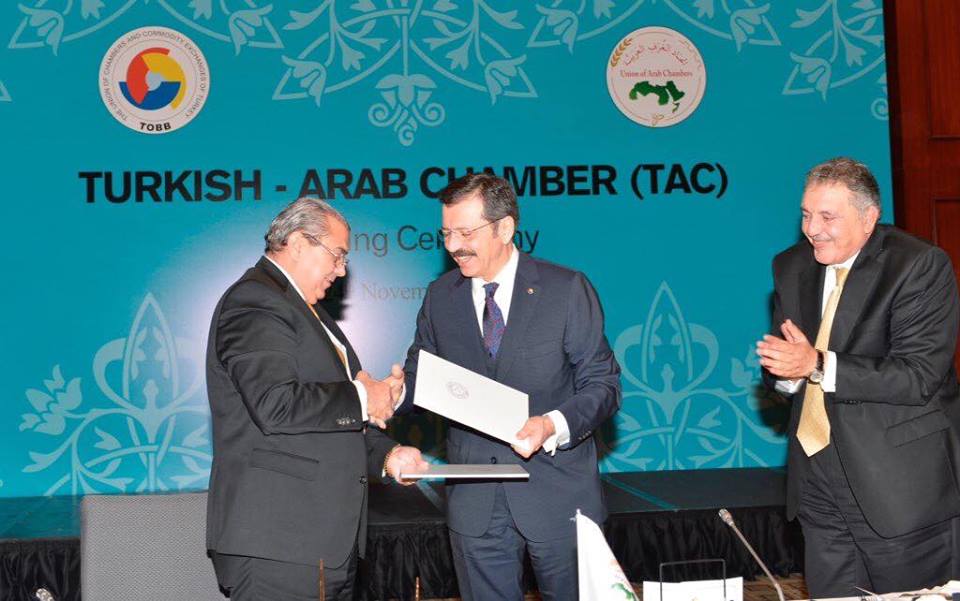 The President of the Union of Turkish Chambers and Commodity Exchanges "Rifat  Hisarcıklı oğlu," and the president of the Federation of Arab Chambers and Chairman of Jordan Chamber of Commerce, "Nael Kabariti," has signed an agreement to establish a Turkish-Arab Chamber of commerce.
During a ceremony held in Istanbul , with the participation of a number of officials from Turkey and the Arab world, as well as many Turkish and Arab businessmen.
the signing of the agreement has attended by the President of the General Federation of Egyptian Chambers of Commerce and Chairman of the Union of African Chambers "Ahmed Al-Wakil ," the deputy head of the Saudi Council of Chambers "Chwimmi bin Ajian Aldosari, "and member of the board of directors of the Qatari industrial and commercial Chambers," Rashid al-Kaabi, and "the deputy head of the Jordanian Chamber Irish" Khaled Doc ".
The president of the Union of Chambers and Commodity Exchanges of Turkey Rifat oglu deemed through the signing of the Turkish-Arab Chamber of commerce launching ceremony as a historic step will return much of the benefits on both sides.
oglu said the Turkish foreign trade volume with the Arab countries does not exceed 8 per cent of the total trade volume of the country while the Arab foreign trade volume with Turkey does not exceed one percent of the total trade volume for the Arab States.
We have opened ample room to create new opportunities for cooperation and development of the existing trade relations between the two sides through the Turkish-Arab Chamber.
He stressed that the chamber will play an important role in developing trade and investment relations between Turkey and the Arab countries through joint events and activities to be implemented in the coming period.