Rolls-Royce with Ottavio Fabbri Launch 'Starlight' Exhibition at AMAR Charity Evening in Mayfair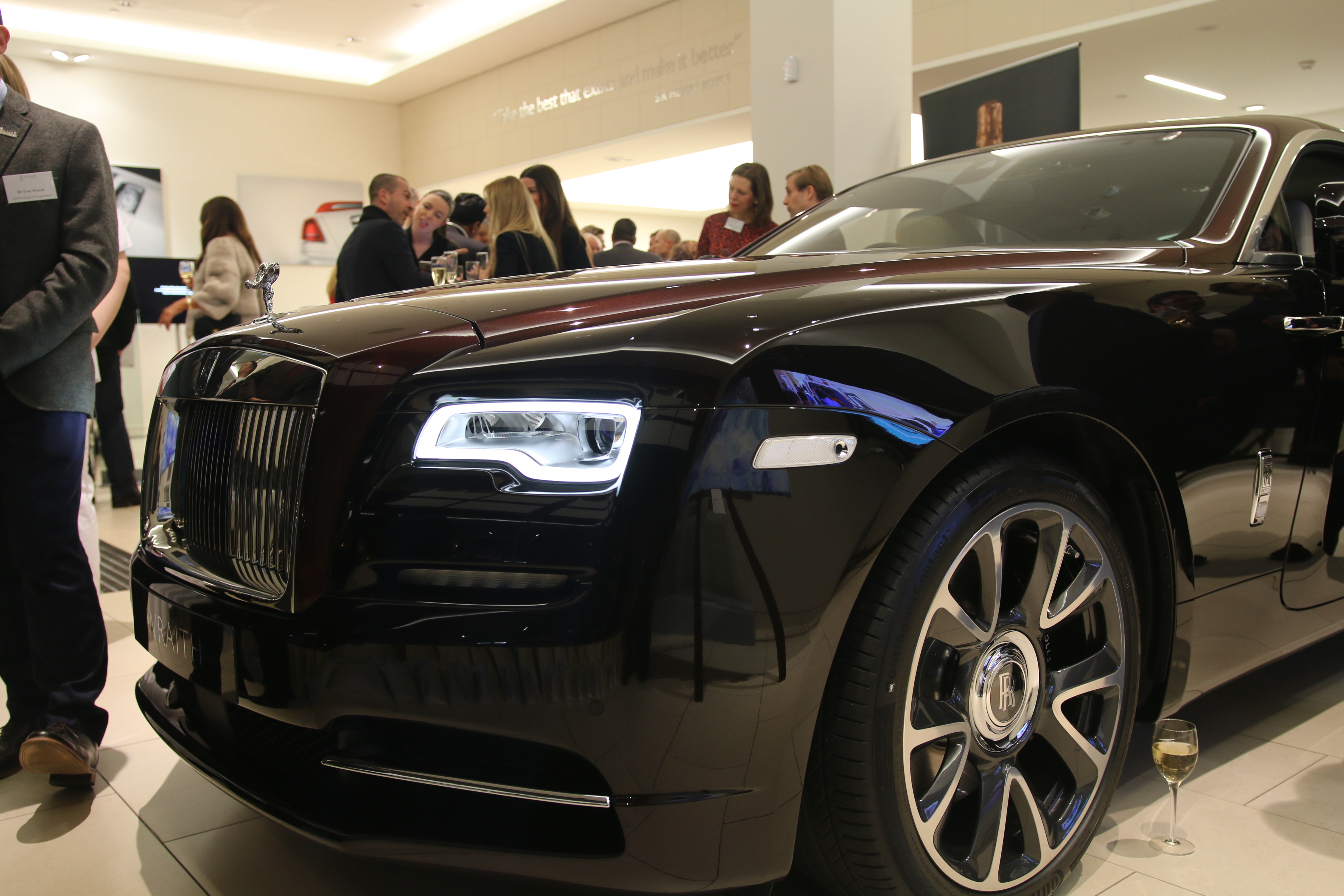 More than 100 VIPs packed into Rolls-Royce's Berkeley Square showroom recently for a reception to support the work of British charity, the AMAR International Charitable Foundation, and to launch the highly anticipated 'Starlight' exhibition.
Rolls-Royce, a company famous worldwide for its engineering and automotive excellence, said they were delighted to offer their Mayfair home to AMAR – a charity praised for its excellence in delivering emergency support and sustainable programmes to millions of the poorest and most disadvantaged people in the Middle East.
Founded by Baroness Nicholson of Winterbourne, AMAR is celebrating its Silver Anniversary.  The Baroness said she was absolutely delighted that so many guests – who included ambassadors, diplomats, politicians and celebrities – were keen to attend the event and described it was a "truly memorable occasion."
"Our incredible teams in the Middle East have been rebuilding the lives of the most disadvantaged in the region for 25 years.  In recent times the pressure on our wholly-indigenous staff has increased hugely because the invasion of the murderous ISIS into northern Iraq has left millions displaced and in desperate need of help," explained Baroness Nicholson.
"These poor people have been forced to live as refugees in their own country, in grim camps, abandoned buildings, or on the floors of relative's homes for years on end.  AMAR supports them in building health centres, schools, training centres and provides first class medics and educators to run them.  We have unique programmes such as psycho-social support for Yazidi women and girls kidnapped and horribly abused by ISIS and religious tolerance teaching in the south," she added.
"All AMAR's work is first class, excellence recognised by organisations such as the World Health Authority, UNESCO and the World Bank.  We also ensure that 90p in every pound goes directly to pay for our programmes, with the other 10p being used to raise the next pound," continued the Baroness.
Claus Andersen, Brand Director of Rolls-Royce, added: "Rolls-Royce is synonymous with British culture and still the No. 1 choice for the British entrepreneur. The sales figures at Rolls-Royce Motor Cars London over 2016 reflected as much, as the dealership celebrated the most successful year in its rich history. We were delighted, therefore, to offer a great British charity like AMAR the opportunity to use our flagship showroom in the heart of Mayfair to celebrate its 25th birthday with donors and supporters."
The event also launched an exhibition entitled "Starlight" by contemporary Italian artist Ottavio Fabbri. The exhibition was in homage to Rolls Royce's bespoke Starlight Headliner feature. Their dedicated craftsmen weave between 800 and 1,600 delicate fibre optic strands through the leather-lined ceiling to create galaxy patterns.  Each constellation is completely unique to the owner.
Known as the 'star maker', Fabbri is a painter, sculptor, director and conceptual artist, and grew up surrounded by his parents' friends, artists such as Dali and Picasso.  His collection 'Sky,' mirrors Rolls-Royce's bespoke starlights and the concept for the exhibition was born.
The 'Starlight' exhibition will take place between Friday 14th and Friday 21st of April, at Rolls-Royce, 15 Berkeley Square, Mayfair. Donations from each painting sold will be made to the AMAR Foundation.
Rolls-Royce ensured that there were several fabulous cars on display at the event displaying the stunning starlight features, including in a model which is one of only two in the world!
Guests also enjoyed the finest of English Sparkling wine donated by the West Sussex-based Wiston Estate Winery, whose award-winning wines grace the tables of the rich and famous. Famously, HRH The Queen used a Wiston wine to launch the new cruise liner, Britannia, in 2015.