OLIVE JAR: diverse narratives that exist amongst all Arab communities in London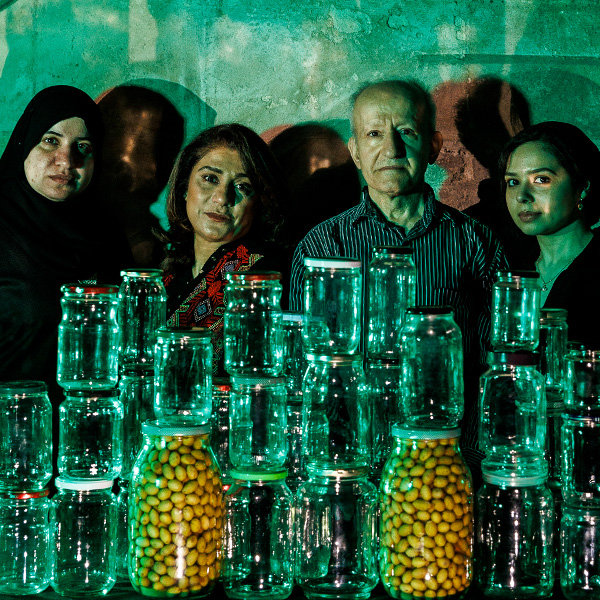 OLIVE JAR, directed by Elias Matar
Grand Junction, Rowington Close, London, W2 5TF
6 -8 July 2023 at 20.30, Matinee on Saturday 8 @ 4.30pm
Tickets £6.00-£12.00
Music composed and performed by Ruba Shamshoum
Set designer, Katherina Radeva
Lighting Designer, Nigel Edwards
Dramaturg, Mike Tweddle
Sound Designer, Nick Powell
Production Manager, Thom Ashworth
Co-commissioned by Grand Junction and Shubbak Festival.
To book: grandjunction.org.uk
Performed in English with some parts in Arabic.
Olive Jar, explores the rich heritage of West Londoners from Syria, Iraq, Palestine,
Lebanon, Egypt, and beyond and celebrates the lives and diverse narratives that exist
amongst all Arab communities.
The show is a result of intensive and immersive workshops with the community local to
Grand Junction, a vibrant multi-arts venue and community culture hub based at St Mary
Magdalene's Church in West London. Grade 1 Listed, the church was built in the 1860s by
the great Victorian architect G. E. Street and is considered one of the finest Neo-Gothic
churches in the country. Olive Jar showcases the unique perspectives, traditions, and
narratives of all who call this part of west London home.
The olive tree roots us to our land, on our tables they offer hope as well as food. Like olives, our
stories wait, hidden and preserved in their jars, to be shared. Some will be bitter, and others sweet.
Olive Jar holds stories of winding journeys to a new place, half-remembered
memories passed down through the generations, finding a little bit of home in a big
city, and marks what stays the same and what changes. The performance will lead
the audience into an atmospheric world of empowerment and resistance, where tea
and olives can be shared with new friends.
Live music from Palestinian singer Ruba Shamshoum, who will be joined by harpist
Georgie Pope and percussionist Nuno Brito.
London based director, playwright and performer Elias Matar grew up in the Galilee
where he founded Ibillin Theatre and El Bayet Centre for Performing Arts. Directing
credits include A Dress of My Own, a feminist dance theatre production for El Amal Dance
Company (Nazratheh), Needle and Thin Thread for Almanarah Institution
(Nazareth), and Nisan Darkness, a musical production of El Karawan Choir (Ibillin).
Ruba Shamshoum, a Palestinian musician from Nazareth now living in London, creates
poetic dream pop with jazz and Middle Eastern influences. She collaborated with
musicians in Ireland and the Middle East and wrote music for the film "When I Saw You".
Her debut album 'Shamat' (2017) and EP 'Risha' (2021) explore themes of identity,
escapism, fear, and love, with lyrics telling stories of vulnerability and human connection
to nature and the self.
Katherina Radeva, a set and costume designer, theatre maker, and visual artist from
Bulgaria, now based in the UK, has won multiple awards for her designs, which have
been showcased worldwide. As co-artistic director of Two Destination Language, she
also tours extensively and advocates for inclusion, diversity, and fair pay in the arts. Her
visual art has been exhibited in Europe and the US.
Mike Tweddle, a theatre director, writer, dramaturg, and teacher, served as Artistic
Director of Tobacco Factory Theatres in Bristol from 2016-22. Mike co-led Out of Chaos
theatre ensemble and worked with performance collective Babakas, including the
critically acclaimed "Our Fathers". He also co-founded and co-directed BE FESTIVAL
from 2010-2015. Mike trained as an actor at Jacques Lecoq School in Paris.
Nigel Edwards is a lighting designer who has spent 33 years with Forced Entertainment,
21 with Michael Laub/Remote Control and 14 with Ryuichi Sakamoto. Nigel's recent
work includes Hear The Angels Sing by Magnetic North, This Is Memorial Device at Wee
Red Bar, Marc Almond UK tour, Hold Tight by Vincent Dance, War Requiem Nitin
Sawnhney/Coventry Cathedrals.
Production Manager Thom Ashworth has been a freelance musician, sound engineer and
videographer for more than 20 years. Recent credits include projects with Goldie, Talvin
Singh, and Shakespeare's Globe. As a folk musician, Thom is a critically acclaimed singer
and bassist, described by FRUK as "like a modern day Martin Carthy".
Generously supported by National Lottery Heritage Fund, Arts Council England, and
Mayor of London. With additional support from Hammersmith United Charities.
For further information please contact Anna Arthur PR on 07973 264373.