Dr Gabriela launched her sophisticated and elegant skincare range aptly
Renowned for innovative non-surgical procedures and ground-breaking skincare technologies, Dr Gabriela is a leading aesthetic doctor known worldwide as a global voice for the latest aesthetic procedures from the emerging UK marketplace. Her exclusive clientele includes the most prominent echelon of Royalty, as well as visionary leaders, celebrities, and international media personalities.
Her rare and astonishing background specialising for 10 years in the cardiology department of the lung & heart transplant hospital in Poland, provides a profoundly unique perspective and refined skills when applied to the graceful art of aesthetic design. The contrast from high profile emergency care to aesthetic medicine for a moment may not make sense, but having personally experienced a life-threatening crisis through cancer and the vulnerability that she and other patients experience, she was struck with an inspiration that changed her life forever… That beauty was not just about image.
Not only committed to refining the art of aesthetics, Dr Gabriela is engaging the global beauty and lifestyle communities to set higher standards, deliver more effective outcomes, and raise the industry's profile, by designing truly efficient systems that can be duplicated around the world. Her proprietary methodologies using specialised molecular water, v-oxygen, nanopeptides, and deephydrating serums, offer her clientele the most immaculate skin-care products, designed for optimum benefits and quintessential value. They are exclusively available at her clinic at 56 Harley Street.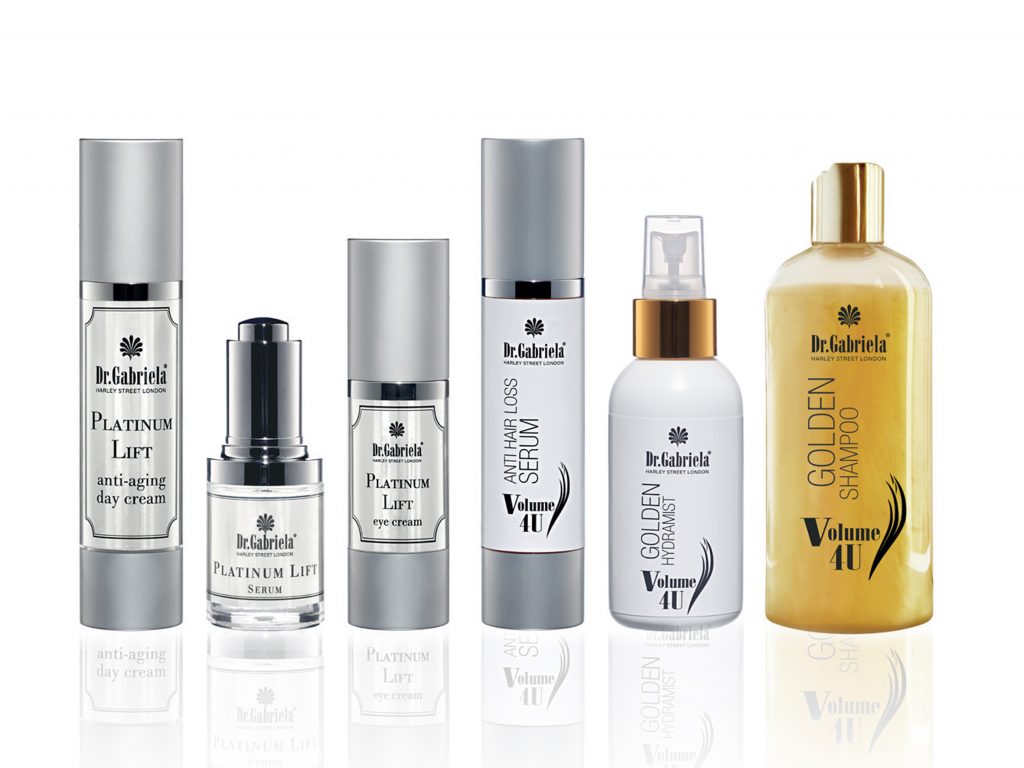 As a leading voice in the multi-billion pound industry now termed "Cosmeceuticals", retaining the innate sense of significance and luxury for both male and female products is a delicate art and more profoundly a science. What differentiates 56 Harley Street Clinic, are their proprietary PDO Threading, organic fillers, innovative applications, and clinically sophisticated skin-care products.
Dr Gabriela's unprecedented line of skin, hair, and healthy lifestyle products have shown documented results. In double blind tests increased hydration and reduction of fine lines and wrinkles, were seen and supported by their on-premise 3D cameras. As a patient, one can be reassured that not only will the experience be relaxing and positive, the excellence in treatments will provide remarkable results for sun damage repair, skin hydration and smoothing, lipid cells reduction, hair re-growth and hair-loss prevention. Their breakthrough applications for detoxification and skin health are leading the category for environmental pollution protection.
As a Centre of Excellence, the London based clinic at 56 Harley Street was nominated for Best Professional Skincare on My Face My Body 2016 Awards for fine lines and wrinkles reduction, and hair restoration.
Dr. Gabriela Clinic
56 Harley Street
London, W1G 9QA