Saudi Arabian fashion designer Sara AlTwaim: London is my favored destination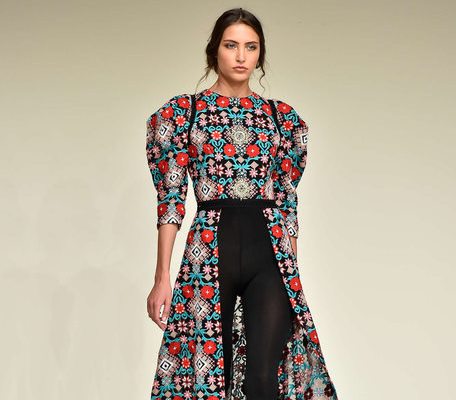 Interview By: Sarah Amr
Sara AlTwaim grew up in an environment that centered around different arts, and went on to study graphic arts in Jeddah's Faculty of Art. She studied fabric printing and design and later delved into the world of fashion; launching her own fashion line. Arabisk London had the opportunity to get a closer look at her world.
You studied Graphic Art, how did your education help you excel and go forth in the world of fashion?
Art to me is a lifestyle and my education played an important role towards my career in the fashion world. Through my education I became aware of the designing effort that goes into the process of building artwork. Studying graphic art also helped broaden my horizons not just towards my career, but rather, towards all aspects of my life.
You have participated in Dubai Fashion Weeks before, how would you evaluate this experience?
I participated in Fashion Forward in Dubai which proved to be a rich and unique experience that exceeded all my expectations. The level of professionalism and commitment during the event was exceptional. The event has helped me with networking and building contacts on a larger scale.
You give unique names to your collections like Peace or Flowers to Flowers. Where do you get the inspiration for such titles?
I think art in its core carries a message of purpose to people. My own visions and ideas are inspired from reading different topics and from my education. I always ensure to link the names of my collections with meaningful values. This helps my designs become prominent in the minds and hearts of people.
You are famous for focusing your attention specifically on the interests of the Saudi women. How did you gain this reputation?
I am proud of Arab women generally, because they have become more outgoing and open towards others. However, Saudi women are my main inspiration because the Saudi woman is unique and beautiful, and she is well aware of that. My role as a fashion designer; which I find very appealing, is to accentuate that beauty and grace.
How would you evaluate the Saudi Arabian fashion world today?
Throughout my endless travels and the events I attended worldwide, I found that the Saudi fashion market has the highest consumption rates. It's true that the Saudi market can benefit from major amendment efforts. However, the competition within the market is vicious, which raises higher stakes of success.
Travelling and exploring all that is new are some of your interests. How did that contribute in building your personality as a fashion designer?
I think travelling and exploring are important for developing and disciplining one's self in general. As for fashion designers, it assists with elevating their own fashion line with their personal touch which they would create and maintain as they move forward in their careers.
As far as Europe goes, which would you say is your favorite destination? And what do you think of London as a destination for Saudi Arabian women.
Although I have visited most of the European countries; London remains a personal favorite of mine. London has its own taste, and has a place in the hearts of Arabs. It is similar to a high-end perfume that incorporates different scents and tastes; in this sense, London remains one of a kind and above comparison.
Tell us about your plans for the upcoming period of your life?
I am looking forward to attending the 9th season of Forward Fashion. I am also getting ready to launch a new bridal collection, although it might take some time.
What are you aspirations?
I hope that one day I would be able to open my own fashion house in the three most prominent fashion capitals in the world. This way the world will admit that we are indeed able to stand out and compete with leading fashion designers worldwide.