"Knooz" Visual Art Exhibition in London for charity in Iraq and India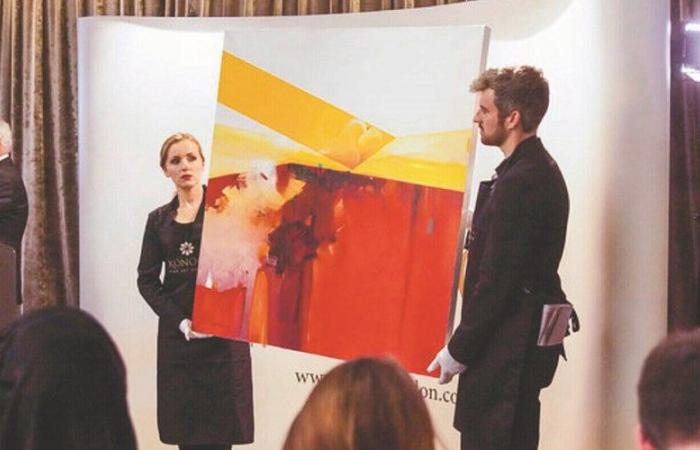 By: Sarah Amr
On Tuesday, the 22nd of 2019, the Women's Forum for Success and Growth (WGSF) in London has organized its fifth "Knooz" Visual Art Exhibition and auction in support to distinguished female artists from the Middle East, with an emphasis on Kuwaiti artists. The exhibition was held in a Bvlgari Hotel hall in the United Kingdom.
The auction included 47 works created by 35 artists from nine countries, namely Iraq, Kuwait, United Arab Emirates, Sudan, Lebanon, Palestine, Egypt, Oman and Turkey. The auction was dominated by Iraqi artists with 21 artist-participants presenting 26 paintings and sculptures; whereas 14 artists came from seven different Arab countries in addition to Turkey and presented 21 paintings and carved artwork, ranging in size and theme.
It was notable that the Iraqi delegation was characterized by bringing forth prominent artistic personalities who overcame their local and Arab framework, and have long enjoyed international reputation. Amongst these names are Faisal Laibi, Salah Jiyad and Nouman Hadi, who presented three central paintings that put the auction on the map. Faisal al-Obeidi's "Master and Slave" painting received the highest bid, reaching up to £ 50,000.
Meanwhile, Mahmoud Ashqanani, a Kuwaiti artist, commented that the event plays an integral role in introducing the works of Kuwaiti and Arab artists, especially in the international city of London; a rich cultural and artistic melting pot that enhances the cross-cultural artistic experiences. For this year, Knooz institution decided to allocate the profits of the auction to poor families living in Iraq and India through the Sotheby's London auction house.