Afarabi Concerto commemorates the 12th anniversary of Solhi Al- Wadi Death in UK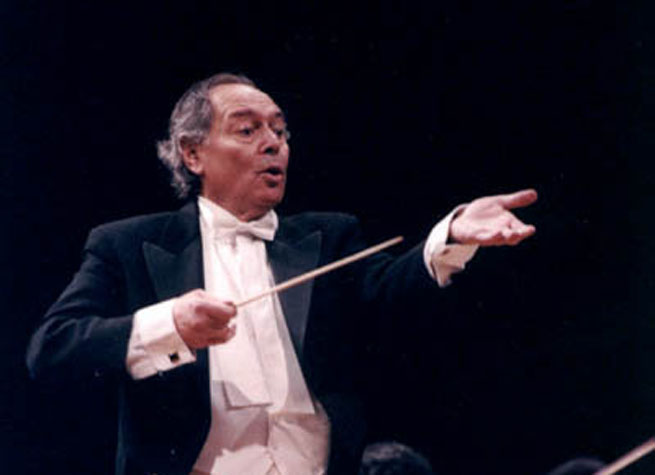 By: Oliver Butterworth
As I write this, an array of Syrian musicians are gracing the world's most prestigious concert halls: Nabil Suliman at Brussels Opera, Talar Dekrmanjian performing lieder recitals with the great Portuguese pianist Maria João Pires, Dima Orsho across Europe as soloist with Musica Alta Ripa, clarinettist Kinan Azmeh in Germany, Holland, Switzerland and the USA, violinist Ashraf Kateb in Austria and the USA, cellist Athil Hamdan across Germany  – and numerous other Syrian musicians, both performers and composers, all enriching the international high-art cultural scene and demonstrating the equal contribution that the Middle East can make.
And in many ways this great Syrian musical success is down to one person, Solhi Al-Wadi.
Solhi Al-Wadi was born in Bagdad in 1934 into a well-to-do farming family, though the family soon relocated to Damascus. In 1946 Solhi was sent to Victoria College in Alexandria at a time when Egypt had a thriving international concert season. Solhi attended concerts by Furtwängler and the Berlin Philharmonic, Toscanini, Pablo Casals, Clemens Krauss and others and was entranced by music; he took violin and composition lessons at the Alexandria Conservatory alongside his Victoria College studies.
In 1953 Solhi went to England to study agriculture at the famous Wye College, but he soon withdrew and enrolled himself at the Royal Academy of Music in London, much to his father's disappointment. At the Royal Academy he studied violin, composition and conducting and met his wife to be, the Welsh pianist Cynthia Everett. Solhi attended many London concerts, writing to his friend Sadek Pharon after one concert by Sir Thomas Beecham "strange, but it seems even England can produce geniuses": Solhi was already developing his critical faculties though he was far less kind about the Hungarian violinist Joseph Szigeti. One composer he heard and loved was Shostakovich who became a great influence in his own compositions. All through his life Solhi composed music and he left an impressive portfolio of works including vocal, instrumental, chamber, orchestral music and film scores.
At the end of his studies he returned to Damascus with his new wife, determined to nurture and develop Syrian musical talents. The years that followed were full of challenges but his efforts were rewarded in 1962 when the new Arab Institute of Music was established with Solhi its first Director. Solhi wrote "in order for us to make our music we must raise musicians… the child whom I'll select carefully and take under my wing is the one who will make the music of this country…this means that the true renaissance of music will not start for at least another ten years, and will take place at the hands of the children who will soon grow up to become young men and women."
In 1975 Solhi, enterprising as ever, presented the first ever opera performances in Syria: Purcell's 'Dido and Aeneas' which he conducted both in Palmyra and in Bosra amphitheatres.
And finally in 1990 the Higher Institute of Music was established in Damascus with Solhi as Dean.  At this time Russian musicians such as Rostropovich, Oistrakh and Richter, were dominating the world's concert halls and shrewdly Solhi managed to attract Russian musicians and pedagogues to teach at the new Institute.
It was only two years later that Solhi established the Syrian National Symphony Orchestra whose debut he conducted. The orchestra soon became the pre-eminent Symphony Orchestra in the region and toured across Europe and the Middle East, and in 1993 to the USA where his daughter Hamsa Al-Wadi Jurus performed as soloist in a Mozart Piano Concerto.
Solhi Al Wadi was a talented conductor, a most gifted composer, and an inspirational teacher, but also an exceptional leader and visionary and his tremendous influence can be seen today in his former pupils, composers, singers and instrumentalists, across the music world.
As an Englishman, I might claim that here is that rare thing – a benign British influence in the Arab world – Victoria College (an English school), London's Royal Academy of Music, a Welsh wife – but in truth it was solely the power of great music that inspired Solhi to such major achievements.
Tragically Solhi had a stroke whilst conducting the Syrian National Symphony Orchestra in 2002, never to fully recover and he passed away in 2007.
Al Farabi Concerto is a series of London concerts, established  in 2005 by Antar Nakshbandi and Oliver Butterworth, presenting music by gifted contemporary composers from the Middle East and North Africa.
Since 2005, 56 premières have been presented in London's major concert halls with music by composers from Egypt, Jordan, Kuwait, Lebanon, Morocco, Palestine, Syria and Turkey