The Search for Number One: Arabic Sweets in London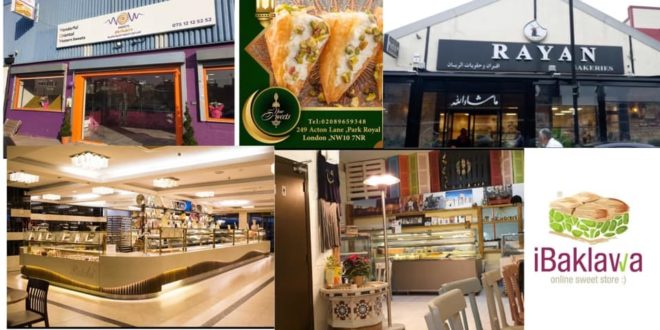 By: Shefaa Alaa
Ramadan has come to an end. Blessing and wishes of many happy returns filled the air as London's Arab community came together to celebrate their yearly Eid El-Fitr last month.
Meanwhile, Arabisk London went on a search to find out what London's Arab community think of the Arabian candy stores and Sweets catering for them this year.
Overall, Arab Londoners expressed their happiness regarding the variety in sweets options, types and levels that has become available to then in the city.
With a long history in the market, being one of the London's oldest confectionaries, it seems that Patchi has managed to maintain its leading quality of sweets, according to people's opinions. Despite criticisms of an unfitting grocery presentations and a gradual loss of identity, Patchi remains, until now, the Big Boss in London's confectionary world.
Merely several years after its launch, Rayan Bakeries in London has proven to be a key player in the Arabian confectionaries scene in London. Rayan has provided customers a balanced taste and costs However, some have found Rayan's dough too thick for their fillings. Nevertheless, the store gains promotional leverage in the market, being a stable provider of quality bread that lures in customers to stack up on sweets alongside it.
This year marks the store second anniversary in the market and claiming a place for themselves amongst the ongoing competition is a challenge. However, Wow sweet offers unique dishes such as Konafa and Ma'amol and lately it also started offering the famous bread sheets. Nevertheless, we still think this store needs more time to perfect the trade but overall, there is no denying that this is a hardworking confectionary that deserves a shot.
After extensive experience gained while serving well-known sweets in London as head chef, Mr. Rabea now serves his own one-month old store in Park Royal, right across from the hospital. Your Sweet stands out for its calculated pricing, good taste and their generosity; making sure they properly welcome and serve each customer. This store is destined for an assured place in the market, provided that the current level remains maintained.
This store adopts a different style that separates it from other confectionaries. Levant's main concern isn't the quantity or variety of sweets instead it's main concern is the presentation of certain dishes; especially that made of whipping cream. The store, so far, has successfully presented its customers with one-of-a-kind taste. However, Levant's high costs doesn't brush up well with customers although the store keeps attributing that to it's outstanding diversity and the quality of ingredients that separates it from any other store in London.
After dedicating itself to selling online through an online store providing imported confectioneries, iBaklawa turns its business to it's own factory, made especially for producing its own confectioneries. These self-made products are then sold in their recently launched café which is in Acton, London. So far, customers have reported that the products iBaklawa offers are of high quality and elegance; nevertheless, they are waiting to know more about the store and its future offers.
Strangely enough, no feedback was given by London's Arab community about this store, whether positive or negative. Sweetland seems completely absent from the advertising and promoting scene. We wonder if this is because they are hitting a niche market through wholesale purchasing or concentrating on markets outside London's parameter. However, this is left for them to confirm
Finally, this report only tries to report the truth and the reality of Arab confectionaries in London, aiming to motivate stores to provide the best to the Arab community in the city.
With that being said, the true and most important judge is not this report rather the customers themselves.