'Neutra', the stunning new collection by Terzihan, is inspired by the raw beauty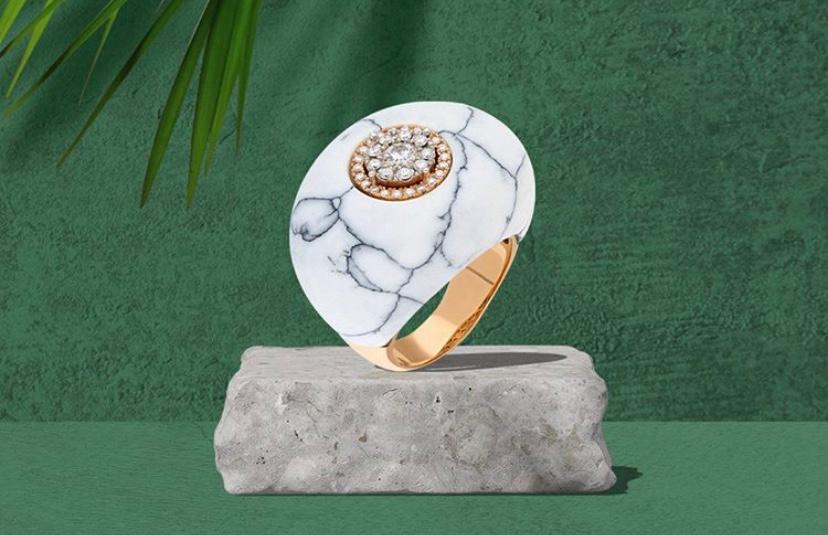 Left: Neutra Dome Ring w/Malachite by Terzihan in 18K Rose Gold, White Diamonds and Malachite ($2,800). Middle: Neutra Dome Ring w/Lapis Lazuli by Terzihan in 18K Rose Gold, White Diamonds and Lapis Lazuli ($2,800). Right: Neutra Dome Ring w/White Agate by Terzihan in 18K Rose Gold, White Diamonds and White Agate ($2,800)
'Neutra', the latest collection by Terzihan, is inspired by the raw beauty and unfettered forms of natural stones. In 'Neutra', the bountiful colours and proportions of natural stones are juxtaposed with textures inspired by ancient cultures of Europe and South America. Malachite, Agate, and Lapis Lazuli meet the pyramids of ancient Egypt, the asymmetrical structures of the Aztecs and the domes of ancient European cities, and the outcome is a distinctive collection of accessories that are colourful, modern, and edgy.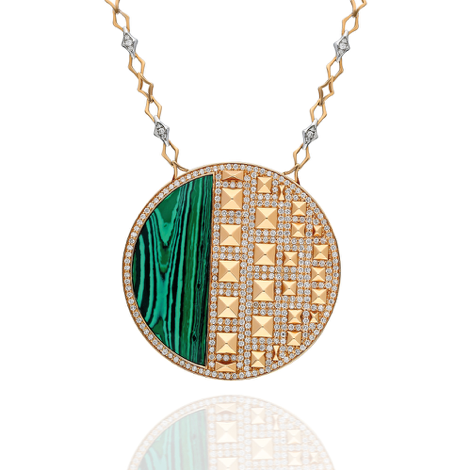 The Cairo Maxi Medallion w/Malachite by Terzihan in 18K Rose Gold, Natural Malachite, Diamonds and a long special made bi-colour Bolt Chain. ($20,900)
The mix of accessories in this collection boast clean lines, voluptuous curves and grand, 3D proportions that disguise neither beauty nor ambition. It is arguably the boldest and most remarkable creation of the eminent Turkish jewellery designer whose art is steeped in tradition and who after over four decades of existence, continues to wax strong as part of the avant garde.

Left: Aztec Ring w/Malachite by Terzihan in 18k Rose Gold, White Diamonds and Malachite ($3,100). Middle: Cairo Ring w/White Agate by Terzihan in 18K Rose Gold, Natural Stone, and Diamond ($4,300). Right: Balance Ring w/Malachite by Terzihan in 18K Rose Gold, Natural Malachite's and Diamonds ($3,400)
'Neutra' is sure to strike a chord with women who prefer a sophisticated, pop-culture inspired style to their accessories. Without compromising on quality or statement effect, the accessories in 'Neutra' are highly adaptable and can easily be combined to suit a variety of settings. The collection is separated into four groups marked by the ancient cultures that inspire them. This includes the Cairo group which features gemstone half-moons flanked along the straight edge by rose gold pyramids interspersed with diamonds. There is also the Aztec group which have asymmetrical, 3-dimensional pyramids cast in Malachite and Lapis Lazuli, flanked on either side by generous sprinklings of white diamonds. The boldest accessories in this collection, however, are the maxi medallion pendants, with custom-made reversible gold bolt chains, and the bulbous 'domes of Europe' rings, featuring generous Black Onyx and White Agate domes, inlaid with diamond halos and centre stones.

Left: Aztec Pendant w/Black Onyx by Terzihan in 18k Rose Gold, White Diamonds and Black Onyx ($3,950). Right: Aztec Medallion w/Lapis Lazuli w/Gigi Chain by Terzihan in 18k Rose Gold, White Diamonds, Lapis Lazuli and Gigi Chain ($9,200)
Talking about the collection Cem Terzihan, Creative Director from the second generation of Terzihan founders says, "This collection was inspired by the beauty of life. When you look at nature and human history, there is so much beauty to explore and enjoy. 'Neutra' is for people who want to enjoy life and who see life as an opportunity to express themselves to the fullest."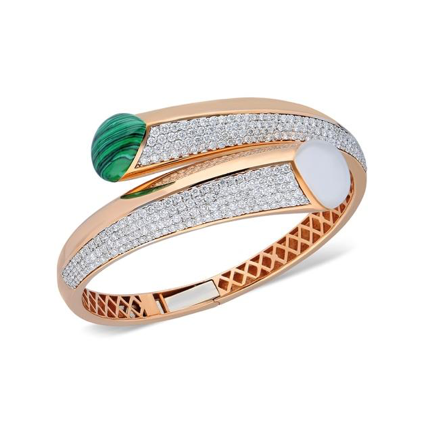 Jade Bracelet w/Mother of Pearl and Malachite by Terzihan in 18K Rose Gold, Mother of Pearl, Diamonds and Malachite ($10,800)
This stunning new collection 'Neutra' is now available from Terzihan.