London taxi shines on Dubai streets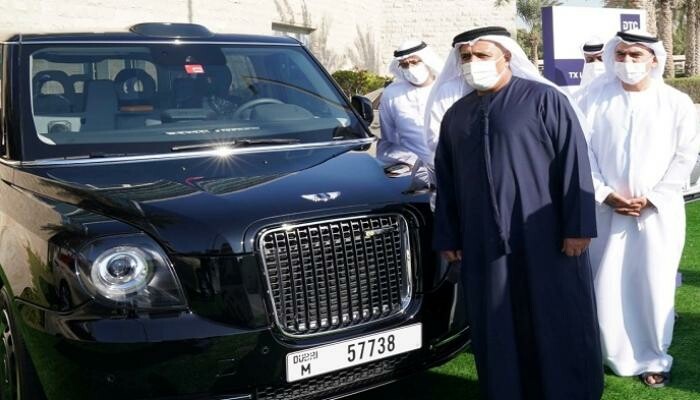 By: Marah Sharba
Director General of the Roads and Transport Authority, Mattar Mohammed Al Tayer, revealed that the Dubai Taxi Corporation launched the trial "London Taxi" service, which adopts the hybrid energy system: "electricity and fuel", which is one of the tourist and service attractions in the British capital" London".
The Corporation will start operating the vehicle starting from next February, and the vehicle will be available at Dubai International Airport. The London Taxi is distinguished by its interior design that provides a large space that includes six seats in a cabin separated from the driver, as well as its equipped design to serve people of determination, a navigation system through Satellites, the acoustic activation system, the forward collision warning system, the blind spot monitoring system, the lane departure warning system, in addition to the wireless Internet Wi-Fi. It is also equipped with a dual drive to control the vehicle in different climatic conditions, fast brakes, speed of charging the battery at a rate 30 minutes with fast charging and about three hours on regular charging. The Hyundai IONIC electric vehicle is characterized by its aerodynamic design, automatic interference system to avoid collision from the back, a driving method control system, brakes generating electric energy to increase the travel time, a fast battery charging system of 54 minutes.It is also equipped with modern technical devices to reduce wrong drivers' behavior:" the vehicle stopping system from the control center when needed and in emergency situations, an additional tracking system that works when the basic systems stop", and the vehicle distribution and scheduling system.  Big data is used to operate taxis in areas where the service demand is high, as the system was applied to the stations of Al-Quoz and Mina Rashid and its application contributed to raising the operational efficiency of the two stations by 83% at peak times, and increasing the market share of the institution from 22% to 50% in Al Quoz region while the rate in Port Rashid area increased from 36% to 46%. The authority intends to expand the use of big data to include the areas of Dubai Airports, Al Muhaisnah, Jebel Ali and Al Maktoum Airport.
Last March, the Dubai Taxi Corporation introduced a delivery service for customers in cooperation with first and last mile companies, and cooperative societies, through the use of smart applications.
The number of vehicles operating in the project reached 220 vehicles.
By the end of last year 141,000 transactions were completed and the corporation has contracted with 12 companies to deliver its requests to customers.