Manar Bashor Crowned Miss Arab Knight 2021 in Dubai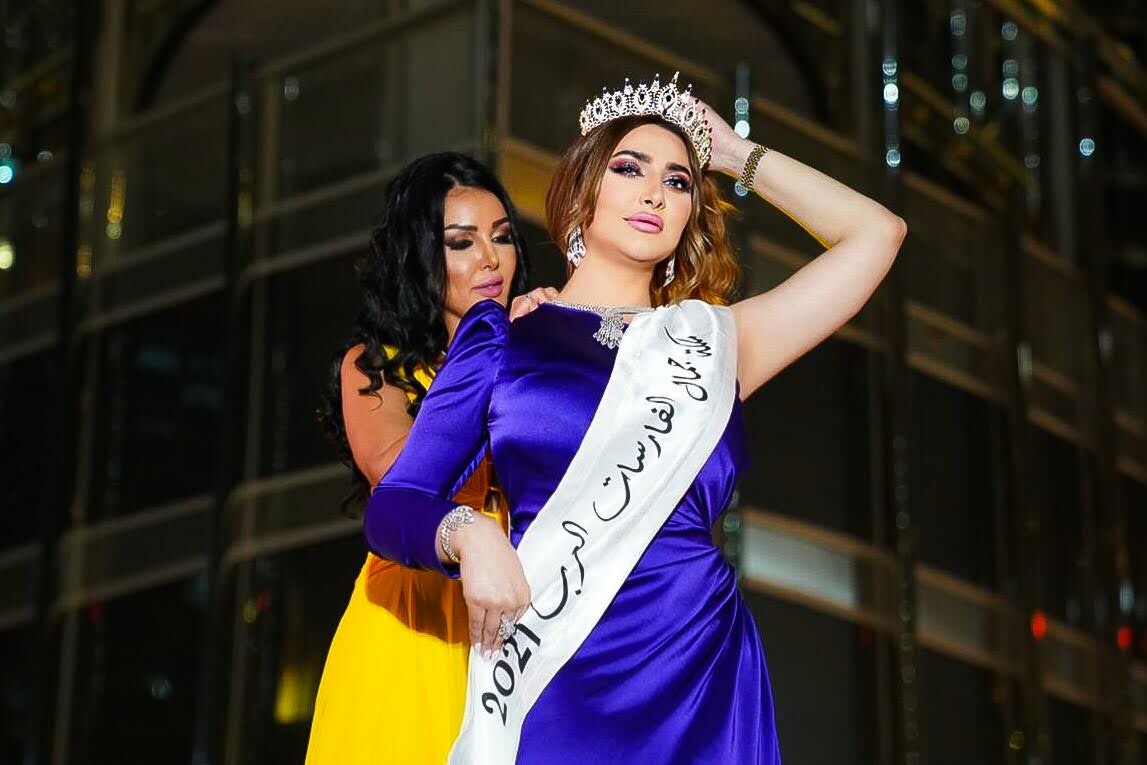 Al Sawsan International crowned Manar Bashor as Miss Arab Knight 2021 during a simple ceremony in a Dubai restaurant. She promised a grand surprise related to horses.
The coronation came from Al Sawsan International, which has been known for 30 years for choosing and crowning the most beautiful in the Middle East and Arab world with a multitude of aesthetic titles. This year's participation and nomination process were held online due to the prevailing circumstances amid the Covid pandemic.
Manar Bashor, Miss Arab Knight
Among the attendees were artists Talal Mardini and Nora Al-Aeeq. The ceremony was at the 3BK Burj Khalifa Dubai restaurant.
Bashor thanked each person contributing to her look; designer Howaida Brady, Al Khayyat Jewellery, Rotana Star, Dubai Car Rental, Dolce & Gabbana hair salon, and Dolce & Gabbana makeup.
Manar gave her acceptance speech after the coronation saying, 'I feel the joy of winning the title of Miss Arab Knight. My message will be a sublime one because the message of beauty is not only about the external form, but it has social, humanitarian, and charitable goals. I will show the Arab girl how to be a knight by all means and how to care about her fitness, appearance, and exercise.'
She added, 'I want to salute the UAE in general, and Dubai specifically. It has allowed me to be a great knight in this beautiful country. From here, I announce that I am preparing a special surprise in the equestrian and horses' world that you will see very soon.'
Manar Bashor
Manar Bashor was born on October 1st in Damascus. She studied in the city's schools and graduated from Bahjat Al-Bitar High School in 2003. She then moved on to study at Al-Baath University in Homs, in the Faculty of Arts, where she furthered her education in the English Language Department and graduated by 2007.
She started her career as a volunteer in the service and social field.
In 2008, she worked for Al-Manar General Trading Company. In 2012, she travelled to Russia, Bulgaria, and Lithuania, then returned to Al-Manar Company as CEO.
Bashor is considered one of the most prominent Syrian women who are active in humanitarian work. She is also among the youngest of them. In addition to that, she has left a distinctive footprint in all work fields, including technical and commercial fields.
Al Sawsan International Foundation
Sawsan El-Sayed, a media personality, entered the royalty of beauty at an early age when she crowned Miss Lebanon in 1985 while she was a sports broadcaster at TV Lebanon.
She also won the key to Florida in the Miss Universe competition and won the title of best sports journalist for the year 1994. Last but not least, she was awarded the title of Miss Arab Broadcaster in the Arab World.
Sawsan established the International Foundation from an individual initiative, which seeks to spread joy, beauty, and peace through the festivals it holds worldwide. With the participation of many personalities from various fields and countries, the foundation represents Lebanon in the largest international festivals through official invitations full of love and respect from international organizations that don't miss inviting the foundation, even once.
As if the Miss Lebanon title was not enough, Sawsan entered the media world and won several awards prompting her to move forward with confidence. Among her programs, Malikat – Queens on the Arab Woman Channel, in which she interviewed more than 600 Arab personalities, and a program called Ahlan Ramadan (Hello Ramadan), as well as presenting social programs such as Ya Hasirti Al Balad (Oh, my heartbreak at the country), and others.
Notably, she is always interested in women's issues. She often encourages Arab women to be in beautiful shape and refine their appearance and not change it. She always advises them to be confident and steer clear of tradition.