Azza Fahmy …Founder of first international Egyptian jewellery brand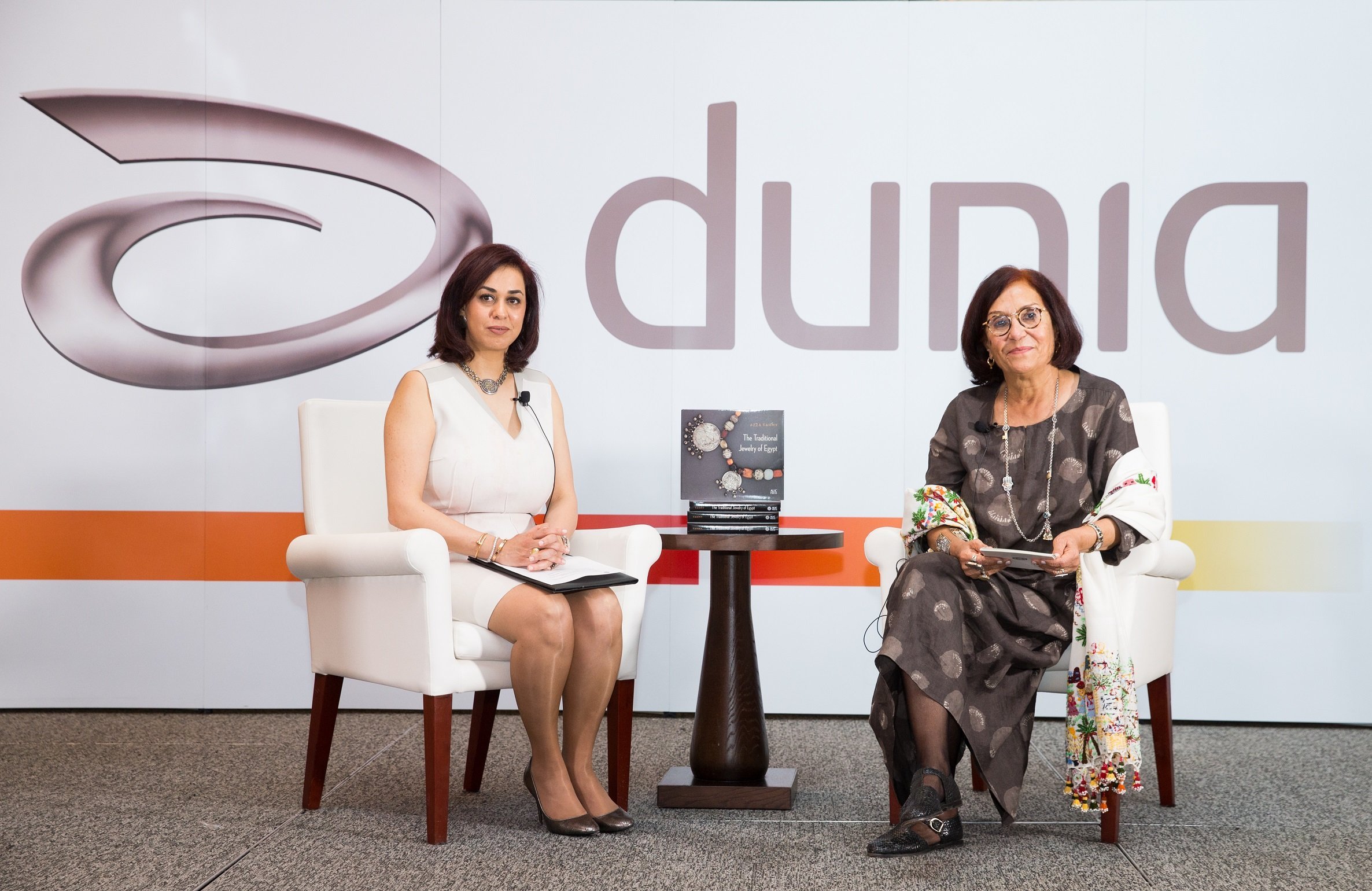 Azza Fahmy, worldwide jewellery designer, founder of the Azza Fahmy jewellery design house, and Chairman and chief designer of Azza Fahmy.
Azza Fahmy
An Egyptian-born contemporary jewellery designer, hers is one of the bestselling fashion jewellery brands at La Maison Couture.
Azza Fahmy, born and raised in Sohag, graduated from the Faculty of Fine Arts in Egypt, Interior design Department in 1969, and obtained a PhD from the American University in Cairo and a BA in Interior Design from Cairo University, as well as a scholarship from the British Council to study jewellery making at London Polytechnic University.
She came across a German book of medieval jewellery that dates back to the Middle Ages, which initiated a path of research and led her to Cairo's Khan el Khalili, Egypt's ancient jewellery quarter, where she worked as an apprentice. In the 1960s, she was the first woman to apprentice in Egypt's jewellery district.
Azza Fahmy launched her eponymous Azza Fahmy jewellery brand in 1969, inspired by 7000 years of Egyptian heritage and culture. She held her first exhibition in 1974, and in 2002 established a factory in the Cairo suburbs.
She has collaborated with massive global names in fashion like Julian Macdonald, Mathew Williamson, Thorton and Bregazzi, to present specially designed collections for display at the British Museum.
Fahmy published her book, titled The Traditional Jewellery of Egypt, recounting her journey through Egypt to discover the traditional jewellery crafted and worn in the different areas of ancient Egyptians, from Pharaonic civilization to modern times.
In 2007 she was named as one of the 25 most influential businesswomen in the Middle East by the Financial Times. She was also an honoured guest at the Egyptian Forum for Heritage and Contemporary Jewellery in its second session in 2017.
Azza Fahmy, jewellery designer, was on the cover of Forbes Middle East August 2020, and was named by the magazine to the list of women who made Middle Eastern brands.
Azza Fahmy's team includes her two daughters, Fatma and Amina Ghaly. The first manages the brand's marketing side, and the second handles the design with her mother. They have succeeded in developing the brand's vision without compromising its basic value. They have worked together for many years in the field of jewellery design.
Today, Azza Fahmy is internationally recognized as the leading jewellery designer in the Arab world and the first designer brand in Egypt.
Interviewed by Yamama Waked
– Who is Azza Fahmy, and how did she start her career in the accessories world?
I began to pursue my passion in 1969 when I came across a German art book on the classical jewellery of medieval Europe at the Egyptian Book Fair. At that time, the jewellery-making field was very dominated by men, but that was a challenge that I was determined to overcome.
I knocked on many doors until Hajj Sayed, a jeweller in Khan al-Khalili, welcomed me. I spent my evenings learning with one of the most respected craft masters.
In the mid-1970, the British Council awarded me a scholarship to study jewellery making at London Polytechnic University. In 2002 I fully opened my factory and design studio, which now has more than 200 employees.
– What was your inspiration in designing your jewellery brand logo? Why?
The brand design is in the Mamluk blazon style bearing the name Azza Fahmy … Cairo … Made in Egypt. The blazon is the seal that the Mamluk Sultans put on their names on buildings and shrines and the art pieces made in their era.
-Why did you decide to draw inspiration for your designs from the depths of Arab and Islamic heritage?
Different cultures and civilizations are my inspiration. Growing up in Egypt, I embraced it because it has very rich cultures and heritage. In Cairo alone, there are many cultures such as Pharaonic, Coptic, and Roman civilizations, so there is an enormous amount to draw upon for inspiration.
It doesn't stop there, as I find inspiration in travel, museums, poetry, pottery, fabrics and architecture. I am inspired by all kinds of world cultures such as Mexican, African, Greek and many more. I discovered many countries in the Arab world, such as Algeria, Tunisia, Morocco, and Iraq. Then, I expanded my travels to Europe and Latin America.
– How did the idea of ​​designing "the Pharaonic Collection" jewellery come to you?
It took eight years of in-depth research and creative development with every detail confirmed by the ex-Egyptologist at Christie's.
Like all of our collections, the Pharaonic Collection is handcrafted, and it is one of our largest. I artistically translated the complex art form of ancient Egyptian motifs and symbolic references to modern contemporary jewellery. Every piece of jewellery has a story, and it is one of our most successful collections.
The inspiration behind the Pharaonic collection is the Amarna period (1352-1327 BC), with a special focus on the theme of "love and wisdom". It was a time of revolutionary cultural change in Egyptian religion, art, and society. It is the most famous period in the history of ancient Egypt.
– Have modern techniques in jewellery made an effect on Azza Fahmy?
Of course, we are aware of how technology has changed the business pace and the explosive rise in consumption since the brand started 50 years ago.
However, we are very proud that all of our pieces are handmade and take a lot of time and effort to manufacture. Technology helps us in various aspects such as reaching our customers abroad and using our online platform to sell clients in different countries.
– What does The Traditional Jewellery of Egypt book that you published speak about?
It documents and explores the cultural and historical origins of Egyptian jewellery.
– What are the goals of establishing a handicraft and vocational training institution?
The Azza Fahmy Foundation is a non-profit organization that aims to preserve Egyptian heritage and develop fading handicrafts. We do this through tailored apprenticeship programs, job opportunities, and business start-ups to support talented young Egyptians.
We value our global cooperation and long-term partnerships. International collaborations have been a part of Azza Fahmy Jewellery since the early 2000s, when we started showing at London Fashion Week and New York Fashion Week with famous designers such as Julian Macdonald, Brian and more recently, Matthew Williamson.
 As a brand that celebrates world cultures, we also work on cultural collaborations. Two of them have been collections dedicated to the British Museum. Collaborating with other designers provides a great opportunity for designers to expand their business horizons and develop each other's design. So if we have a great opportunity for local cooperation, we definitely won't hesitate.
– What did international designers' collaboration add to your creative career?
Designers must study and understand the market well. Every market will have its own needs, and it is the designer's duty to understand and analyze them.
Also, when we collaborated with designers in England, we all benefited from each other. They wanted to tap into the marketplace that I have a great name in, and we wanted to learn something new about their market.
– Have you faced many challenges during your successful career, and what is your biggest challenge now?
As an artist, you face many challenges on your journey, but it is important to learn from them and not let them stop you.
When I embarked on pursuing my jewellery making passion 50 years ago, the field was tightly dominated by men. It was a challenge I was determined to overcome. I knocked on many doors until Hajj Sayed welcomed me. 
– Love, connection, adoration, blessing and happiness are the most prominent titles you have chosen for your designs. What is your message?
Jewellery is a very personal thing to own, and you should speak to the person. We try to spread positive energy through these messages. The use of motifs, Arabic calligraphy and poetic verses from the works of famous poets such as Al-Rumi, Al-Hallaj and Gibran Khalil Gibran have always been an essential part of our brand.
– You are a creative and successful Arab woman ideal. What does Azza Fahmy say to aspiring Arab women?
The most important thing is not to be afraid of taking risks because this is the way to succeed in owning a brand different from anyone else's. Additionally, new generations must learn from their ancestors' mistakes and lessons to build on and add their own footprint. Finally, for any business to succeed, one must give it 110% in time, passion, and effort.
– In your 50-year creativity and art journey, what are the most important milestones in your life?
Frankly, this 50-year journey is full of milestones, one of the most important things that happened during the last 50 years, was when my two daughters joined the company with me. They made a huge leap for the company. My eldest daughter, Fatma Ghaly, is today the CEO of Azza Fahmy Jewellery. Amina Ghali, my youngest daughter, joined the company in 2005 and is now the chief designer.
Also, among my most important achievements is the creation of the Azza Fahmy Design Studio and the Azza Fahmy Foundation.
Also, international expansion is one of the most important milestones for me. I launched my first book in 2003, entitled The Traditional Jewellery of Egypt.
Fatma Ghali
Azza Fahmy's eldest daughter, who joined the Azza Fahmy team in 2000, and after learning the basics of managing a brand, she undertook the position of CEO of the brand.
– What are lessons and values ​​did you learn from your mother?
My mother taught me a lot of things, the most important of them
– To follow my dreams and remain honest with them
– You can fulfil your dream, whatever the challenges
– The secret of success is passion and hard work
– Success is not only about seizing opportunities but also about seizing opportunities that support your goals and dreams.
– Why was March chosen every year as the date to launch a new Azza Fahmy jewellery collection?
 Mother's Day in Egypt is on March 21st, and we like to celebrate this special occasion by launching a new collection every year.
– Last year, the brand celebrated its 50th anniversary. What distinguished last year's campaign?
We wanted to celebrate our 50th anniversary with the most important pillars of our success over the years – our customers. We celebrated all year long, for example, on Mother's Day (Women's Month); we diverted from our traditional approach and invited customers to be the heroes of this campaign to celebrate 50 years of love.
– What does it mean for you and your sister for your mother to be chosen by Forbes Middle East magazine as one of the distinguished women who have made Middle Eastern brands?
It was a very proud and honoured moment for my sister and me. It was a perfect tribute to a wonderful journey and in particular to celebrate the 50th anniversary, especially with my mother's photo on the cover of the magazine.
– What are your future plans for extending your mother's creative career?
We plan to expand design and introduce an interactive aspect to the brand. We want to expand our design expertise beyond jewellery
 and the international expansion strategy launched with the Burlington Arcade London store, our pop-up shop at Harrods-London, and the Waldorf Astoria in Beverly Hills, USA, as well as seasonal trunk shows.
Amina Ghali
Azza Fahmy's youngest daughter joined the brand in 2005 on the design side and presented her first collection in 2008. She is also the chief designer at the brand.
– Why did you decide to work with your mother in jewellery designing?
Growing up, I always had artistic tendencies. My mom used to take us everywhere with her as kids to help her at exhibitions, etc. As I continued my education in art and after the first piece of jewellery I made, I knew immediately that this was what I wanted to do for the rest of my life.
– Does your commitment to the Oriental character and Egyptian heritage set limits in jewellery design?
What distinguishes Azza's jewellery métier is that every piece always has a story and history inspired by different cultures and civilizations, not limited to Egypt or the East.
Is it easy to transfer Arab civilization and heritage in a contemporary way that touches sensations these days?
Our inspiration is drawn from world cultures, and an essential part of our design DNA is translating global cultural and historical references into our jewellery with a contemporary twist. This is always backed by in-depth research to ensure unique designs.
When we open stores abroad, our jewellery designs are popular because consumers worldwide enjoy the same degree of distinction, sophistication, and fashion awareness. What we do is translate world cultures into art, not just Egyptian culture. For example, we designed a collection inspired by African culture and another inspired by Gypsy tribes who lived in Egypt, India and Asia. We also designed a collection inspired by nature, another inspired by talismans.
What is the "for him and her" jewellery collection launched by Azza Fahmy?
Always to celebrate Valentine's Day, we launch a group of collections that serve as a gift for this occasion. With our analysis of our customers' buying behaviour, we discovered a trend to wear jewellery by men, so we decided to launch pieces for him and her that proved successful.
– Azza Fahmy's motto in life is "my border is the sky", what is your motto?
Find fun in your daily life. Even if you had a bad day, enjoy 
the hours that were good.