Haifa Fahoum Al Kaylani , President & Founder, Arab International Women's Forum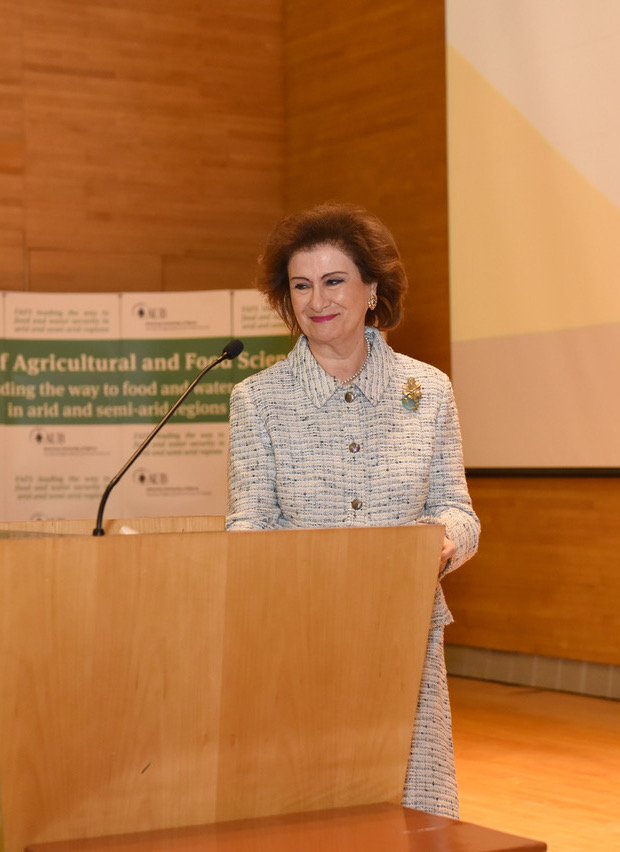 Haifa Fahoum Al Kaylani is President & Founder of the Arab International Women's Forum recognised by Arab and international governments, the private sector and in NGO circles as a high-impact change agent focused on women's leadership and youth empowerment, working for progress, inclusion, peace and prosperity in the Arab region and internationally.
Haifa Fahoum Al Kaylani

Haifa Fahoum Al Kaylani founded the Arab International Women's Forum in London as a development organisation committed to supporting women's leadership in social and economic growth in the MENA region and internationally and creating equality of opportunity for all.
Haifa Fahoum Al Kaylani served as the Chair of AIWF for nearly 20 years. Under her leadership, the AIWF has become one of the world's most respected development organisations for the economic empowerment of women and young people, working at the highest levels with a global network of corporate, institutional advocacy partners to advance momentum for women's leadership in all sectors and spheres.
Haifa Fahoum Al Kaylani is a development economist, an alumna of the American University of Beirut and read for a Diploma in Economic Development at Oxford University. She was a Fellow of the Harvard Advanced Leadership Initiative and a Commissioner of the ILO Global Commission on the Future of Work. 
Haifa Fahoum Al Kaylani holds senior roles in several cultural, educational, non-governmental UK, MENA and international organisations.
Haifa Fahoum Al Kaylani was the only Commissioner from the Arab world appointed to the ILO Global Commission on the Future of Work in August 2017.
Haifa Fahoum Al Kaylani has received international recognition and numerous regional and global awards. Her most recent awards include her inclusion by Women in Business Arabia as one of their 365 Inspiring Arab Women 2020 and in Cranefield University's Women to Watch 2019 supplement launched alongside the Female FTSE Board Report. In 2018, she was the honoured recipient of the Outstanding Golden Shield Award presented by the Arab Women Council in Cairo for her exceptional efforts to enable and advance women and youth.
That same year she was honoured by the American University of Beirut when she was named amongst the leading women alumni recognised and featured in the book "For All Conditions of Men: Stories of Women at AUB", and she has been featured in Forbes Middle East's "Leaderboard: Standing Out list of High Achievers" (July 2017), which recognised for her leadership of AIWF.
Who is Haifa Fahoum Al Kaylani , in terms of practical experience, thought and ambition?
I am a dual British and Lebanese citizen of Palestinian origin and Jordanian by marriage. I attended the Sherburne School for Girls in Dorset and the British Lebanese School for Girls in Beirut. I achieved a BA in Economics at the American University of Beirut (AUB) in 1966, later returning there to earn a Master's in Economic Development in 1971, after preparing for a Diploma in the same subject at Oxford University in 1967. After completing my education, I went on to work as a junior economist for the United Nations for two years.
I married the late HE Ambassador Wajih S Al Kaylani in 1970. For over forty years, I assisted my husband in his diplomatic postings and official engagements, including Jordanian Ambassador to India, Nepal, Thailand, Sri Lanka and Tunisia. We moved to the United Kingdom in 1976 whilst maintaining close ties in Jordan and Lebanon. After having spent my early years in a number of voluntary board roles and supporting numerous charitable organisations with a strong focus on empowering women economically, socially and politically, I founded AIWF in London in 2001 as a non-profit, non-government and apolitical development organisation for women and young leaders in the UK, the MENA region and internationally.
What are your contributions as a member of the Arab-British Chamber of Commerce?
I am honoured to be a Board Member of the Arab-British Chamber of Commerce, lending my expertise to the London-based Chamber's efforts to promote continued reform, fostering trade and business between Arab businessmen and businesswomen and their counterparts in the UK to promote economic stability in the region and always, to encourage initiatives for women to start, grow and lead successful companies (in the process, creating much-needed jobs in the region and globally).
In 2017 I became a Fellow of the Harvard Advanced Leadership Initiative, where I was able to further pursue my keen interest as a development economist in food, water, and energy security challenges that are of great concern to many developing regions globally and in particular to the MENA Region. 
Following a transformational year at Harvard, I was inspired to set up a sustainability enterprise project in Jordan which I have launched a pilot phase, as an innovative model for sustainable agriculture across the MENA region, aiming to enhance food security, alleviate poverty, and create viable jobs for local communities for men and women, including refugees.
Also in 2017, I was the only Arab Commissioner invited by the International Labour Organization to serve on the ILO Global Commission on the Future of Work (2017 to 2019).
Personally, with AIWF, with the Harvard Women's Leadership Board, as a Fellow of the Harvard Advanced Leadership Initiative, and as a Commissioner of the ILO Global Commission on the Future, all my work has been the realisation of over three decades of dedication to encouraging greater cultural understanding between Arab and international communities. And I am exceptionally proud to have devoted a great deal my working life to supporting a strong role for women in that process.
When was the Arab International Women's Forum established and what is its goal?
I founded AIWF in London in 2001 as a non-profit, non-political, non-governmental organisation that links Arab business leaders with each other and, more importantly, with their counterparts in the international community to exchange knowledge, experience and develop their business potential.
AIWF is dedicated to empowering the talented, vibrant MENA workforce, focused on ensuring a sustainable future for the Arab region, on economic prosperity and growth, on job creation for Arab youth and with a special emphasis on 'Women as Engines of Economic Growth', empowering a critical mass of women who represent 50% of human capital in the Arab world.
AIWF was founded on two guiding principles: firstly, from my firm belief that there is no development in any community, or politically, socially, or economically, without empowering women. And secondly, that the Arab world is part of the global community and women in the Arab region need to connect, both together in the region, but importantly with their counterparts internationally to exchange experience and knowledge, to do business, and break stereotypes.
What does AIWF focus on, especially in the field of development?
AIWF, as an NGO Member of the UN Global Compact, is focussed on integrating the SDGs (sustainable development goals) into the programming of all its conferences, initiatives, and activities. We have held highly successful initiatives over the past two decades in the UK, US, EU, across the GCC and the broader Arab world.
Young Arab Women Leaders is one of our most successful initiatives, a platform that supports young aspiring Arab women to engage and network with mentors in political, economic and social leadership roles in the Arab world. We are equipping young women leaders with the skills to start, grow and lead successful businesses, increasing access to technical and professional education and all the time, strengthening links between women in the UK and the MENA region to create new business alliances and exchange experiences, opportunities, and best practices.
For AIWF, our focus in the region has always been real, lasting and sustainable empowerment for women and youth. We believe that without more women in politics, finance and civil society playing concrete roles in shaping the new Arab future, there will never be real, lasting and sustainable empowerment for women and youth in the MENA region.
What are the qualities that made the AIWF unique?
One of the things that has made AIWF so unique in our two decades is our consistent commitment to connecting Arab women leaders with each other and with their international counterparts. Under my leadership, and especially through our Young Arab Women Leaders, STEM-focused initiatives, AIWF has focused on future work challenges impacting a complex and changing MENA labour market, where women and youth are still most vulnerable to economic instability and lack of opportunity.
It is also a great privilege to share with you my role for 15 years as a Member of the Women's Leadership Board at Harvard, alongside an outstanding group of women leaders, mainly from the US but with a growing international membership, coming from the most senior levels of government, business, academia and the non-profit sector to support the Women and Public Policy Program (WAPPP), a research centre of the Harvard Kennedy School that specialises in rigorous, high impact gender research.
What difficulties did you face in achieving your goal?
At the time that I launched AIWF in 2001, there were many misconceptions about the role of women in the Arab region. I wanted to correct negative stereotypes in the international business and development communities, as well as in the media, whilst providing a platform for action where women's voices could be heard, challenges directly addressed and opportunities for women and young people fully leveraged.
AIWF has, therefore, from the outset, worked at the highest levels to correct misconceptions about the region and about Arab women. Interacting closely with the global and pan-Arab media, AIWF has always fought for positive messaging and fair coverage for women in the MENA countries, showcasing role models and mentors in the region who inspire the next generation of young Arab women leaders. We always prioritise education, entrepreneurship, and economic empowerment for women as well as addressing the urgent need to create jobs for the youth and bridge financial inclusion, digital skills, and gender equality gaps which are still prevalent in the region, as they are in many regions around the world.
Did choosing London as the AIWF headquarters contribute to its promotion and global spread?
I was living in London when I set up the AIWF, and I had learnt a great deal by contributing to many charitable organisations both British and Arab in the UK as well as serving on the Board of the Federation of International Women's Associations in London for ten years including serving as the organisation's President (FIWAL is an umbrella organisation for international women's associations based in and around London, with 33 member clubs, many nationalities and an aggregate membership of nearly 3,500 women).
In 2001 when AIWF was started and from the very beginning of AIWF's inception in London, the organisation was about building bridges and business between women in the Arab region, the UK and internationally.
From day one, the board included Arab, British and international members and the same with our membership, which has always been global with our events moving from London to international and Arab capitals. AIWF has its main office in Berkeley Square, London, with our core team and several of our Board Members based in London and the wider United Kingdom. Many other Board Members, Global Partners and members are based in the MENA Region, in the UAE, Saudi Arabia, Lebanon, Jordan, Kuwait, Bahrain, and elsewhere in the world, including Greece, the United States, France, and Italy.
AIWF is a truly global organisation with a strong MENA, UK, Europe, US and Asian base of longstanding members and alliances and has a strong global advocacy network of international partners in the development, business and diplomatic communities. AIWF is also exceptionally proud to have partnered with some of the world's leading universities and regional institutes of learning.
How does AIWF unite the relevant parties from governments, companies, civil society, academic institutions and the media?
AIWF is recognised in the Arab world and internationally as a powerful advocate for women in business and their empowerment with education, sustainability, entrepreneurship, gender parity, job creation, and economic growth and prosperity for all citizens as our priority areas for action. We follow a top-down, bottom-up approach in our work, and we are unique in our network by bringing together all key partners to work together to effect change and impact policy shifts to empower women and youth.
Since our inception, AIWF has worked with a coalition of partners that include governments, global institutions, leading multinational organisations and the private sector, civil society, universities, and most importantly, women and young people themselves to advocate for legislative reform, gender parity in policy, better linkage between industry and education, and a decisive blueprint for action on youth unemployment and women's low participation in the workforce.
How did the Arab International Women's Forum continue its work and activities throughout 2020 in light of the COVID-19 restrictions?
The pandemic has forced a need for all states to 'build back better', which could if leveraged correctly, drive gender equality in the region and unleash women's potential to contribute to economic prosperity. In our families, our communities, our workplaces, our corporations, and in our organisations, we all need to keep this conversation going, and to keep coming together to initiate vital dialogue and facilitate meaningful connections that will power new projects, new strategies, initiatives and ideas to navigate the challenges of the region. We need to fully empower women's engagement, inclusion and successful leadership and full participation in the economy because our future prosperity and stability as a region depend on it.
To address these critical challenges for development and inclusion in the region and beyond, AIWF was deeply focused, throughout last year, on working with our global advocacy partners, from our governmental, corporate and institutional networks, to reach across sectors, spheres and regions to build a strong programme of virtual events that we successfully held last year and which will be continued into 2021.
I am very proud to have chaired the AIWF Webinar Series 2020, which we launched in July 2020 with an inaugural session welcoming The World Bank, followed by key webinars every other week welcoming AIWF Global Partners. AIWF webinar topics covered in 2020 included The World Bank's responses to economic challenges aggravated by COVID-19 in the MENA; women on the frontline of the COVID crisis and the work of Pfizer in developing a vaccine; the OECD's response to the gender impact in the MENA of the pandemic; PwC's vision for a diverse and inclusive MENA workforce; and the ILO's future of work strategies for the MENA Region. 
It was one of AIWF's strongest programmes to date, making AIWF vocal, visible, and addressing key questions of concern to all in this unprecedented year. 
We look forward to upcoming virtual events as part of our AIWF Annual Programme 2021, and indeed, to celebrating the milestone AIWF 20th Anniversary this year, during which we will continue to spotlight issues of shared concern as we all shape and navigate the uncertain 'post-COVID' years ahead.
This year the Arab International Women's Forum announced succession appointments of yourself to President and Founder and Dr Afnan Al Shuaiby as the new Chair of the AIWF. Why was this the right time for this transition?
In December 2020, the Board of AIWF convened virtually to discuss my decision as the original Founder of the AIWF to step down as Chair and to accept my proposal of Dr Afnan Al Shuaiby, current AIWF Board Member and an outstanding young Saudi Arabian woman leader, as my successor. The board unanimously approved the appointment of Dr Al Shuaiby, who has been a member of the board since 2009, as the new AIWF Chair effective on 01 January 2021. I remain a Director of the AIWF, holding the titles President & Founder.
I am most proud to have founded the Arab International Women's Forum in London in 2001 and am honoured to have served as Chair for close to 20 years. I will continue my close involvement with AIWF both as a Director and as President & Founder and felt strongly that 2021, being the milestone 20th Anniversary of AIWF, was an appropriate time to hand over the role to a successor who can lead AIWF into the next chapter and the next 20 years of its story.
I am delighted that Dr Afnan has agreed to take on the role of Chair, herself very well known within the MENA region as a strong and impactful woman leader. I am excited about the prospect of Dr Afnan's leadership and am confident that she will be an outstanding Chair. I, and all other Members of the AIWF Board, greatly look forward to supporting her in taking the AIWF to its next phase of development in 2021 and beyond.
You are often quoted as saying that women are "engines of economic growth in the Arab world". Why do you believe this, and how do we empower women to contribute meaningfully and dynamically to economic and societal development in the region and beyond?
2021 could prove to be a pivotal year for women in the Arab world, in which the many reform measures and empowerment efforts of the last decade and a half may well come to fruition out of economic necessity because of the urgent need to recover economically from the COVID pandemic. Women have a pivotal role to play in the post-COVID economic recovery, as without half of the population contributing to GDP the region cannot achieve its desired goals of growth and prosperity. In the Arab world, women are at the heart of regional 'Visions' towards meeting the SDGs by 2030 and related economic diversification strategies.
Globally, if women had the same lifetime earnings as men, global wealth would increase in the 141 countries studied by $160 trillion. Supporting women's economic advancement could add US$12 trillion to global GDP by 2025. and in the Arab states in particular, empowering women to set up small and medium-sized businesses is a much-needed vehicle for job creation as women business owners  create more jobs for other women and in trade, to extend opportunities to other female business owners as well.
In my view, the key to sustainable, inclusive economic growth in the region is empowering and engaging the region's millions of talented, ambitious, hard-working, driven and innovative women, strengthening their voices and leadership, building on positive momentum and accelerating women's equality to drive up economic growth. Quite simply, without empowering that 50% of women in public life, in business, in civil society, the Arab world will not be able to achieve its development, prosperity, peace, progress. This has been the founding principle of the Arab International Women's Forum from the beginning.
What does the future of work look like for women and youth in the MENA Region?
We can all see that the 'future of work' is now. The Covid-19 pandemic has fast-tracked the inevitable transformation of the working world, especially the transition to virtual, flexible working, which in many ways benefits women and families first. We need to help women and young people achieve a sustainable future, within the region itself, preventing 'brain drain' migration to other parts of the world and even other parts of the Arab world, looking for better jobs.
We need to empower social entrepreneurship and women-led entrepreneurship, reduce youth unemployment in the region, support innovation and develop the infrastructure that will boost private sector growth, creating much-needed jobs in sectors that may not even exist yet.
Importantly, we need to bridge the digital divide, between countries, between men and women, young and older workers. COVID-19 brought many challenges but it also brought us all together through digital technology, linking communities and colleagues around the world in unprecedented ways.
Now is the time to harness education technology and virtual communication to provide opportunities for critical skills development and connectivity, not only for youth in the region but for all workers who might need to retrain, reskill and upskill in the face of widespread job losses worldwide.
What are the skills that the future Arab workforce will need to successfully compete in the fast-growing digital job market?
COVID-19 has massively accelerated digital transformation, and without investment in digital infrastructure, we cannot equip workers with the skills they need, whether they are basic skills or more advanced skills, technical or digital skills. MENA countries are enthusiastically embracing technology and creating jobs in dynamic new tech sectors such as data science.
In my view, the Arab world needs to come together to adopt a cohesive regional strategy to mitigate future work challenges through world-class investment in skills, education, entrepreneurship and sustainability innovation. As a region we need to be focusing on lifelong learning, continuous education, skilling, adaptability and flexibility, and most importantly, to guarantee an inclusive, multigenerational, just and equitable future labour market for the region overall.
In the future MENA labour market, workers will be expected to have the necessary skills to navigate the digitalised workplace as well to acquire the critical skills that employers in the private sector increasingly require, including problem-solving and effective communication. In the future labour market, there will be premium and great value, rightfully placed, on the development of soft skills that facilitate interaction and empathy, a fundamental human value.
In a region, which has traditionally emphasised rote memorisation and 'hard' subjects over the humanities, this represents a deep-rooted curriculum and institutional shift. Across the board, a more people-centric approach is needed – with the emphasis firmly on workers and learners, not just on job creation. Quite simply, we need to humanise education and humanise the economy.