Escape The City At Jumeirah Golf Estates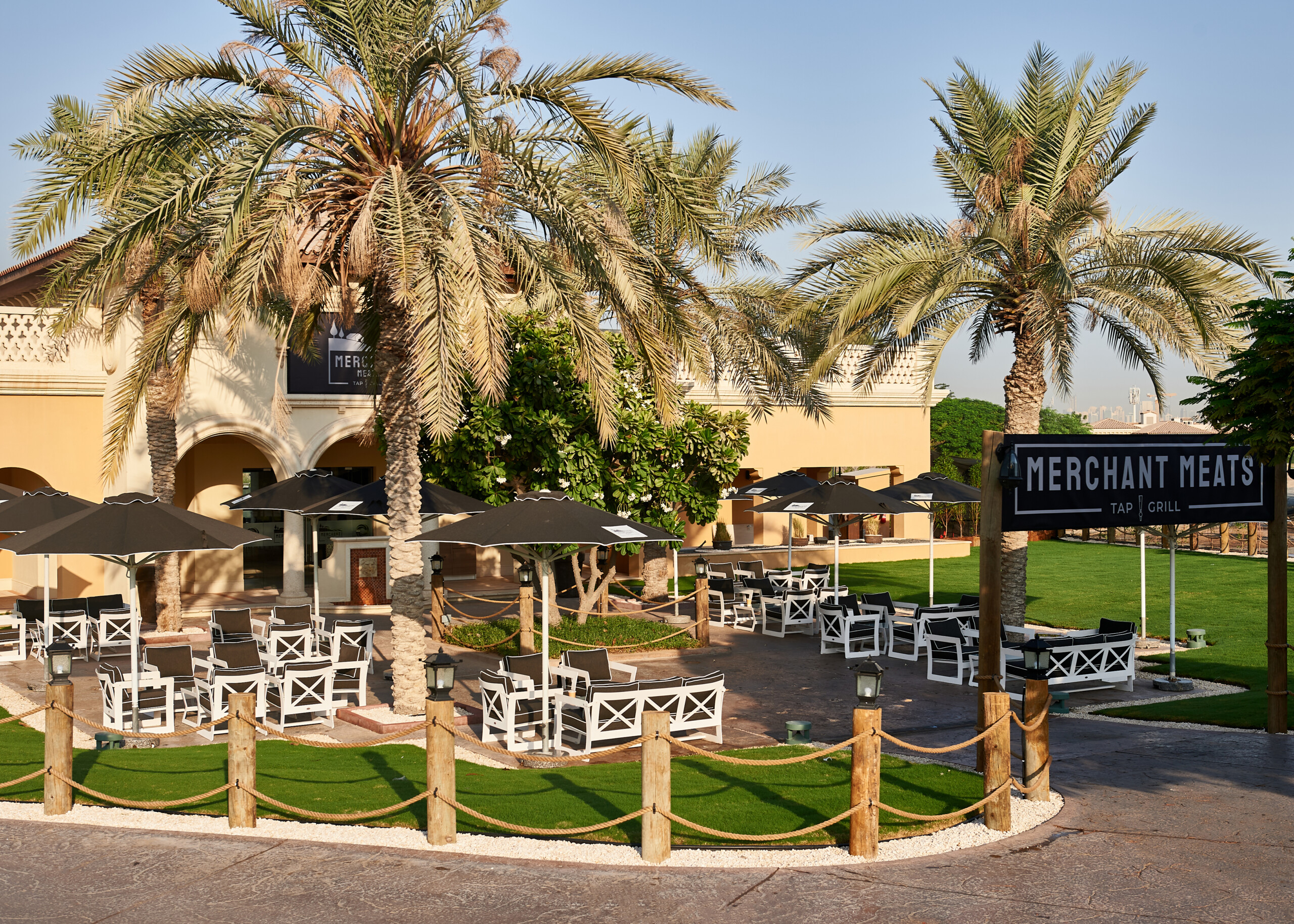 Escape the city and enjoy peaceful tranquillity at the Jumeirah Golf Estates. The luxurious community-destination offers an array of dining options, an indulgent spa, unrivalled leisure and a golf academy that welcomes all skill levels.
the Jumeirah Golf Estates

Families can begin their day at Merchant Meats Tap & Grill, the latest addition at Jumeirah Golf Estates, located beside the tennis and padel tennis courts.
Open daily for breakfast, talented chefs at the restaurant will whip together a mean morning fry up or breakfast bap for everyone to enjoy! This one is perfect for meat lovers who love grilled barbeque and ice-cold beverages on tap, too.
Visitors can enjoy a relaxed breakfast or lunch with the whole family whilst taking in views of the luscious green palm tree gardens. 
Another recent addition to the golf & country club is the brand-new but already popular restaurant, Nassau, by celebrity chef Silvena Rowe, taking guests on a Mediterranean culinary tour.
Guests can expect dishes that revive the senses, served in a stunning space with bright interiors and vibrant flavours evoking sun-drenched shores and lazy lunches that meander into decadent evening feasts.
Starters include black truffle labneh with seasoned baby vegetables, Ottoman-style wagyu beef skewers and celeriac & lentil salad with hazelnuts and za'atar.
While main courses on offer include a 48-hour slow-cooked shoulder of lamb, seared sea bass fillet with tomato-chilli pickle, wagyu bolognese conchiglioni, and roasted aubergine & sautéed kale lasagne, all created to tantalise the taste buds. 
 dinner at Jumeirah Golf Estates
The dining hub at Jumeirah Golf Estates is widely considered to be The Sports Bar. It's a place where golfers and non-golfers alike can grab breakfast, lunch or dinner and enjoy the extensive international menu.
Chef's favourites include sizzling fajitas, a signature beef burger, pasta carbonara, caesar salad and the steak ribeye.
Guests can sit indoors, surrounded by golf memorabilia collected over the years from European Tour's DP World Tour Championship, or enjoy the cool outdoor breeze and take in the stunning green estate views while dining al fresco.
Live sports is projected from all corners of the globe on multiple TV screens to create a vibrant atmosphere. 
For those looking to grab a quick bite, Al Botanica is the answer. Local ingredients and seasonal cooking are the hallmarks of this fresh food cafe, where Chef Silvena Rowe celebrates good food and decadent treats, many with a healthy, homemade twist.
Al Botanica offers a wide range of light salads to more substantial meals, while the cake counter is where things get even more interesting.
Eye-boggling and tempting treats and desserts are re-imagined. Here sugar-free, gluten-free and even vegan is described as rich, creamy and absolutely sumptuous. 
relax
If the appetite hasn't been sated yet, ladies and gents looking for an indulgent afternoon need to look no further than The Lounge Spa.
Offering a range of therapies, including manicure & pedicure, hair removal, body treatments, luxury facials and gentlemen's grooming services.
For those looking to do some physical activity following a self-satisfying afternoon, there is one of the fastest-growing sports, in the world, padel. Padel, or padel tennis, is scored and played like the regular game, but the court is 25% smaller.
  Two brand-new courts have been installed at the club and welcome all ages to this fun sport and encourage a competitive spirit in a friendly environment.
Lessons are also available from RRA Padel, Dubai's most renowned padel tennis academy. 
Last, but by no means the least, you can learn the game of golf, or improve your game, while you're visiting this community destination.
The Peter Cowen Academy welcomes all skills levels with various packages in both individual and group lessons.
Take advantage of the 'Get Into Golf' Package and enjoy one month of unlimited beginner golf lessons with a PGA Professional for only AED 495.
Find out for yourself why Jumeirah Golf Estates is the perfect day out of the city to eat, play and relax. Learn more at
dubaigolf.com/jge.