Year of Arabic Calligraphy, celebrating with Calligraphy-themed Airplanes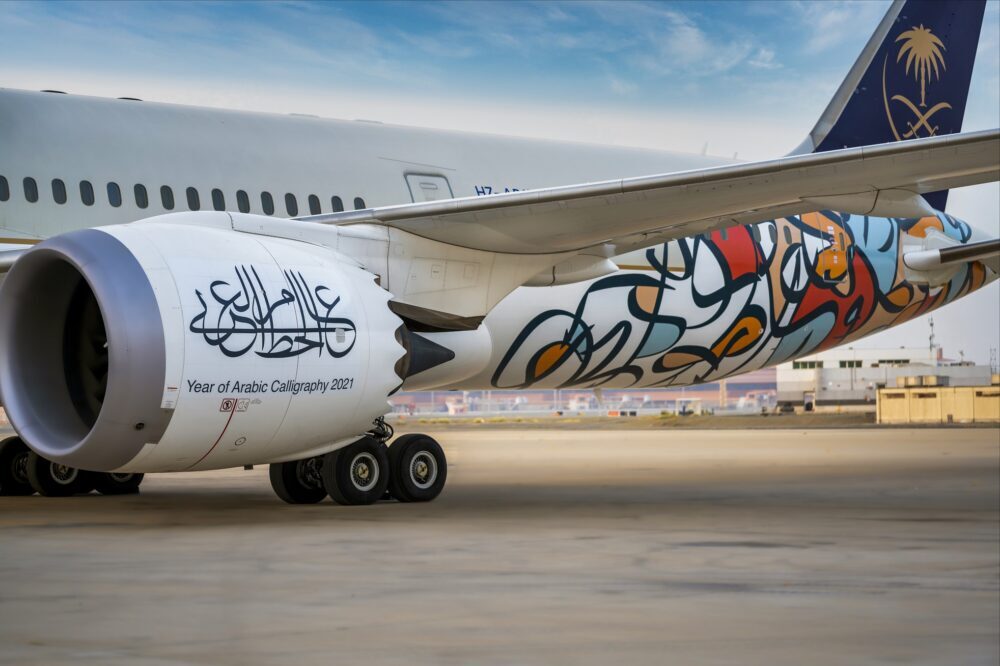 In collaboration with Saudia airlines, the Saudi Ministry of Culture is celebrating Arabic calligraphy by decorating two Boeing 787 Dreamliners with the logo 'Year of Arabic Calligraphy'.
The planes took off from Riyadh and Jeddah in early June 2021 to Heathrow Airport in London and Dubai Airport. There were also many events at both King Khalid International Airport in Riyadh and King Abdul Aziz International Airport in Jeddah.
Before take-off, there were calligraphers presenting passengers with special boarding passes with their names written in Arabic calligraphy. Passengers were also welcomed with traditional musical performances before departure. Activities included distributing educational pamphlets and calligraphy-themed colouring books at the boarding and at Al-Fursan executive lounges. Passengers were treated to an educational video while aboard, along with calligraphy designs.
Year of Arabic Calligraphy
Jahez Co. and Raseel Union Co., two partners in the 'Year of Arabic Calligraphy' initiative, presented passengers with 600 calligraphy souvenirs to mark the occasion. Additionally, passengers received a copy of a calligraphy book that had won a competition held by the Ministry of Culture.
The Ministry of Culture launched the 'Year of Arabic Calligraphy' in 2020 as a part of the country's Quality of Life Program, a program from the country's Vision 2030 plan. The initiative was successful and subsequently extended for another year to allow further projects, like Saudia's, to ensure the Kingdom's support and demonstrate pride in Arabic calligraphy.
The initiative aims to highlight Arabic calligraphy as an art in its own right, spread its use through cultural offerings, enhance its practices among institutions and individuals, and unify both sectors' efforts in practising and using this unique cultural art.
Saudi Arabia's grand Vision 2030 initiative aims to develop key sectors throughout the country and reduce Saudi Arabia's dependence on oil. Various cultural innovations have come out of Vision 2030, including new movie theatres, festivals and heritage projects.