Amara Spa Introduces Fab New Experiences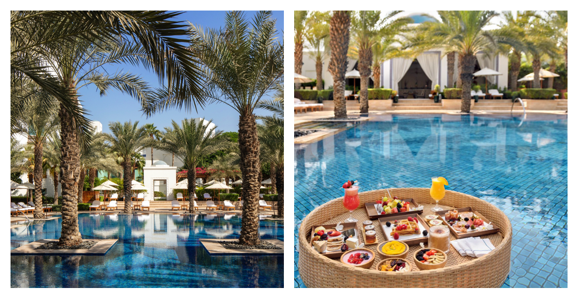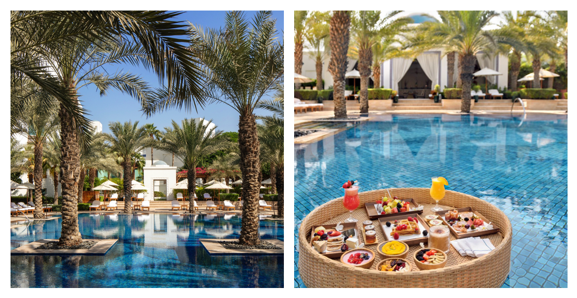 From gorgeous floating breakfasts & sundowners, a sparkling ladies' day & the wonderful new Citrus Glow Journey, Park Hyatt Dubai is the chicest spot in the city!   Set amidst the calm of private courtyards in Park Hyatt Dubai, Amara Spa is a haven of serenity and tranquility, complete with white-washed walls with cascading bougainvillea that leads to the iconic blue and white tiled entrance where resplendent relaxation awaits. Here you will also find the Amara Pool that is surrounded by palm trees and plenty of lush greenery. 
Seasoned aficionados of rest and relaxation, the team at Amara Spa have created four fantastic new experiences to enjoy this September, including floating baskets of delight:  
Floating Sundowners
| AED 550 per couple 
Why not enjoy sundowners in style by luxuriating around the pool with your own floating basket filled with light bites & bubbles. The package includes access to the Amara Pool and two rounds of bubbly with light bites. For an additional AED 400, you can enjoy a 30-minute couple treatment of your choice. 
Timings: Daily, 2pm-6pm  
Breakfast & Pool
|
AED 
250
 per person
Is there a better way to start the day than with a healthy breakfast served on a floating tray while lounging in the shade of palm trees? The enormous floating tray is jam-packed with breakfast delights, making this an unforgettable experience. Amara pool access is also included in this experience, ensuring a lovely morning of rest and relaxation.  
Timings: Daily, 9am – 12pm   
Sparkling Ladies Day Out |
AED 875 per person
Designed for those looking for a Spa Day with the girls, where relaxing and indulging are top priority, the Sparkling Ladies Day Out at Amara Spa is the one! It includes a luxury 90-minute individual massage or body treatment, two rounds of bubbly and light bites served at the Pool Bar, with access to the stunning Amara Pool included. Minimum 2 guests required.  
Timings: 9am – 10pm   
Citrus Glow Journey | AED 1,600 per person
This one-of-a-kind spa experience is designed to reveal radiant skin, recharge the inner spirit, and enhance physical well-being. It includes a 120-minute body treatment, a 60-minute facial, a healthy lunch, and access to the Amara Pool for the day. 
Body Treatment uses Aroma blend of Grapefruit, Mandarin, and Orange which complement the richness of Thai White Mud known for its high mineral and firming property. Grapefruit is an anti-cellulite and reduces water retention whilst Mandarin and Orange energizes, leaving body glowing and toned. 
Potent Patented Vitamin C facial treatment is perfect for those looking to bring back youthful firmness and glow to a dull skin. A Vitamin C enzyme peel combined with a unique pure Vitamin C delivery system and double Vitamin C and peptide mask application promotes firming and brightness. 
Opening Times: 9am – 10pm