Saudi Arabia jobs: Real estate salaries up to $73k per month, 80% of workers expect a bonus this year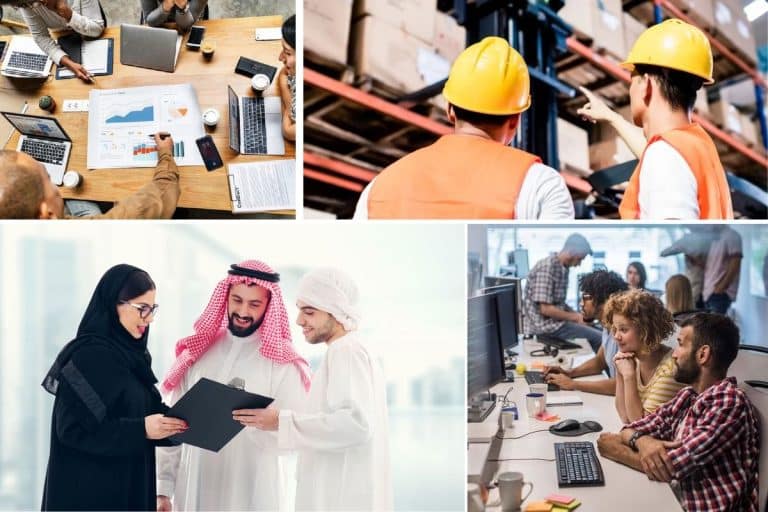 Saudi Arabia's real estate industry is home to the highest paying job roles in the country, recruitment specialist Cooper Fitch found in its annual salary guide and hiring insights report.
The report, which identifies key trends for the year, is developed as guide for jobseekers, hiring managers, and encloses salary benchmarks, insights and key positions across various sectors in the UAE.
Cooper Fitch expects salaries in Saudi Arabia will increase by 3% in 2023.
This year has seen a significant uptick in recruitment, with high levels of activity in all sectors. Real estate in particular have seen recruitment in Saudi Arabia in 2022.
57% of organisations surveyed by Cooper Fitch in Saudi Arabia increased the size of the workforce this year. The same figure expect to make increases next year, with just 25% planning to reduce headcount.
Cooper Fitch founder and CEO Trefor Murphy said: "Although the price of oil contracted in the latter part of the year, the per-barrel cost of brent crude, which peaked in June, had a positive impact on Saudi Arabia's jobs market during 2022.
"Moreover, sustained government investment has enabled a slew of mega and giga-projects to proceed apace, boosting recruitment within the country's project management and development segments."
43% of people surveyed by Cooper Fitch expect salaries to increase next year, compared to 39% reporting salary hikes this year. The picture for bonuses was much rosier. 81% expect firms to pay annual bonuses based on this year's financial performance.
Trefor Murphy said: "A staggering 81% of those surveyed reported their intention to deliver annual bonuses. For context, only 68% of respondents to our 2022 survey planned to pay bonuses based on their financial performance in 2021.
Of those intending to issue payouts, the most significant proportion (26%) expect the amount to come to one month's gross salary. Approximately 17% of respondents plan to pay two months' gross salary, 19% said three months, 8% said four months, and 2% said five months.
One in 10 employees working for the firms surveyed can expect annual bonuses amounting to six months' gross salary. Industries represented in this category include aviation and aerospace, banking, financial services, investment management and government relations
The Cooper Fitch 2023 Salary Guide includes benchmarks on key sectors including real estate, banking and technology.
Below are selected positions and highest available salaries in Saudi Arabia.
Saudi Arabia banking jobs
Head of Private Banking SR179,000
Managing Director SR148,000
Head of Corporate Banking SR145,000
Chief Compliance Officer SR125,000
Chief Risk Officer SR105,000
Saudi Arabia human resources jobs
Chief Shared Services Officer SR152,000
Chief Human Resources Officer SR142,000
Vice President Human Resources SR111,000
Executive Director Human Resources SR101,000
Executive Director Support Services91,000
Saudi Arabia investment management jobs
Chief Investment Officer (Public) SR210,000
Chief Investment Officer (Private) SR158,000
Head of Investments (Public) SR148,000
Managing Director of Investment Banking SR148,000
Senior Director of Investment Banking SR115,000
Saudi Arabia legal jobs
Partner of US/UK private practice SR263,000
Senior partner of regional private practice SR232,000
Chief legal officer SR137,000
Junior partner of US/UK private practice SR126,000
Counsel of US/UK private practice SR105,000
Saudi Arabia manufacturing jobs
Managing Director SR131,000
Operations Director SR113,000
Chief Production Officer SR83,000
General Manager SR81,000
Head of R&D SR48,000
Saudi Arabia public sector jobs
Governor SR237,000
Deputy Minister SR184,000
Vice Governor SR158,000
Chief Economist SR137,000
Chief of Staff SR137,000
Saudi Arabia real estate jobs
Chief Development Officer SR273,000
Chief Projects Officer SR253,000
Executive Director of Development SR179,000
Executive Director of Project Delivery SR168,000
Executive Director of Design SR152,000
Saudi Arabia senior finance jobs
Group Chief Financial Officer (Large Local groups/MNCs) SR202,000
Chief Financial Officer (Large Local groups/MNCs) SR142,000
Chief Financial Officer (SME) SR111,000
Finance director (Large Local groups/MNCs) SR81,000
Finance director (SME) SR69,000
Saudi Arabia technology jobs
Chief Information and Technology Officer SR126,000
Chief Digital Officer SR126,000
Chief Information Security Officer SR115,000
Chief Product Officer SR105,000
VP of Digital Transformation SR105,000
Cooper Fitch has also released a 2023 salary guide for the UAE. See what workers in the UAE can expect to earn in 2023.