'Welcoming investment climate' key to Saudi Arabia's central role in global mining sector: Report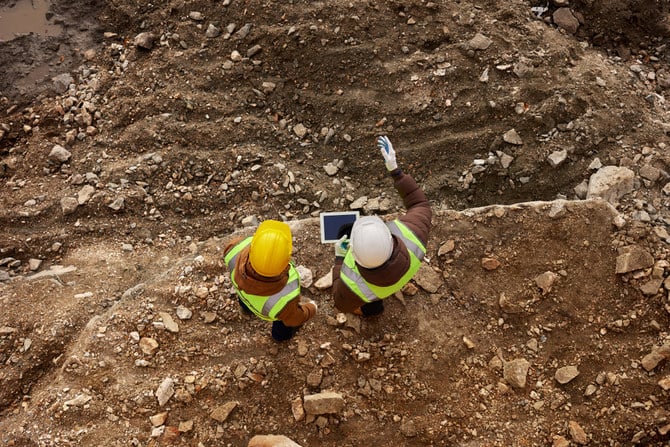 Saudi Arabia is set to become a "global leader" in the mining sector thanks to the Kingdom's investment incentives, according to a new report issued on the eve of a major industry conference.
The analysis, by The Payne Institute for Public Policy at the Colorado School for Mines in the US, states that the Kingdom is on track to play a central role in the supply of precious minerals needed to power the transition to green energy in order to reach the goal of net zero carbon emissions.
The report notes that investments are projected to create roughly 14,000 new jobs in clean energy within the region, and the Kingdom plans to attract $32 billion of investment.
The findings come as Saudi Arabia gears up to host the second edition of the Future Minerals Forum in Riyadh from Jan. 10 to Jan. 12, with an estimated 200 speakers from around the world expected to attend the event.
The summit is set to tackle several topics, including sustainability, the future of mining, energy transition, the contribution of minerals to the development of societies, digital transformation, and integrated value chains.
Reflecting on Saudi Arabia's role in the sector, the report states: "The outlook for Saudi Arabia's role as a global leader in building out efficient critical mineral supply chains is promising, in part, due to a welcoming investment climate.
"By providing incentives for investment and being transparent/open to investors, the Kingdom has started to attract a lot of interest in investment partnerships, with the CEO of Eurasian Resources Group, recently stating that Saudi Arabia has all the 'ingredients to be successful.'"
Currently, the Kingdom is processing 145 exploration license applications sent in by foreign companies, according to the analysis.
According to geological surveys dating back 80 years, the Kingdom is thought to have an estimated reserve of untapped mining potential valued at $1.3 trillion.
However, with the prices of valuable minerals, especially gold, copper and zinc rising, the true value of the Kingdom's current mineral wealth could be double that figure, CEO of the Saudi Geological Survey Abdullah Al-Shamrani said in September 2022.
Earlier this week it was revealed that Saudi Arabia issued 38 new mining licenses in November, up from the 21 it awarded the previous month as the sector continues to grow in line with the Vision 2030 economic diversification plan, according to official data.
The total mining exploration licenses in the Kingdom now stand at 2,201, up from 2,164 in October.
Of those handed out in November, 24 were for mineral exploration, 13 for the building materials industry and one for raw material production, Saudi Press Agency reported, citing data from the Ministry of Industry and Mineral Resources.