Sharjah Sustainable City wins two awards at a prestigious International Property Awards in London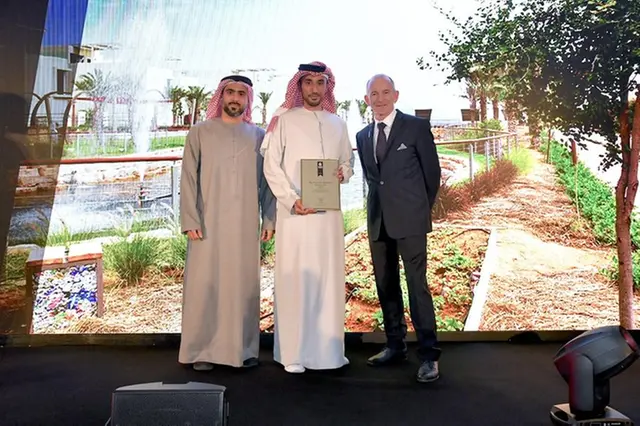 Sharjah Sustainable City, the first sustainable master-planned community developed by the Sharjah Investment and Development Authority (Shurooq) in partnership with Diamond Developers, has been awarded the 'Best International Sustainable Residential Development' and the 'Best Sustainable Residential Development Arabia' at the prestigious International Property Awards 2022-23. 
The awards recognize Sharjah Sustainable City's efforts in leading a global movement to develop future-proof sustainable housing solutions while using contemporary designs and fostering a lifestyle that is compatible with nature and improves health and well-being.
It's also a new global recognition for The Sustainable City brand—a working model for future cities and further cements its position as a benchmark for sustainable, low-carbon living around the world.
The awards, recognized as a world-renowned mark of excellence, were received by Mr. Yousif Ahmed Al-Mutawa, Chief Executive Officer of Sharjah Sustainable City, and presented by Mr. Stuart Shield, President of the International Property Awards, at a high-profile ceremony in London, the UK on 02 February 2023.
Open for residential and commercial property professionals from around the globe, the International Property Awards is a global recognition that celebrates the highest levels of achievement by companies operating in all sectors of the property and real estate industry. A panel of over 100 judges decides the awards, with each judge allocated entries matching their areas of expertise.
These awards highlight the continued recognition of The Sustainable City brand and Sharjah Sustainable City for developing a residential community that benefits both nature and its residents.
Previous Awards
Over the past two years, Sharjah Sustainable City has received several awards, including the Best Sustainable Residential Development Sharjah award at Arabian Property Awards 2022, Sustainable Community Award at Smart Built Environment Awards 2022; Best Real Estate Project (Gold) and Sustainable Green Development (Gold) at Gulf Real Estate Awards 2022; Best Community Development (Bronze) award Gulf Sustainability Awards in 2021; and Real Estate Development Company award at Real Estate Excellence Award in 2021 and 2022.
While striving toward leading the way to reach UN 2050 targets ahead of time, the Sustainable City brand has won over 50 awards so far. Located in Dubai, it has now expanded not only to Sharjah but to Abu Dhabi and Yiti-Oman, with international locations in the pipeline.
Extended over an area of 7.2 million square feet in the emirate of Sharjah, the Sustainable City is equipped with renewable energy and aspires to achieve net zero energy. It treats 100% of its wastewater for landscape irrigation, maximizes recycling to divert waste from landfills, produces chemical-free leafy greens and vegetables, and promotes walkability and clean mobility. It has a total of 1,250 sustainable villas, divided into blocks of three-, four- and five-bedroom properties between 2,035 square feet and 3,818 square feet in a built-up area.
Sharjah Sustainable City (SSC) is leading the global movement toward sustainable living, promoting a lifestyle that is compatible with the future. The development provides practical solutions related to food security, water and energy management, as well as natural resources conservation. The city is a joint venture between Sharjah Investment and Development Authority (Shurooq) and Diamond Developers to meet the highest sustainability standards.